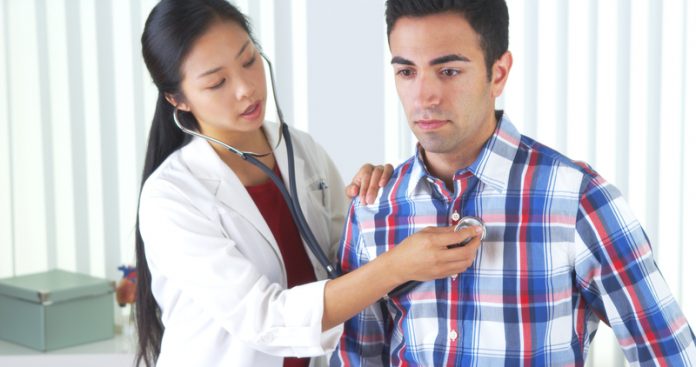 British Lung Foundation's Dr Penny Woods provides advice on how to manage a respiratory condition and highlights the strides being made into lung research
It never fails to shock me that there are 12 million people in the UK who have been diagnosed with a lung condition, and that one person dies from lung disease every 5 minutes. It is unacceptable, and at the British Lung Foundation, we believe that prevention, earlier diagnosis and awareness of lung conditions could help improve these statistics.
We know that there are many people in the UK who may have a lung disease, but have not had a diagnosis. You could be one of them. Do you feel breathless on a daily basis, but have not asked for professional advice? Breathlessness could be an important sign of respiratory disease, and making an appointment with a GP should be a priority.
We've created a free interactive online breath test. It's designed to help identify who should see a medical professional and get their overall health checked. To take the breath test visit: www.blf.org.uk/breathtest
Managing a lung condition
Of course, millions of people already know that they have a lung condition. Many come to us, seeking advice on a range of issues, including how to look after their lungs in hot weather, and how to cope with high levels of air pollution.
During very warm weather, if you have a lung condition, you may find high temperatures mean your symptoms get worse. This can be because you're too hot, you're dehydrated, or because of high ozone levels in the air.
Near the ground, ozone is made by a chemical reaction between the sun's rays and organic gases and oxides of nitrogen, emitted by cars, power and chemical plants, and other sources.
High ozone levels can make breathing difficult, causing wheezing and coughing. And if you have asthma, you may need to use your reliever inhaler more.
Our advice is to keep out of the sun, avoid the heat, and reduce or avoid strenuous, outdoor exercise. The benefits of exercise are great if you do have a lung disease, so we suggest indoor exercise instead, in a well-ventilated room or gym. Check Defra's air pollution forecasts and pollen forecasts if you go out and carry your medication with you.
You should stay away from pollution hotspots. If you're getting wheezy or coughing from walking outside, get in touch with your doctor.
Poor air quality contributes to the equivalent of 40,000 early deaths a year across the UK. Tiny pollution particles get deep into your lungs, making you feel out of breath, irritating the airways, and increasing the chances of developing lung disease. They can even pass through your lungs into your bloodstream, meaning air pollution could be linked to many other health problems too.
We're all put at risk from dirty air. But the most vulnerable are hit hardest – people with a lung condition, the elderly, and children.
Research
We are campaigning for greater investment in respiratory care, and into avoidable causes, such as air pollution. We're calling for more clean air zones, reduced use of diesel vehicles through an ambitious and fair diesel scrappage scheme, and more air pollution monitoring. Research is vital in the fight against lung disease. It will help us develop new treatments and cures – saving, prolonging and improving lives. In 30 years, the British Lung Foundation has spent £26m on hundreds of wide-ranging research projects.
Lung disease is taking a huge financial toll on our health service, businesses, and society. Governments and NHS in both England and Scotland must take action. We are now leading an independent taskforce for respiratory health to improve outcomes for patients and the nation's lung health.
Dr Penny Woods
Chief Executive
British Lung Foundation