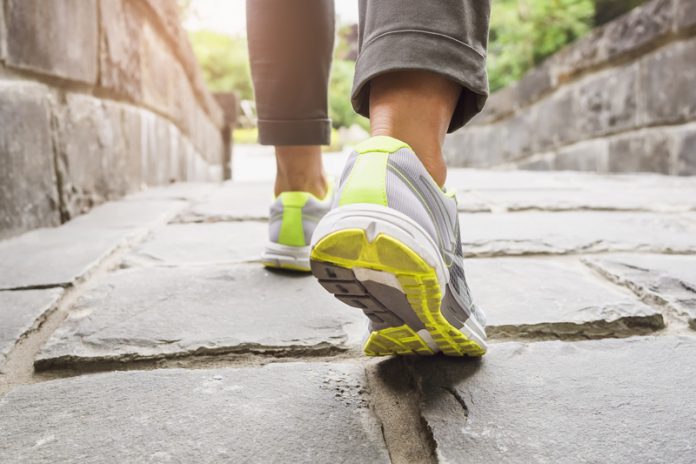 Health officials are urging middle-aged people to be more active and incorporate at least 10 minutes of brisk exercise into their day to stay healthy
According to evidence reviewed by Public Health England (PHE), over 6.3 million middle-aged people do not achieve 10 minutes of brisk exercise a month.
As part of their new 'One You' physical activity campaign, PHE is encouraging adults aged between 40 and 60 to add 10-minutes of continuous brisk walking into their day.
Simply doing just 10-minutes a day could have a major impact on health, and reduce the risk of early death by 15% they said.
However, PHE estimates that 4 out of every 10 40-60 year old does not even manage a brisk 10-minute walk each month.
Lifestyle changes over the years
The findings also reveal how lifestyles have changed over time, showing that people in the UK are 20% less active now than they were in the 1960s.
On average people walk 15 minutes less a year now than they did 2 decades ago.
The new campaign is particularly aimed at those who have an inactive or low activity lifestyle and find incorporating activity into their day challenging.
The Active 10 app has been developed to show how much brisk walking a person is doing each day and how to incorporate more into their lifestyles.
A 10-minute walk a day can lead to health benefits including a lowered risk of type 2 diabetes by 40%, cardiovascular disease (by 35%), dementia (by 30%) and some cancers (by 20%).
Public Health England said that the severity of the current physical inactivity epidemic amongst adults costs the NHS over £0.9 billion a year and contributes to 1 in 6 deaths in the UK.
Deputy Medical Director at PHE, Dr. Jenny Harries, said: "I know first-hand that juggling the priorities of everyday life often means exercise takes a back seat.
"Walking to the shops instead of driving or going to a brisk 10-minute walk on your lunch break each day can add many healthy years to your life."
The free app combines walking intensity and time, rather than just distance or steps and is the first of its kind.
It enables people to gradually introduce more activity into their daily routine and has already helped 50,000 adults get more active.
The Active 10 app has been endorsed by the Royal College of General Practitioners (RCGP), with GPs across the country recommending it to their own patients.
Dr. Zoe Williams, GP and Clinical Champion for Physical Activity and Lifestyle at the RCGP, said: "As GPs, we're best placed to talk to people about how their lifestyles affect their health. Every GP should talk to their patients about the benefits of walking and recommend the Active 10 app."