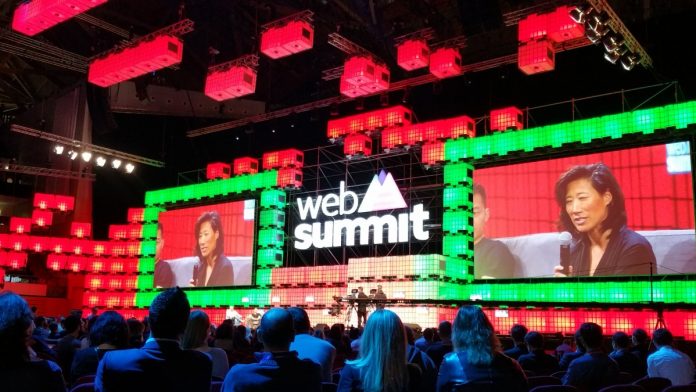 Donald Trump has won the US presidential race, provoking anger and indignation in speakers from the tech community at Web Summit 2016
The reactions of speakers at Web Summit, taking place in Lisbon this week, to the news that Donald Trump was yesterday elected president of the United States varied from disbelief to anger to resignation today.
In a panel on the 50,000-attendee event's centre stage this morning, Dave McClure, angel investor and founder of business accelerator 500 Startups, said: "If you're not pissed right now, what is fucking wrong with you? I'm pissed off, I'm sad, I'm ashamed, I'm angry.
"It's a propaganda media. If people are not aware that they're being told a story of fear, they're being told a story of other, if they don't understand people are trying to use them to get to office, then yes, assholes like Trump are going to take office. It's our responsibility as citizens of the world to make sure that shit doesn't happen."
Eileen Burbidge, a venture capitalist, partner at Passion Capital and a member of the UK Prime Minister's Business Advisory Group, compared the election result to the outcome of the EU Referendum, acknowledging that ego – ostensibly the subject of the panel – had played a part in blinding people to the popularity of Trump's message and the Vote Leave platform.
"We live in a bifurcated reality where people believe completely different sets of 'facts'," said American entrepreneur and investor Justin Kan, who co-founded the live video platform Twitch.
In an article earlier this year for AG, ACE's director of policy and public affairs, Dr Julian Francis, highlighted technology's role in creating the disillusioned class of voters that have propelled Trump to the Oval Office.
"In the late twentieth century it was blue collar, manual labour that bore the brunt of technological change with the collapse of mass labour manufacturing industries. This led to the loss of high wage low skilled jobs that devastated whole areas of the country. But now it is the turn of white collar workers to feel the pressure of changing practices caused by technological innovation." 
European politicians react
The reaction in the political nerve-centres of Europe and the UK, meanwhile, has been matter-of-fact and routine.
"Today it is more important than ever to strengthen transatlantic relations," read a letter from European Commission President Jean-Claude Juncker, congratulating Trump on his victory. "Only by cooperating closely can the EU and the US continue to make a difference when dealing with unprecedented challenges such as Da'esh, the threats to Ukraine's sovereignty and territorial integrity, climate change and migration.
"Europeans trust that America, whose democratic ideals have always been a beacon of hope around the world, will continue to invest in its partnerships with friends and allies, to help make our citizens and the people of the world more secure and more prosperous."
The official statement from European Parliament President Martin Schulz struck a more sombre note:
"Mr Trump has managed to become the standard-bearer of the angst and fears of millions of Americans. Those concerns must now be addressed with credible policies and proposals.
"This campaign will not be remembered as America's finest. Vitriol and polarisation have fueled this electoral contest. President Trump will have the daunting task of bringing together a divided nation."
In the UK, Prime Minister Theresa May also issued a statement congratulating Trump on the win, saying: 
"Britain and the United States have an enduring and special relationship based on the values of freedom, democracy and enterprise. We are, and will remain, strong and close partners on trade, security and defence.
"I look forward to working with President-elect Donald Trump, building on these ties to ensure the security and prosperity of our nations in the years ahead."
Opposition leader Jeremy Corbyn said that the election of the Republican candidate indicated "a rejection of a failed economic consensus and a governing elite that has been seen not to have listened", but he added that "some of Trump's answers to the big questions facing America, and the divisive rhetoric around them, are clearly wrong".