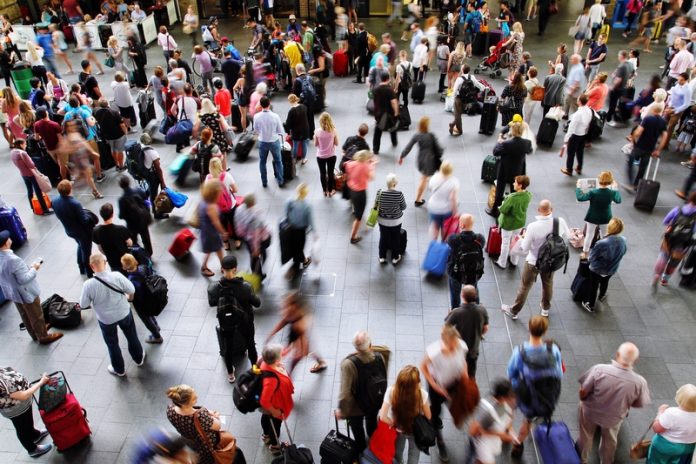 From January 2018, millions of rail users in the UK will see a 3.6% increase in regulated rail fares
The rise in rail fares, which is set by the government is the biggest annual increase in five years and will hit commuters the hardest.
The increase in fares is linked to July's Retail Prices Index (RPI) measure of inflation which was announced by the Office for National Statistics (ONS) on Tuesday.
Passenger groups have suggested that the RPI measure should be scrapped, which is the highest since 2011 when it was 5%.
Economists are said to have expected the RPI to increase to 3.5% in July, while rail fares rose by 2.3% at the start of 2017 based on last year's figures.
Who will the rises effect
?
The rise in rail fares will affect "anytime" and some off-peak fares as well as season tickets in England and Wales.
The change is to be applied to about 40% of rail fares, including season tickets on most commuter journeys and anytime tickets around major cities.
In Scotland, it is mainly commuters who will be affected, with off-peak fares rising by a smaller amount. There are said to be no plans for increases in Northern Ireland.
Unions and campaigners are reported to have been holding demonstrations at railway stations around the country in protest.
Transport Focus said that it would like to see the RPI measure replaced by the Consumer Prices Index (CPI) which is typically lower than RPI.
Mick Whelan, the Aslef general secretary has also called for a reform of the system and said that fares should at a minimum be linked to CPI inflation, which rose by just 2.6% in July.
He said: "The government must intervene to make fares simpler, fairer and cheaper in Brexit Britain. Passengers and taxpayers will rightly be asking what they are paying for.
The government stated that fare increases were justified by improvements to the network.
A spokesperson for the Department of Transport said, "We are investing in the biggest rail modernisation programme for over a century to improve services for passengers – providing faster and better trains with more seats.
"We have always fairly balanced the cost of this investment between the taxpayer and the passenger."