Commissioner Phil Hogan shared his views on the future of the EU's common agricultural policy (CAP) during a speech he recently made at the Berlin Green Week to the political leaders of Germany's farmers
Green Week is obviously a great occasion and opportunity for political and farm association leaders to come together, but it is also an opportunity for tens of thousands of farmers and consumers to come together and engage about the latest developments in food and agriculture, whether that is in terms of market developments or policy developments. I have succeeded in being at Green Week every year since I was appointed Commissioner.
The conference was appropriately titled the "Future of the CAP." Before discussing what that future might look like, let us agree on one thing – the CAP has a future, not alone because of the Treaty objectives which underpin it and which continue to be relevant today, over 60 years since they were first included in the Treaties of Rome, but because the CAP is a living, evolving policy that changes to meet new and emerging challenges and adapts to ensure that it continues to provide appropriate support to millions of farmers in this country and throughout the European Union.
Since its inception, the CAP has had several manifestations and has seen profound change during a period of more than half a century when the continent of Europe has emerged from near post-war ruin to a time of unparalleled peace and prosperity.
Today, Europe is the biggest trader of agricultural produce, with Germany more than playing its part. After a record year for agri-food exports in 2016 (€131 billion of exports and €112 billion of imports), the strong trade performance continued in 2017. The EU's trade balance in agri-food products has now been positive for seven years in a row. This has brought significant benefits to our sector and there is huge potential to continue to do so in the future.
There are many reasons behind these impressive figures, including the high standards and quality of our food. But, it is also because of the competitiveness of European agricultural production. As agricultural trade becomes more global, the competitiveness of Europe's production will become increasingly challenged.
We have to prepare for this and maintain our competitive edge through investment in research, innovation and technology. I have seen at first-hand the developments in technology and their application in the field. What impresses me about what I see is not alone the work that is going on in the laboratories and workshops, but how we translate that work into concrete results that benefit farmers.
The CAP has and will continue to prioritise investment in research and innovation, with the aim of improving the competitiveness of European farmers who, in an increasingly market-orientated policy, will in the future have to secure more of their income from the market into which they sell their produce.
However, that increased focus on market-orientation is in no way to understate the importance of the CAP in terms of providing income support and a safety net for farmers. It is precisely for that reason that, in our Communication of the Future of Food and Farming, the Commission has restated its commitment to the maintenance of direct payments. The Communication says that, "direct payments remain an essential part of the CAP in line with its Treaty obligations." We have also confirmed that we are keeping "the existing two-pillar structure which, in our view, serves our farmers and rural areas well."
We know that farmers are facing challenges, whether that it is in the form of extreme weather events – several of which we saw last year – price volatility or diseases. At least 20% of farmers lose more than 30% of their income, compared with the average for the previous three years. As I said at the EU's Outlook Conference in December 2017, I know of no other profession or occupation which has to live with such income uncertainty.
Standing still is not an option. Agriculture is a dynamic industry, constantly adapting to new challenges and, while farmers have over the millennia, shown themselves to be adaptable and indeed ingenious, our job, as policy-makers, is to provide them with the legislative and regulatory framework within which they can show that adaptability and ingenuity.
My view is that the current broad architecture of the CAP works quite well and, after the reform of 2013, my sense among farmers and public authorities is that there is an element of 'reform fatigue' and a desire, particularly among farmers, to be left alone to get on with their work without the tedium of excessive red tape and unworkable rules that prevent them from reaching their potential, both because of the production restrictions and the fear of contravening the myriad of complex rules and regulations.
It is precisely for this reason that I have described the Commission's Communication, adopted in November 2017, as an "evolution rather than a revolution". Indeed, I'm pleased to see that there is a widespread acknowledgement that this is what we have achieved.
Of course, I'm not so naïve as to think that this acknowledgement automatically translates into full support for the proposal. I have listened carefully to the reactions of various stakeholders to the Commission's proposal and this is another important opportunity to hear your views and to see how I can address some of those concerns.
Following the adoption of the Communication, our focus has now shifted to the preparation of a legislative proposal, which I hope will be adopted very shortly after the Commission publishes its proposals for the next MFF, which is scheduled to happen at the end of May.
Given the obvious connection between the future of the CAP and the future financing of the EU, I am working to see how we can address the budgetary gap caused by the UK's departure and, at the same time, provide funding for the new challenges of migration, security and defence, without having a disproportionate impact on the funding of the CAP.
It is important to make the point that the future funding of the EU is NOT a matter for the Commission, but a matter for the Member States and it is they which must decide whether they are prepared, as I believe they should, to increase their national contributions to the EU budget. I know that there are critics of such an approach who instead argue that the EU budget has to become leaner and more efficient. While there is always room for greater efficiency in the way in which we do our business, this argument is simplistic and does not acknowledge the very real pressures caused by taking necessary measures in the areas of migration, security and defence.
I hope that you can bring whatever influence to bear on those whose decision it will ultimately be whether to support a higher level of MS contribution to the EU budget. As President Juncker said in January, "we need a budget of more than 1% of GDP if we are to pursue EU policies and fund them properly". He went on to say that "countries need to stop thinking in terms of net contributors and net recipients". I hope that this is the kind of constructive attitude that will characterise the forthcoming discussions on the MFF.
Before I conclude, I should say something about what is described as the new "delivery model" for the CAP post-2020. It seems to be the issue around which most of the debate is focused and I understand that. It is a debate worth having, but it is also a debate that needs people to stand back from some of the misinformed rhetoric which is already evident.
The proposal reflects what I believe to be a universally accepted conclusion that a "one-size-fits-all" approach doesn't work in terms of agricultural production in Europe. What the Commission is proposing is not, as some of the critics, like to label it "the renationalisation of the CAP".
Instead, it is an approach consistent with the principle of subsidiarity, as enshrined in Article 5 of the Treaty and with the 'Task Force on Subsidiarity, Proportionality and "Doing Less More Efficiently" '.
The Task Force, which will report to President Juncker by 15 July 2018, will make recommendations on how to better apply the principles of subsidiarity and proportionality, identifying policy areas where work could be re-delegated or definitely returned to the Member States, as well as ways to better involve regional and local authorities in EU policy-making and delivery.
Our proposal ensures a very clearly defined role for the Commission which will set high-level objectives at the EU level. These will revolve around the Treaty objectives as well as those identified in the Communication. They will then be translated into a set of specific objectives, which will be concrete priorities. Each of the specific objectives will be accompanied by a set of results and qualified output indicators, which will allow MS to define the targets.
The MS will be required to prepare a CAP Strategic Plan, which will be subject to approval by the Commission, similar to the way in which RDP plans are currently subject to Commission approval. This is a very important aspect because nobody has suggested that Pillar II of the CAP has been renationalised. The CAP Strategic Plans and their approval by the Commission will ensure EU added-value and will preserve a functioning agricultural internal market.
I hope that I have given you some flavour of the motivation to make this proposal as well as address some of the emerging concerns about the future of the CAP. I look forward to hearing your views and I want to assure you of the Commission's openness and to mine, to hearing and considering your views in more detail.
This article is based on a speech given by Commissioner Phil Hogan at Berlin Green Week on "Future of the CAP" Berlin, 18 January 2018.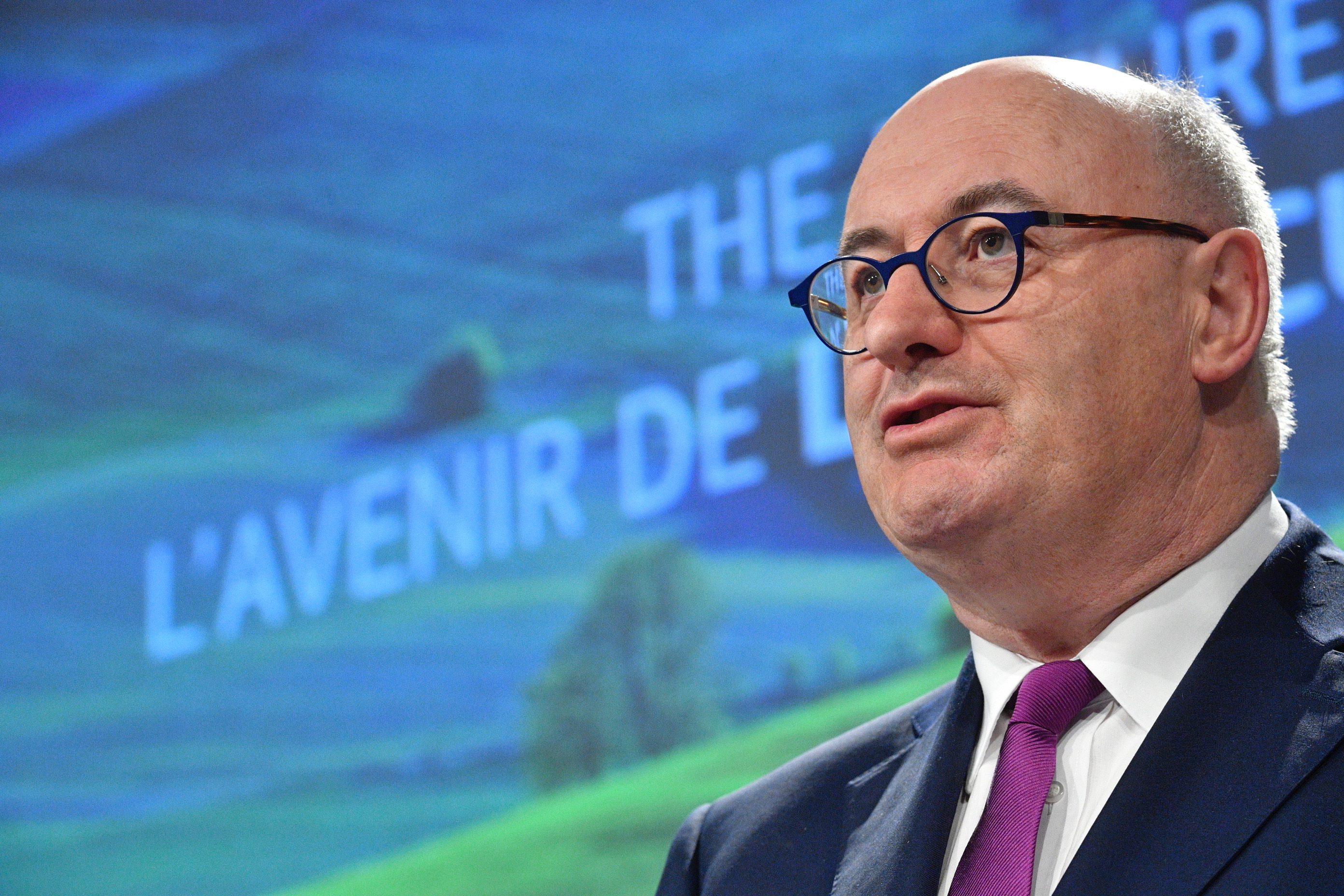 Phil Hogan
Commissioner for Agriculture & Rural Development
European Commission
Tel: +32 2 299 96 96
https://ec.europa.eu/commission/commissioners/2014-2019/hogan_en
Editor's Recommended Articles