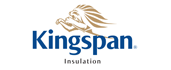 For many years, Structural Insulated Panels (SIPs) have been the product of choice where thermal performance and construction predictability are an absolute priority. The highly insulated panels can be installed in a matter of weeks, kick-starting a project and creating a building shell which is highly airtight and has minimal levels of thermal bridging.  With the introduction of the Zero Carbon Housing Standard, these attributes are set to become key requirements for all housing developments.
The Queens Speech
The documents which accompanied The Queen's Speech gave the first clear indication of the form that the 2016 'Zero Carbon Home Standard' will take in England[1]. Whilst the standard will be set at Level 5 of the Code for Sustainable Homes, the legislation will allow developers to build to Code Level 4 provided the remaining carbon is offset through off-site allowable solutions schemes.
Even with the allowable solutions schemes, the new regulations still require a 19% reduction in carbon emissions compared with ADL1A 2013, whilst the current 15% relaxation in the Target Fabric Energy Efficiency is also expected to be removed. As a result, traditional construction approaches may struggle to bridge the gap without significant reliance on renewable technologies.
SIPs
To look at this in more detail, three compliant scenarios have been modelled with SAP 2012 in Figure 1. Scenario 1 is a masonry construction, Scenario 2 is a timber frame construction and Scenario 3 features a SIP construction with an additional 75mm of rigid urethane insulation. All three scenarios focus on a fabric-first approach to compliance, raising U-values above the minimal level to limit reliance on renewable technologies.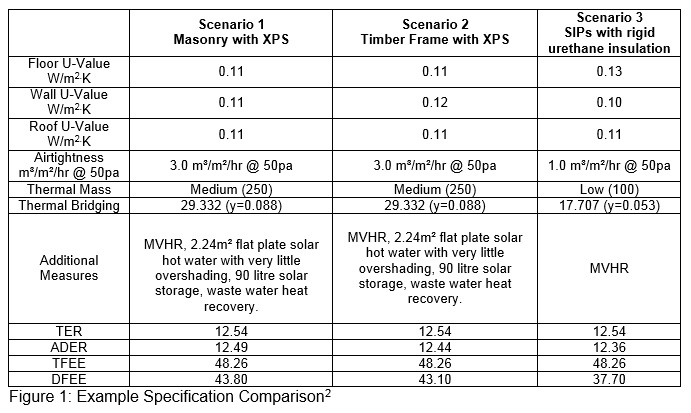 Despite the high level of thermal performance, both masonry and timber frame constructions require several additional technologies to achieve compliance. This reflects the difficulty in minimising thermal bridging and improving airtightness performance in these constructions.
To achieve lower air tightness levels, masonry constructions require parge coats, whilst timber frame constructions would require lapping and sealing of air barriers around all openings and penetrations such as switches, sockets and ceiling roses. In contrast SIPs' inherent jointing arrangement and OSB facing allows them to achieve the required performance virtually out of the box.
The level of airtightness in all three scenarios necessitates the use of an MVHR (mechanical ventilation with heat recovery) system. These systems use the heat from outgoing stale air to warm incoming fresh air, reducing the heating demand and ensuring a constant supply of fresh air.  The SIP construction requires no other renewable technology to achieve the standard.
With construction space extremely limited, it is also essential to get the most out of every available metre of land. As Figure 2 shows, the SIP construction offers notable wall and roof construction depth reductions.

Changing Times
With the continued rise in building standards, achieving compliance with traditional construction approaches is becoming increasingly complex and time consuming. Modern methods of construction such as SIPs offer a well-established alternative, which can meet all of the requirements with a straightforward erection process.
For further information and technical support please contact:
Tel: +44 (0) 1544 388 601
Fax: +44 (0) 1544 388 888
e.mail: info@kingspaninsulation.co.uk
website: www.kingspaninsulation.co.uk

 www.twitter.com/KingspanIns_UK
---