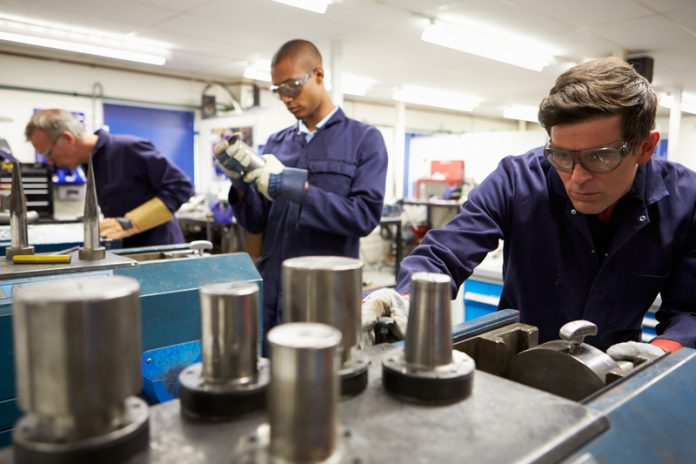 Tamzin Caffrey, Head of Communications at Engineering UK highlights how engineering is essential to sustaining the UK's long-term economic performance…
Engineering sectors produce the majority of the nation's export and play an essential role in supporting the UK's international competitiveness by investing in research and development and innovation – a vital part of sustaining the UK's economic performance in the long term.
Productivity is enormously important. A country's capacity to produce goods and services is dependent on the size of its workforce, the size of its capital stock, and how effectively it uses labour and capital.
The Engineering UK 2016 – The State of Engineering report highlights the fact that the sector is driving productivity, the economy and employment. The gross value added of engineering businesses is larger than the retail and wholesale, and financial and insurance sectors combined, as well as being 68% more productive than the retail and wholesale sector.
Over 27% of total UK GDP is now generated by the engineering industry, amounting to £445.6bn and turnover for engineering has grown by 3.4% to £1.21tn. It is perhaps unsurprising that alongside a growth in turnover engineering has seen a growth in employment.
The industry directly employs over 5.5 million and supports 14.5 million jobs overall. A strong engineering industry creates a powerful ripple effect, not least because for every new job in engineering, 2 more are created outside of the sector and every £1 GVA generated in engineering generates £1.45 elsewhere.
The contribution of engineering to the UK economy should not be underestimated. Neither should the contribution of those who enter the industry as apprentices. Indeed, research shows that the productive contribution of engineering and manufacturing technologies (EMT) apprentices over past 10 years amounts to £12bn. That substantial contribution is equivalent to 8% of growth in GVA. This indicates that EMT apprenticeship programmes have a sizable impact in boosting the overall productive capacity of the UK economy and that we will see additional benefits with any increase in the number of apprenticeships.
In short, engineering and skilled engineers make a significant contribution to the UK economy and its productivity – as well as working towards mitigating the grand global challenges of climate change, ageing populations, food, clean water and energy. Yet, since there is still a considerable gap between the supply of and demand for people with engineering skills, there is widespread concern for the long term future of the industry.
In the UK there is no level of education with the current capacity or the required rate of growth to meet the forecast demand for skilled engineers and technicians by 2022. That demand runs to around 182,000 skilled workers a year, which given the current stock of engineers coming through the UK education system could mean an annual shortfall of 69,000 employees. This presents the industry with a significant challenge, where companies must work now collaboratively to boost the talent pipeline.
While there have been huge advances in engineering in the past 30 years, very little has changed in terms of diversity in the make-up of the sector. A different approach is needed. It is through concerted and co-ordinated action that the engineering community (particularly employers) can make a demonstrable difference by working with schools and colleges to inspiring future generations to pursue relevant qualifications and go on to careers in engineering. It is imperative that no talent is wasted.
The Tomorrow's Engineers programme is led by the engineering community and it is that collective ownership and collaborative spirit that makes it unique. Tomorrow's Engineers doesn't offer a single off-the shelf package, it doesn't dictate how individual employers or schools should get young people engaged and it doesn't work on the premise that one size fits all. Tomorrow's Engineers provides a platform for employers to grow the talent pipeline as part of a coordinated drive.
This growing community of employers is working to realise the ambition of reaching 1 million young people a year with a memorable experience of engineering in action. Mapping that work, highlights hot spots, areas and schools that are engaged and active in STEM (Science, technology, engineering and mathematics) promotion. Tomorrow's Engineers is able to identify and target schools in cold spots where engineering outreach can have the greatest impact.
Governments in each of the devolved nations need to ensure joined-up education policies that deliver easy to- follow academic and vocational pathways for our young people within schools and colleges. We need joined-up education policies that deliver easy-to-follow academic and vocational pathways for those in education today and commitment across government, education and business to work hard and to work together to inspire those young people to become the industry's talent of the future.
We also need a coordinated approach led by government and supported by the engineering community, business and the education sector to make sure that the vital need for more trained specialist physics and mathematics teachers is met.
Skills strategies such as that announced by the Department for Transport are right to call for the community to focus on the programmes and interventions that are showing real results rather than looking to launch new initiatives. That strategy also includes specific targets and action for boosting apprenticeships, attracting more women into the industry and a year-long celebration of engineering in 2018.
A strong, consistent and positive message about working in engineering needs to reach young people whatever their background, wherever they live and whatever their gender. The engineering community needs to build on the strong foundations laid by the Tomorrow's Engineers programme to boost the volume, reach and quality of engineering employer engagements with young people.
Engineering UK 2016 The State of Engineering analyses the engineering industry's capacity for growth and details engineering in education, training and employment and is available at: www.engineeringuk.com/Research/Engineering-UK-Report-2016
Tamzin Caffrey
Head of Communications
Engineering UK
TCaffrey@engineeringuk.com