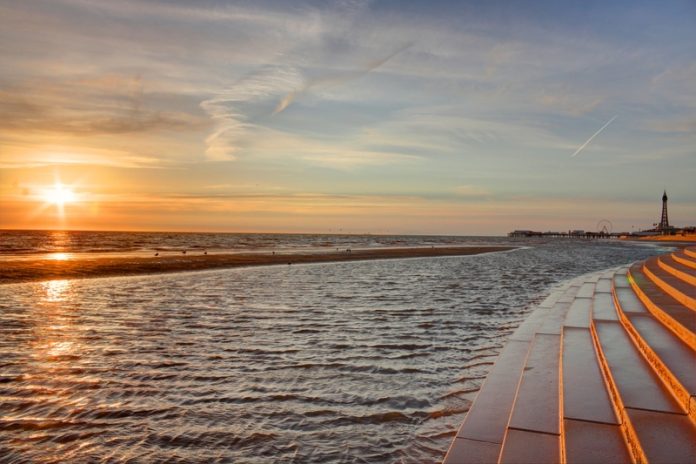 A new £27 million flood scheme opened in Blackpool hopes to reduce the risk of flood damage for up to 4,800 coastal properties
A flood scheme designed to improve coastal defences in Blackpool has been officially opened by the local council and the environment agency.
As well as protecting local properties the new defences along the coast will also preserve Blackpool's seafront tramway.
The new defences include a kilometre long concrete wall facing out to the sea, and lead to the Anchorsholme Park area, which is earmarked for redevelopment.
The scheme is part of the Fylde Peninsula Coastal Programme, a partnership between the Environment Agency and Blackpool, Wyre, and Fylde Councils.
The defences are designed to last for 100 years and the project is one of the largest flood defence schemes in the country.
Improving the area
Councillors hope that the defences will also help regenerate the area and increase tourism.
Chair of the Environment Agency Emma Howard Boyd said of the new defences:
"Blackpool's iconic beachfront is visited by thousands of families each year."
"This new coastal defence, delivered in partnership with local councils, will better protect the town's popular tourist attractions as well as nearly 5,000 homes and businesses."
"It's great news and demonstrates how our work benefits people and the environment."
The defences protect Blackpool's most popular tramway and preserve the iconic promenade.
Councillor Fred Jackson said that the defences would allow for safer and easier access to the seafront.
Floods Minister Therese Coffey credited the government for £20 million in funding for the scheme and credited local organisations and business partners for providing additional funds.
Extensive flooding of the area in 2007 led to a government review of local defences.
The Flood and Water Management act of 2010 named Blackpool as a Lead Local Flood Authority (LLFA), meaning that Blackpool Council holds responsibility for protecting against flooding from local water sources.
Now, with winter just around the corner, the attention will be on these new defences to see how they withstand the elements, especially after a particularly tumultuous autumn.