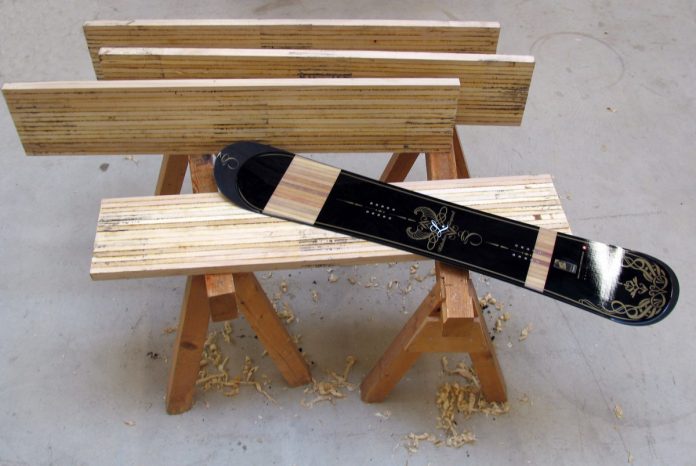 A multidisciplinary approach is necessary to stimulate the wood technology sector, says Professor Frédéric Pichelin, of Bern University of Applied Sciences
Focusing on the sustainable use of our resources, wood is one of the best materials to develop multi-functional wood and composite materials, as well as innovative products for the timber and construction industries.
A successful product development goes through an interdisciplinary approach covering different disciplines as product design, material sciences, bonding technology or material testing.
This approach has been successfully tested in our research institute, where the extensive knowledge of our collaborators on wood and other renewable materials enables us to find innovative ways of using these materials.
Five core competencies for a successful material development
Material science and design
Developing new materials and products calls for creativity, technical know-how, and a thorough grasp of economics and ecology. Based on these competencies, our Institute develops solutions for the development of wood-based materials and, together with our business partners, put them into practice. We give careful consideration to a holistic view of the development process from raw material, the production processes, to the finished product. In parallel, we also carry out life cycle analyses and assess the economics of products and processes.
Wood modification and surface treatments
Our team works on solutions for surface treatment and wood modification for indoor and outdoor environments. Wood anatomy and physical analyses are additional focal points of our work. Furthermore, our applied research looks at ways to develop and optimise new material technologies, coatings, and processes. For example, we developed self-cleaning coatings, UV protection systems for wooden curtain walls, and UV technology to dry coatings. Our basic research efforts are attempting to use biological ingredients to modify wood and thus provide ways to ecologically protect wood.
Bonding technology
Our institute develops and optimises synthetic and natural adhesives for load-bearing and non-load-bearing applications. Important focal points include the substitution of synthetic raw materials with natural polymers, developing low-emission adhesives, and defining the chemical and mechanical characteristics of adhesives. Thanks to our modern laboratory infrastructure, we are in a position to characterise the hardening process of adhesives and to investigate their adhesive and cohesive characteristics. Our portfolio of projects also includes innovative connection technologies. For example, we have developed the linear friction welding of wood, an innovative connection technology without adhesives.
Analytic and chemical formulation
Our well-equipped chemistry laboratory enables us to carry out projects with an analytical and preparative orientation. The laboratory contains instruments for spectroscopy, equipment for analytical separation processes, devices for various physical and chemical measurements, and enables us to carry out and observe reactions under high pressure. Furthermore, we conduct analytical research, the characterisation of organic materials, the derivatisation of organically-based substances, the modification and functionalisation of surfaces, and the analysis and application of nanoparticles. We have also specialised in the development of LED UV and polymer systems for blue-light hardening that can be used in various applications.
Material emissions and extractives
Our activities focus on the characterisation, the development, and the application of low-emission and odor-free materials and furnishings, as well as on the resulting indoor air quality from the building construction processes. We also work on thermal insulation and the characterisation of extractives from renewable materials and their uses. Furthermore, we develop procedures for removing biocides applied to cultural assets in the 20th century. Such biocides have been found to be damaging to both health and property.
How can this research approach be transferred in a global context?
During the last few years, the Institute has been working at the international level in a challenging area: the development of bio-based resins for the production of building materials. The composite industry is using a wide range of petroleum-based resins. Depending on the type of resin, the ecological impact of the products can be seriously influenced. Especially in the field of wood-based composites, the mixing of natural fibres with synthetic resins cannot be considered as a durable solution. The priority of further development should be led on the use of bio-based resins with a low ecological impact and when possible no influence on human health.
Merging the competencies of the polymer chemists and wood-based specialists, a new generation of resins based on the use of HMF (5-hydroxymethylfurfural) has been developed. The first test has been successfully carried out at the laboratory scale, showing promising results for the production of particleboards.
More recently, one of our research groups has investigated the potential of bark extract from local European species like Norway spruce. Extracts from Norway spruce have been used at the laboratory scale for the production of particleboard and plywood. This tannin-based resin has also being mixed with natural fibres for the production of insulating material with very high fire resistance.
Further perspectives
The wood industry is entering a new generation of production processes. Through digitalisation, machine will be connected and able to produce more complicated pieces and composite materials. One example is the used of wood compounds for the 3D printing of small and larger pieces. A fast bonding like the welding of wood will also offer new perspectives in this digital transformation.
Professor Frédéric Pichelin
Head
Institute for Materials and Wood Technology
Bern University of applied Sciences, Architecture, Wood and Civil Engineering
Frederic.pichelin@bfh.ch
Please note: this is a commercial profile