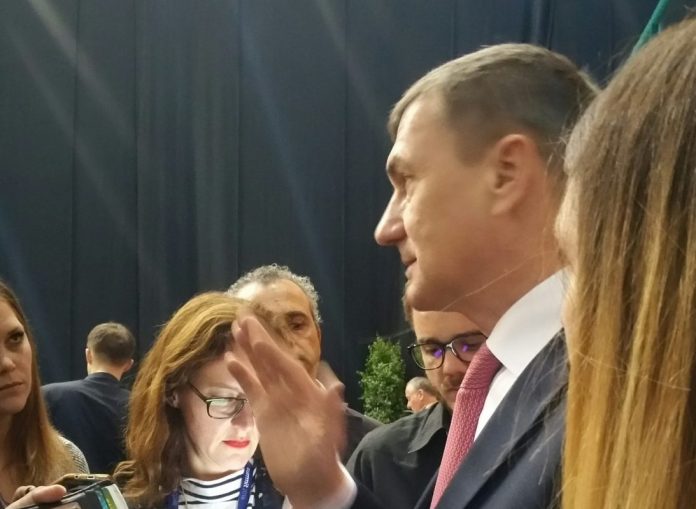 The Digital Single Market is already bringing benefits to consumers and businesses, says European Commission Vice-President Andrus Ansip at Web Summit 2016
Speaking to journalists after a panel session at Web Summit 2016 in Lisbon this afternoon, European Commission Vice-President Andrus Ansip pointed out the benefits that the Digital Single Market is already bringing to consumers and businesses across the European Union.
He drew attention to the abolition of data-roaming charges by June 2017, adding that efforts are ongoing to bring an end unjustified geoblocking – particularly of audiovisual content – also by next year. Vice-President Ansip called geoblocking "discrimination based on your nationality of a kind we should not accept in Europe in the 21st Century". 
Also high on Ansip's list of priorities is the proposal to utilise the 700 MHz band to improve mobile services:
"Although 700 MHz may not sound like a sexy topic, to me it is a very sexy topic," he said. As he has pointed out before, "28 different approaches to manage radio frequencies in the EU do not make economic sense in the Digital Single Market". 
Supporting start-ups and consumer satisfaction
It is impossible to separate the benefits, Vice-President Ansip believes, for consumers and businesses when it comes to efficient utilisation of the 700 MHz band, of the roll-out of 5G, and the abolition of unjustified geoblocking. When consumers are happy, business should boom.
The three pillars of the Commission's Digital Single Market strategy are: improving access to digital goods and services; creating an environment where digital networks and services can prosper; and digital as a driver for growth.
In April this year, the Commission revealed a number of measures to support and link up national initiatives aimed at digitalising industry, backed up by a €500 million investment in a EUrope-wide network of digital innovation hubs and pilot projects in a number of areas.
UK is a strong supporter of the DSM
Despite refusing to comment or speculate on the repercussions of Brexit – sticking strictly to the official line that negotiations will only begin when Article 50 is triggered – Ansip offered his personal view on the Brexit vote.
"Personally, when I got the news about Brexit it was not good news," he told journalists. "The UK was, and still is, one of the strongest supporters of the creation of a Digital Single Market, and you can't be happy when you lose your strongest supporter.
"I would like to have good, neighbourly, pragmatic relations, because – in or out – we all have to live together. But ultimately it is not up to the European Commission; it will be up to the UK Government."