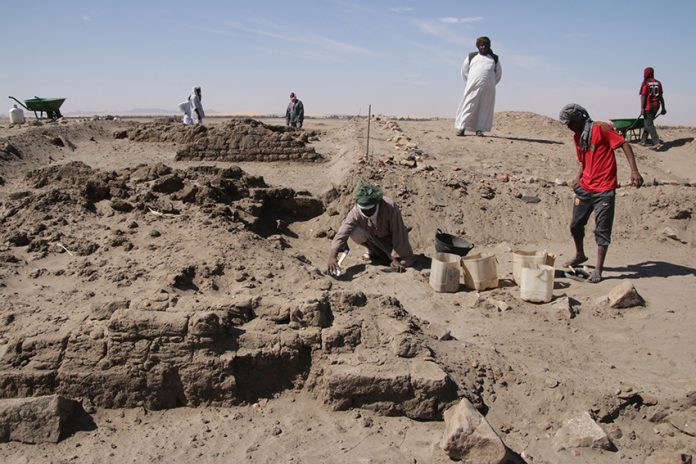 Julia Budka, Professor of Egyptian Archaeology, LMU Munich, outlines the need for further research addressing living conditions of Egyptian and Nubian towns
The European Research Council project AcrossBorders, concentrates on settlement patterns in Egypt and Upper Nubia in the 2nd Millennium BC: various interactions and mutual influences are attested for these regions which are situated across ancient (Pharaonic Egypt and Kingdom of Kush) and modern (Egypt and Sudan) borders with diverse environmental and cultural preconditions. Much progress has been made in Egyptian and Nubian settlement archaeology in recent years, but further research addressing general aspects of living conditions and the specific coexistence of Egyptians and Nubians is required. Of chief interest are the architecture and structure of the Egyptian towns established in Upper Nubia during the New Kingdom, their social stratification, the local relations of Nubians and Egyptians, and the specific material culture.
The international age of the New Kingdom in Pharaonic Egypt (c. 1539-1077 BCE) resulted in the foundation of several Egyptian towns and settlements in the area known today as Upper Nubia in Sudan. Some of these are well preserved and offer the unique chance to explore domestic life in an ancient Egyptian settlement outside of Egypt proper. The most promising example of such 'colonial sites' is the exceptionally well-preserved town on Sai Island because of its long occupation period and its attested history as an important site of the African Kingdom of Kerma. Prior to the New Kingdom, Sai was the northernmost stronghold of the Kerma Kingdom with a significant strategic role, well attested by archaeological remains.
The AcrossBorders project has conducted archaeological fieldwork on Sai Island in Sudan and Elephantine in Egypt from 2013 until 2017.
Archaeological excavations in the New Kingdom town and cemetery of Sai were complemented with kite aerial photography, structure from motion approaches, terrestrial 3D laser scans, geoarchaeological surveys, micormorphological soil sampling and various archaeometric analyses of diverse materials. Human remains, animal bones, botanical material, soil, plaster, sandstone, and all kinds of objects are currently being assessed by the general question: can Sai be evaluated as an Egyptian microcosm, despite its location outside of Egypt and its specific topographical, environmental and cultural situation? How did the local Kerma Nubians react to foreign influences and how did the Egyptians present themselves outside of Egypt?
These research questions were tackled not only by field work on Sai, but also by a close comparison with the contemporaneous town of Elephantine in Egypt. In cooperation with the Swiss Institute in Cairo, directed by Cornelius von Pilgrim, AcrossBorders has studied the material culture from 18th Dynasty buildings on this important site at the southern border of Egypt. Of particular interest was the common appearance of both Nubian and Egyptian cooking wares, providing close parallels for the situation on Sai Island.
The AcrossBorders conference
Preliminary answers to the main research questions and the most recent results of the AcrossBorders project will be presented and discussed at an upcoming international conference in Munich, to be held from 1–3 September 2017 and hosted by Ludwig-Maximilians-University. It is the closing event of the AcrossBorders project, bringing together not only all major cooperation partners but also renowned experts in the field like Manfred Bietak, Charles Bonnet and Neal Spencer among many others. The conference focuses on 1) individual households of selected sites in Egypt and Nubia (for example Tell el-Daba, Amarna, Elephantine, Amara West, Sesebi, Tombos, Kerma). Here, architectural studies as well as analyses of material culture, in particular of ceramics, will be presented, featuring up-to-date applications of archaeometry. In addition to this micro approach, introducing micro histories of individual sites according to recent archaeological field work incorporating interdisciplinary methods, the event also discusses 2) general patterns and regional developments – thus, the macrocosm of New Kingdom Nubia.
Combining research questions on the micro-level with the macro-level promises new information about cities and households in Ancient Egypt and Nubia with a focus on the development and situation during the Late Bronze Age. The AcrossBorders conference will also represent a case study for the current status of modern Egyptian settlement archaeology which is characterised by a strong interdisciplinary focus. The rich potential of well-preserved but still not completely explored sites in modern Sudan, especially as a direct comparison for already excavated sites located in Egypt, will be highlighted. The expected outcome of the conference is, therefore, to build up future communication and collaborative research between settlement sites throughout Egypt and Sudan.
Julia Budka
Professor of Egyptian Archaeology and Art
LMU Munich
Tel: +49 89 289 27543
Julia.Budka@lmu.de
http://acrossborders.oeaw.ac.at/