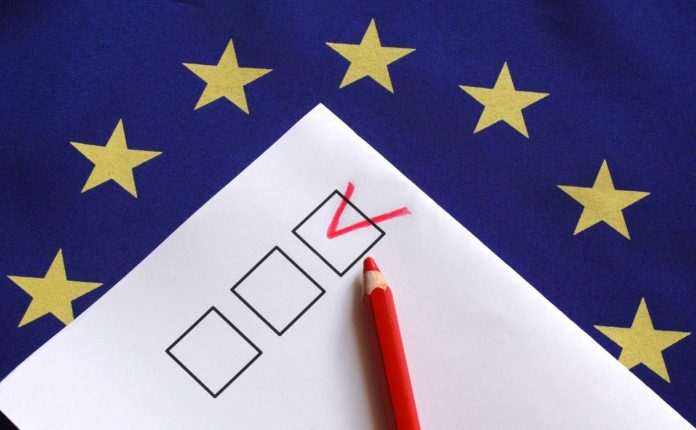 With the vote now only two weeks away, the EU Referendum campaigns are hotting up. In the week where the deadline to register to vote was extended by a day, due to website issues, we also saw a Tory MP change sides from Leave to Remain.
Over the last few weeks, the focus has been on getting people to the ballot box, with a last minute social media drive to encourage people who hadn't yet done so to register to vote. The deadline was midnight on 7 June. However, as everyone rushed to register the official website couldn't take the pressure and crashed.
According to government data, 525,000 people applied to register to vote over the course of Tuesday with figures peaking at 22:15pm, when 50,711 people were using the website at one time. Due to an astounding number of people trying to register and not being able to do so, the deadline was extended by an extra day.
JCB's chairman has also written to employees in the UK to explain his reasons for voting for a Brexit.
Lord Bamford wrote to 6,500 UK employees that he was "very confident that we can stand on our own two feet" and that more than 53 per cent of all UK exports go to non-EU nations.
Despite his views the JCB chairman told workers it was up to them to make a choice, but urged them to vote in the referendum.
The AG poll (there is still time to have your say) still remains somewhat divided, but 'out' pulled ahead this week with 54 per cent of respondents voting to leave and 40 per cent for remaining.
AG highlights a few other stories dominating the EU referendum news this week…
Brexit is making investors in the London property market skittish
Planning and Building Control Today Editor, Lisa Carnwell
According to the CNBC website, the impact of Brexit is making investors in the London property market rather skittish.
The international property consultancy JLL has already seen a 30 per cent fall in UK transactions in the first quarter of this year, with some 45 per cent of investors expected to put off any buying or selling decisions until after the referendum.
According to Duncan Peacock from Johns & Co., a firm that connects international investors with premium new homes and luxury real estate, many UK-based agents and developers are concerned that Britain losing its EU membership could make London property a less attractive proposition.
"Brexit is generating many more questions than answers, which is certainly hindering most current buying decisions," he said. "Foot-fall is good, but it is more of a window shopping exercise only."
There was also a Reuters report released over the weekend that found property investors were writing Brexit clauses into their contracts that would allow them to follow Britain out the door if it decides to leave the EU. Data from international property consultancy Knight Frank found that demand was subdued even after the prices of certain properties were slashed by 10 per cent.
Anecdotally, other real estate agents that CNBC spoke to also said that the weaker pound worked in Asian investors' favour, with some observing that the uncertainty meant that agents would be more willing to negotiate.
Alistair Meadows, head of international property at JLL's Asia-Pacific International Capital Group thinks that the fundamentals remain positive for UK property investors.
"Asian investors typically take a much longer-term view," said Meadows. "Those investors that have bought in the last 5-10 years are doing well from a capital growth perspective.
"I think irrespective of what happens on the 23 June, investors will still see the UK as a positive place to invest."
Johnson and Gove are 'pythons', says former PM John Major
Adjacent Oil and Gas Editor, Katy Edgington
Whatever the outcome of the Referendum, there will doubtless be a lot of navel-gazing to be done within the Conservative Party come the 24 June. Deepening the rift among pro- and anti-EU Tories, former Prime Minister Sir John Major gave an outspoken interview on the Andrew Marr show last weekend, condemning the malign intentions of colleagues Boris Johnson, Michael Gove and Iain Duncan Smith.
As one of the leading figures in the Remain campaign, the former PM used strong words to describe the chief Brexit supporters, calling Johnson a "court jester" and declaring that the NHS would be "about as safe as a pet hamster would be with a hungry python" if he, Gove and Duncan Smith were put in charge.
"These promises of expenditure on the National Health Service and elsewhere are frankly fatuous, they are a deceit," he told Andrew Marr on Sunday.
Despite being criticised by Eurosceptic Conservative MP David Davis of resorting to "name-calling" and personal attacks, Sir John's real frustration seemed to be a lack of honesty – a quality that has perhaps been in short supply from both sides over the course of the last few weeks. It was Vote Leave in his crosshairs, however.
"They are misleading people to an extraordinary extent," Sir John said.
"They are feeding out to the British people a whole galaxy of inaccurate and frankly untrue information."
He said he feared the British people could vote to leave on the basis of "inaccurate information known to be inaccurate", with Johnson and others peddling the myths that £350 million is sent to the EU every day, and that the 88 million people of Turkey could soon be free to move to the UK.
Will leaving the EU have an effect of the UK's fish and chip industry?
AG Editor, Laura Evans
 As reported by the BBC, people of North Yorkshire are worried that the EU referendum could damage their world renowned fish and chips in Whitby…
People travel from all over the world to taste the fish and chips served up at the seaside resort with fish used coming from as far as Iceland.
Owner of the Quayside restaurant in Whitby told the BBC that a piece of fish on the counter is from Iceland whilst the haddock is from Scotland.
Mr Fusco said about the vote in a few weeks, "At the moment I'm sat on the fence. I don't think either side has persuaded me.
"What I can tell you though is that this town is the capital of fish and chips. Last week we had people in from Holland and China because they know the stuff we produce is the best."
Despite its international reputation, hardly any of the fish fried in the restaurant is caught by local fishermen. Fish and chip shops all over the UK are reported to import fish from places such as Norway, Iceland and Spain.
Since the 1930s there has been a massive reduction in the amount of fish landed in the UK. For example, when Queen Victoria sat on the throne, it was 598,000 tonnes and in 2014 it was 451,000 tonnes.
In 2014, 1500 tonnes of fish were landed in Whitby with 93 per cent of that fish being shellfish (crab, lobster, etc). Of the 451,000 tonnes landed in the UK as a whole, 35 per cent was landed in Peterhead in Scotland which is the UK's biggest fishing port.
Skipper of one of the fishing trawlers in Whitby harbour,  Fred Normandale of Aberdeen says 95 per cent of fishermen in the UK will be voting to leave.
"I think it's a tragedy there is no fish being landed in a town synonymous with fish and chips," he told the BBC.
"When we joined the EU, one of our boats sailing out of Yorkshire port was allowed to catch 100 tonnes of cod a year. You could make a living off that, but now the quota is down to 20 tonnes and from a local business point of view, it's just not viable."
Last year, the EU increased the amount of haddock UK fishermen are allowed to catch by 47 per cent, which Mr Normandale describes as insignificant.
"We need a 500 per cent increase if we're to preserve what we've got left of the industry."