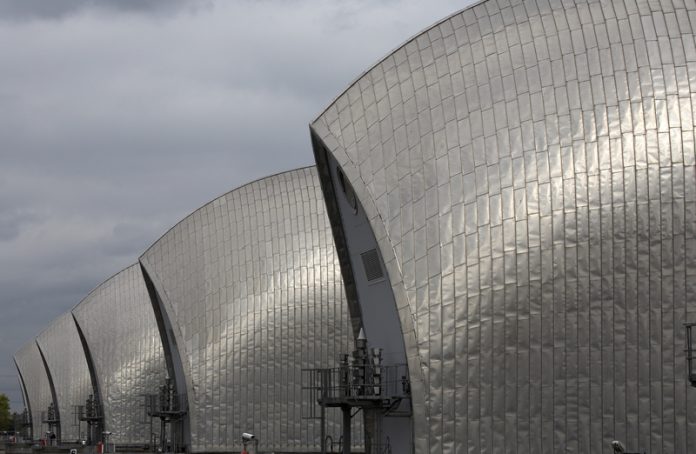 London and the Thames Estuary will benefit from £1.8 billion in new flood defence money, with eight times more per person allocated than in the north west
Half of all flood defence money set aside under a £3.7bn national flood spending programme will be spent on protecting London and the Thames Estuary, according to a BBC analysis of official figures.
Many flood victims in the North of England remain homeless a year after storms Desmond and Eva wreaked havoc across parts of Yorkshire, Lancashire and Cumbria. Around 16,000 homes were flooded in the region.
The River Thames also flooded last year with riverside areas of central London left under water. The South East of England also suffered bad flooding three winters ago, with rivers including the Thames, the Darent in Kent and the Ash in Surrey all breaking their banks and flooding nearby homes.
Regional disparity in spending highlighted
An analysis by BBC Yorkshire of flood defence money allocations across the country found that funding of at least £3.7bn for various flood defence and coastal erosion projects has been committed by the Environment Agency and local councils up to and beyond 2021.
In York, a new five-year plan to reduce the risk of flooding was announced last month, and in September the government committed £12.5m for temporary flood defences across England.
When further developmental projects are accounted for, £6.1bn worth of new defences are earmarked for construction across England.
But the analysis highlighted a vast regional disparity in the amount of money allocated; flood defence spending is set to reach £381 per person in the East of England, compared to only £48 per person in the North West of England.
"Where it will benefit the most people and property"
Spending on the Thames Estuary alone is expected to total at least £1.8bn, which is four times as much as will be spent on flood defences in the whole of Yorkshire and The Humber.
The Environment Agency argued that its investment in flood defences has already reached a record level of £2.5bn, and that 300,000 homes would be protected by the year 2021.
"We invest in flood defences where the risk is highest, wherever it is across the country, giving each scheme careful consideration to where it will benefit the most people and property," a spokesperson for the body, which spends most on flood defences in England, said.
"So we are investing £446m of government funding in Yorkshire to better protect 71,000 homes from flooding and £193m across Cumbria and Lancashire to better protect over 35,000 homes."