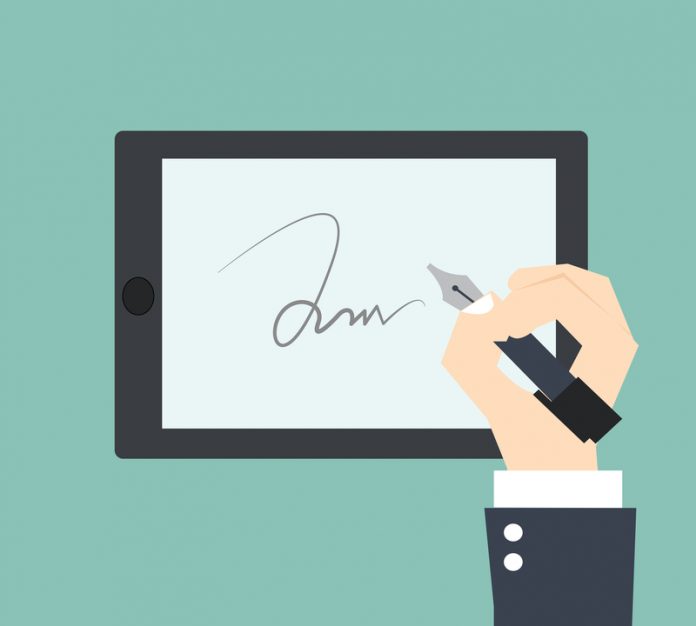 Qualified electronic signature solutions can provide security and efficiency, as Comsign Europe explain
According to Gartner, Inc., 6.4 billion connected things will be in use worldwide this year and by the year 2020, the number of connected devices – i.e. the Internet of things (IoT) – will grow to nearly 21 billion. Other research suggests that over half of major new business processes will incorporate some element of IoT by 2020.
As a company which leads transformation in healthcare, governments, telecom, finance, energy, education, enterprises and others, Comsign Europe are constantly surprised to see the shift our society is going through and that in fact, we are always facing "the next big change". It is clear that the digital age changes the way we live and raises the expectation bar of consumers on how they use services – they want it to be on-demand, simple and secure from their mobile phone or connected device. It also changes organisational conduct, allowing businesses to create efficiency, cost reduction, sustainability and other new opportunities.
Alongside all these significant benefits, we are now exposed to major risks more than ever before. With the increasing number of hackers' attacks and their ever-increasing level of sophistication, the prospect of our digital future might appear to be worrying. So what can we do about it?
Choosing a technology to meet the needs of tomorrow
The UK Department for Business, Energy and Industrial Strategy recently published a paper on Electronic Signatures and Trust Services. This follows the changes made to the electronic signature regime introduced by Regulation (EU) No 910/2014 on electronic identification and trust services for electronic transactions in the internal market (the eIDAS Regulation).
The eIDAS Regulation is divided into three parts. The first section deals with electronic identification systems. The second part deals with Trust Services and electronic signatures and clarifies existing rules, as well as introducing a new legal framework for electronic signatures and seals, time stamps, registered delivery services and website authentication. The third part deals with electronic documents.
These rules offer greater legal certainty to services that follow eIDAS rules, which are designed to improve the reliability and trustworthiness of these services.
When choosing an electronic signature solution, it is important to utilise a proven technology that complies with regulations and directives of the state law, in order to meet different types of business goals, such as keeping your organisational data secure while implementing a cost effective process. For example, with regards to e-documents like electronic medical prescriptions signed by physicians or while sending electronic affidavits by lawyers to court – one has to be certain about the identity of the signer.
Qualified electronic signature (compliant with eIDAS) – from "nice to have" to a survival tool
Qualified electronic signature solutions bring huge benefits such as:
Trusting the electronic signature as the representation of the REAL identity of the signer.
Trusting the validity and integrity of the e-document.
Trusting the automated electronic processes to be more secure than previous paper processes.
Minimising administrative work and mitigating the risk of human errors.
New trusted channel to connect with suppliers, customers, etc.
Convenient workflow to sign from anywhere at any time.
Document management – gaining control over the entire process.
Enhanced data security – technology including time stamping, electronic seals and other features.
Legally binding – qualified signatures can't be forged or denied and are admissible in court.
Sustainability – become environmentally friendly.
Eliminating all costs related to paper-based processes (production, storage, mailing, handling and archiving) creating a substantial saving.
Solutions you can apply today

Signing server – to automatically sign and send millions of documents
Designed to meet the needs of medium – large size organisations, you can integrate a server solution (such as the Signer1) with the enterprise's document generation workflow, to automatically sign a large amount of documents in minutes. The server includes an internal cryptographic device a portal to be used by the customer and a large storage. The solution also comes as SaaS. Click here to read more.

Point Of Sale – to create the ultimate customer's experience
A solution that allows customers to sign agreements on tablets at the branch, from home or on the go. Shortened lines, friendly process, no scanning or printing involved. The point of sale solution includes many functionalities to deliver maximum flexibly. The product is ready to be implemented and can be custom-made to specific needs. Click here to read more.

Online Portal – to sign clients, suppliers, employees, peers, etc. from anywhere in minutes
The online signing portal was developed in order to facilitate difficulties with internal and external workflow processes.  The portal allows the organisation to upload documents and send the link to peers or customers in order for them to sign online, from the office or on the go. It allows for improved document management, it sends alerts and notifications and makes what was once a long process, a short, monitored and friendly one. Click here to read more.
What to look for in the future?
As more and more parts of our lives are becoming digitally connected, the use of secure infrastructures becomes more and more critical. One way to try to overcome the ever increasing security threats is to apply an IoT infrastructure based on electronic signatures and qualified digital certificate (eIDAS). With security remaining the top concern among businesses in relation to IoT, the infrastructure to support IoT needs careful consideration, as typical enterprise-scale infrastructure investments will not enable the IoT to scale economically.
Tal Lior
Head of Marketing
Tel: 020 8906 6898
Please note: this is a commercial profile