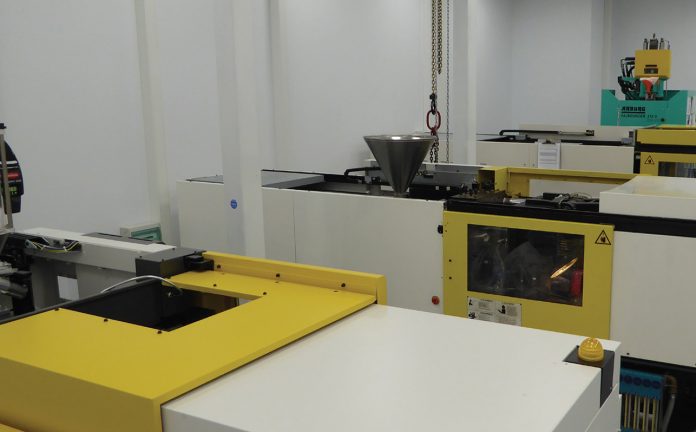 Irish Micro Mouldings are specialists in injection moulding, who have become key players in the Irish plastics industry
Located just 20 minutes away from Galway City Centre, Irish Micro Mouldings (IMM), are one of the key players in Ireland's plastics industry. The company has been trading from Galway for just over 30 years and has been operating under the present owners for a little over 10 years.
"Being so well established means that the management and the technical staff, our core team, is very solid. We have very low employee turnover and everyone is involved in the development of the business," explained Pat Whyte, Managing Director of Irish Micro Mouldings.
Strong core technical team
"We have a very strong core technical team who are very passionate about what they do," said Pat. "Over the years the present staff have refined and improved the processes and structure. The people involved are very loyal to the area and to IMM and that is the main reason it is successful. The strong focus on having a design, tool room, cleanroom and quality marks, makes the difference."
The plastics industry is one that requires a strong workforce with highly skilled individuals; as a result of this many companies will work in tandem with local colleges and educational facilities. IMM are one such company. They have a close working relationship with many training and educational institutions, in particular with First Polymer Training. This particular institute has been a very important resource to IMM as their core technologies are based on polymers/plastics.
"In the future we hope to see more interaction with the third level colleges and also hope to take on more practitioners and hands on staff in polymer processing and toolmaking. We have just started an Innovation Partnership with UCD's Professor Denis Dowling on surface treatments of polymers."
Innovative processes
IMM like to take a very 'hands on' approach to the products they develop. They are involved in all aspects of the process from design to prototype and then on to manufacture.
"We produce initially in small quantities and scale up to higher demand when needed. Because we do all the R&D we know the products very well and we are able to add value to the product and take out cost in the manufacturing process," said Pat.
They produce a low to medium volume of most of their products, approximately 100,000 per year. This is a typical volume for the medical device manufacturing industry. However they have also filled orders for as little as 20 parts and they also make a small number of their products in the millions per year. Because of this variance they have to be both flexible and adequately staffed. Their employees need to be highly trained and multi-skilled.
IMM use innovative processes in over-moulding, micro over-moulding, bio-absorbable and specialist tooling and bonding techniques. They have their own R&D department, part and tool design, and mould and tool manufacture. According to Pat: "IMM are very fast at R&D and have ways to fast-track development of new products. Our target market is: minimal invasive devices, cardiovascular, bio-absorbable products and generally difficult things in this area."
At the forefront of technological advancement
IMM are dedicated to remaining at the forefront of technological advancement in their industry. This is why they have been continually investing in the latest equipment for moulding and the tool room.
"We have spent approximately €300,000 on equipment in the last year as well building a new cleanroom," said Pat.
So what next for Irish Micro Mouldings? Currently they are consolidating their new cleanroom and they have already started on a new design and prototype centre office and new tool room. On this Pat said: "This is tied in with our plans to become a go-to resource for the medical device and related industries for R&D in our area of expertise."
Sustainability, Lean and 5S
Lean manufacturing has become an important part of many manufacturing processes and IMM have been implementing it with some success. They have obtained some good results with lean and 5S, which is a workplace organisation method that describes how to organise a workspace for efficiency and effectiveness by identifying and storing the items used, maintaining the area and items, and sustaining the new order. According to Pat, the implementation of lean and 5S is a constant journey.
Another key element in many manufacturing processes is the practice of sustainability. It has become more and more important to many companies that they are actively minimising the negative environmental impact of their manufacturing process. It is also important to create their manufactured goods through economically sound processes while also conserving energy. IMM are working on their sustainability on a constant basis.
"We work on sustainability all the time, and are currently working on it at a very high level. This includes succession planning and putting in place structures and plans to keep IMM ahead of the curve. A company our size needs to be doing something different and better than anyone else. We have advantages due to our size, but also challenges. As we spend a lot of resources on R&D we are safeguarding our future."
Pat Whyte
Managing Director
Tel: +353 (0)91 593814
Fax: +353 (0)91 593449
Please note: this is a commercial profile