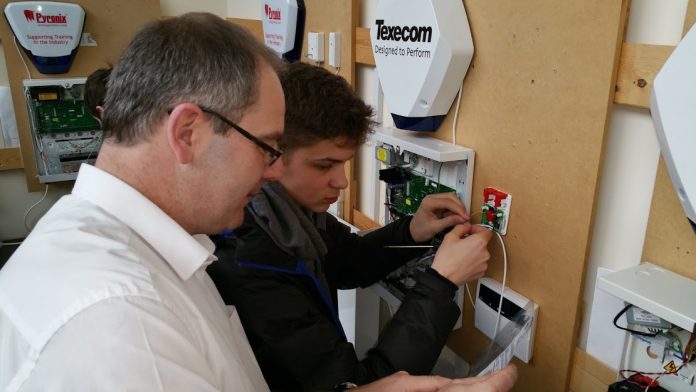 James Kelly, Chief Executive of the British Security Industry Association looks at the value of apprenticeships and how they are shaping the industry
2017 is proving to be a big year for apprenticeships in the security industry, with the Fire, Emergency and Security Systems Trailblazer standard being launched ahead of crucial changes to the way the government will be funding apprenticeships in England. Apprenticeships are vital to the future of the industry and in recent years there has been a perceived skills gap in the fire and security sectors, as such, these new apprenticeships developments couldn't have come at a better time.
The new Fire, Emergency and Security Systems Trailblazer was developed after employers within the industry saw the need for better quality apprenticeships to help bridge the skills gap and ultimately improve businesses. As a result, 13 employers came together to form a Trailblazer Employer Group in order to create a uniformed standard for a fire, emergency and security systems technician. The group consisted of: Abel Alarm Co Ltd, Christie Alarm, AAI Security, CSL, Kings Security, Chubb Fire & Security, Secom, Amalgamated Ltd, Wessex Fire and Security, Banham, BDS Fire, Pointer Ltd and Stanley Security Solutions. Throughout the development of the standard, employers from within the fire and security sectors were encouraged to provide an input on what they would like to see from apprentices and the most effective ways for them to be assessed in order to ensure a high standard of training.
Trailblazer apprenticeship
The new Trailblazer is a Level 3 apprenticeship with a choice of pathways, including security, fire, fire and emergency lighting and fire and security, as well as a core module and an end assessment. All pathways will include core modules as well as units relevant to the chosen discipline in order to create well rounded, high quality engineers. There will also be an opportunity to transfer Level 2 City and Guilds to the new apprenticeship. Developed with the support of the BSIA, Fire Industry Association (FIA) and the Fire and Security Association (FSA), along with other industry stakeholders, the Trailblazer gained government approval last year and was officially launched in February 2017.
The development of the Trailblazer is a positive step for the fire and security industries, with the standard enhancing the skills of apprentices as they learn to design, install, commission and maintain electronic systems. Being regularly assessed throughout the Trailblazer, apprentices will develop an array of core knowledge and skills, including health and safety, electrical and electronic principles, practices and procedures, core systems, system technologies and environmental principles, along with customer service, communication and commercial awareness. With such well-rounded training, through a combination of 'on the job' training, mentoring and knowledge-based learning, high-quality apprentices will serve to increase the overall value of a business and secure the future of our industry.
As well as the launch of this new Trailblazer, this spring will see the way the government funds apprenticeships in England change, with employers with a pay bill of over £3m each year being required to contribute 0.5% of their payroll into their new apprenticeship levy pot. In an effort to get more businesses to invest in apprenticeships, employers will then be given an allowance of £15,000 to offset against their levy payment, which will be paid in monthly instalments through a new Digital Apprenticeship System. This allowance can be used to pay for quality apprenticeships, with the government contributing an additional 10% to the monthly funds.
This new reform will come into effect as of 1st May 2017 and hopes to increase employer demand for apprenticeships, as the employer will now have control of the content and assessment of the apprenticeship – through the Trailblazer scheme – as well as the funding available. When choosing training, however, it is important to select an apprenticeship that is delivered against an approved framework or standard with an approved training provider and assessment organisation.
Apprenticeship policy
Under the government's new apprenticeship policy, training providers must be on the Register of Apprenticeship Training Providers (RoATP) in order to be eligible to deliver apprenticeship training – either directly or as a subcontractor – to large, levy-paying employers. A full list of eligible providers was published in early March, with Skills for Security, the industry's sector skills body, making the grade. In order to be accepted onto the register, providers had to pass all elements of the application, which included due diligence checks on compliance, quality and financial health, ensuring that that the organisation has the capabilities to deliver high-quality apprenticeship training.
It is positive to see these new initiatives emerging, highlighting just how important apprenticeships are to our society. With the high quality training available, the skills of the younger generation can be enhanced and apprenticeships can provide a valuable pathway to a successful career that can benefit the apprentice, the business and the industry as whole.
James Kelly
Chief Executive
British Security Industry Association (BSIA)