Thanks to Agility, passengers in Nottingham benefit from a smooth service with asset availability running at 98%
Nottingham Tram Ltd were awarded the contract in 2012 by Nottingham Council to take over the original tram network and complete ambitious £570M expansion plans. The expanded network now spans Nottingham City Centre and includes 31.5km of track, a system covered by 37 trams with 51 tram stops and connecting 7 park and ride sites with over 5000 spaces.
The tram network is now operated by Keolis and Wellglade as a joint venture, Nottingham Trams Ltd.
The business need
The new contract included an obligation to replace the existing maintenance management system to one that would offer:
Maintenance management, including planned, preventative & routine maintenance activities, reporting of asset availability and asset reliability and manpower 

utilisation

Inventory management including stores, purchasing and financial management
Control Room incident logging & reporting
Links to other software to receive data inputs and outputs from their CMMS
Generation of reports & access by third parties
These requirements had a significant bearing on determining the choice of system.
The solution
Various systems were investigated including Keolis' own asset management system. In comparison to the other systems, Agility matched the full set of requirements and offered significant value so the decision was made in early 2012 to migrate to Agility.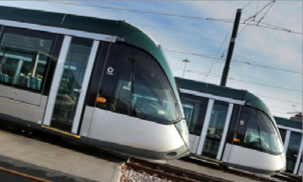 Agility manages all planned and reactive maintenance of the infrastructure including tracks, tram stops, platforms and overhead lines and controls the inventory and purchasing of stock and spares.
Any faults or reactive maintenance required on the trams is also recorded in Agility and then allocated to a contractor. Predictive maintenance helps to reduce costs and avoid service disruption
The benefits
"Agility is used extensively throughout the tram network by 135 users across a 24/7 shift pattern. It manages 500 reactive and 400 planned work orders per month and coordinates over 400 inventory movements", explains Leanne Cooke, Engineering Asset Manager at Nottingham Tram.
"Agility is used to allocate work internally and also across a network of contractors. The contractors have access to Agility so work is visible to them and Nottingham Tram can monitor each individual contractor's performance. The labour utilisation of the internal team has increased massively as work is allocated directly to the most relevant and available resource".
Through using Agility, asset availability now runs at an average of 98% and downtime for failures has reduced from an average of 10 days to 1 day.
The transition to Agility has provided Nottingham Tram with a Performance Measurement System (PMS), enabling them to automatically produce 15 reports, illustrating performance to the Council and Transport Executive. The reports include labour utilisation and completion of work to show resource usage and response times, which can influence payment from the Council. On average, Agility saves 40 hours per month in manually generating these reports.
Beyond managing assets, maintenance and people, Agility is also used to manage the Control Room Log and gather and process Customer Service Feedback.
Leanne added: "Agility acts as the Control Room Log which is the central reference point for all information for any operational events that could affect service such as; late trams, withdrawn services, tracing issues, weather, shift handover, accidents, city events and road traffic. Agility captures all this information, approximately 600 entries per month, which are monitored and used to demonstrate performance and then generate any corrective work that might be needed".
Passenger feedback is gathered using Agility Helpdesk on mobile devices by the Customer Service Team. All feedback is captured to help demonstrate passenger satisfaction and any lateness fines claimed by passengers are processed in Agility.
Nottingham Tram recently moved to take advantage of the benefits of SSG Insight's hosted Agility solution, which includes access to the Customer Support Portal and automatic Agility upgrades. This move has seen Nottingham Tram improve work completion times from 20% overdue to just 7%, against a target of 10%, as Agility can now be easily accessed by all devices.
Next steps
Nottingham Tram recently began to use Agility to perform predictive maintenance based on track wear rates from high stress points, such as bends, to then schedule repairs and plan replacements, helping to reduce costs and avoid service disruption.
SSG Insight are also now discussing an integration with an internal finance system so invoices can be automatically linked to purchase orders raise in Agility. The powerful reporting capabilities of Agility BI are also being considered to improve Nottingham Trams reports.
Editor's Recommended Articles