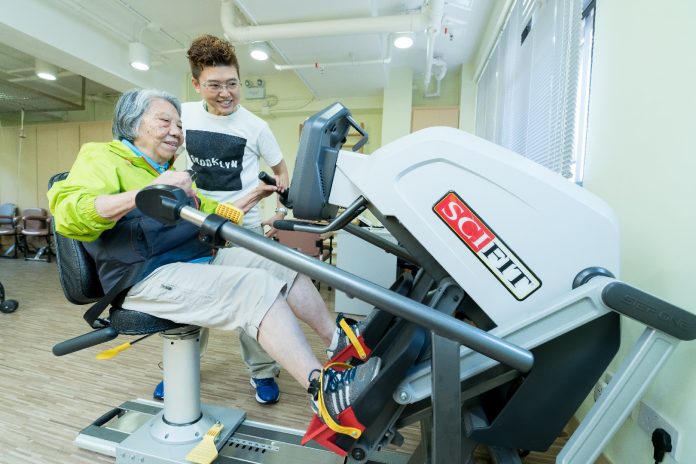 Examining the effects of post hospital discharge care on enhancing the physical and cognitive functioning of people with dementia
People with dementia have poorer health outcomes and have more frequent hospital admission than people without cognitive impairment, they are also more prone to have a longer stay in hospital and be readmitted to hospital after discharge. In a retrospective study of patients discharged from convalescent wards in a rehabilitation hospital in Hong Kong, the average length of stay of confused patients was much longer compared to those without cognitive impairment.1 A prospective cohort study on over four thousand community-dwelling elderly revealed that close to 30% of the people with dementia have hospital readmission within 30 days.2 People with dementia are more likely to be placed into nursing home after hospital discharge than those not with dementia3,4 because they are more likely to experience deconditioning and confusion with hospital stay5 and become more difficult to look after.6
Jockey Club Centre for Positive Ageing (JCCPA) has been operating as a day care and respite care centre for people with dementia on a self-financing basis for over twenty years in Hong Kong (www.jccpa.org.hk). We have recently developed a post hospital discharge care model for people with dementia and their family caregivers, The protocol is designed for people with dementia using a case management approach. People with dementia discharged from hospitals were transferred to JCCPA for a four-week overnight transitional residential care, during which intensive nursing care, physiotherapy and social stimulating group activities were offered, followed by eight-week day care rehabilitation activities so as to help the care recipients recover their mobility and cognitive functioning, and facilitate the caregivers to prepare for further caregiving. With the funding of the Hong Kong Jockey Club Charities Trust, we have been able to offer our transitional care programme at a subsidized rate.
So far the demand for our transitional care programme has been great despite the COVID-19 pandemic. The interim on n=67 participants showed that the care recipients had a significantly better mobility after the intervention, measured by Elderly Mobility Scale, while a reduction in fall risk was observed. Significant improvement in cognitive functioning and nutrition was also observed.
The program is noted to benefit the caregivers in terms of reducing their caregiving burden, and less negative thoughts on caregiving (figure 1). Over 70% people with dementia stayed at home after the program and at 3-month follow-up period, while 81.6% participants did not have hospital readmission from program discharge to 3-month follow up period.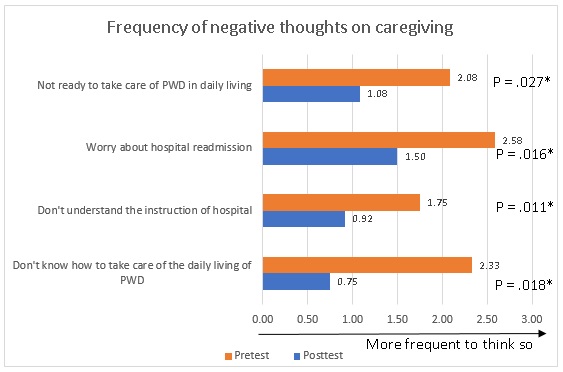 The interim findings affirmed the effects of the program on enhancing the cognitive and physical (in terms of mobility and nutrition) functioning of people with dementia discharged from hospital, and that the program could help caregiving and facilitate ageing in place and reducing hospital readmission. The benefits and cost-effectiveness of the program will be further studied to understand how the program could be implemented in a larger scale.
Authors
Professor Timothy Kwok, Director,
Ms Bel Wong, Research Manager,
Jockey Club Centre for Positive Ageing
Reference
Kwok T, Bai X, Chui MY, et al. Effect of physical restraint reduction on older patients' hospital length of stay. Journal of the American Medical Directors Association. 2012;13(7):645-650.
Callahan CM, Arling G, Tu W, et al. Transitions in care for older adults with and without dementia. Journal of the American Geriatrics Society. 2012;60(5):813-820.
Draper B, Karmel R, Gibson D, Peut A, Anderson P. The Hospital Dementia Services Project: age differences in hospital stays for older people with and without dementia. International psychogeriatrics. 2011;23(10):1649-1658.
Allali G, Verghese J. Management of Gait Changes and Fall Risk in MCI and Dementia. Current Treatment Options in Neurology. 2017;19(9):29.
Agens Jr JE. Chemical and physical restraint use in the older person. British Journal of Medical Practitioners. 2010;3(1).
Sampson EL, White N, Leurent B, et al. Behavioural and psychiatric symptoms in people with dementia admitted to the acute hospital: prospective cohort study. The British journal of psychiatry. 2014;205(3):189-196.