Despite there being a lot of resources available to reduce the risks of volcanic eruptions, researchers note the world is "woefully unprepared"
There is a "broad misconception" that the risks of major volcanic eruptions are low, state researchers from the University of Cambridge's Centre for the Study of Existential Risk (CSER), and the University of Birmingham.
These experts claim the current lack of governmental investment in monitoring and responding to potential volcano disasters as "reckless."
As funding is constantly being delivered to prevent low-probability scenarios such as asteroid collision, the far more likely threat of a large volcanic eruption is close to ignored, despite the likely chances of major repercussions.
Comparable to the scale of a pandemic, experts determine those volcanic eruptions can have cataclysmic effects on global supply chains, climate, and food. How can we change this?
Some volcanic eruptions are comparable to the scale of a pandemic
Steps can be taken to protect against volcanic devastation
The risk of a giant eruption can be compared to that of a 1km-wide asteroid crashing into Earth, yet the likelihood of a volcanic catastrophe is hundreds of times higher than the combined chances of an asteroid or comet collision.
To tackle this, improved surveillance, increased public education, and magma manipulation are just 3 of the many ideas researchers have had to promote better safety and planning for volcanic eruptions.
Steps need to be taken to help forecast and manage the possibility of a planet-altering eruption, and help mitigate damage from smaller, more frequent eruptions, including a more accurate pinpointing of risks.
Released gas emissions are among the few chemical signals that provide evidence of the processes occurring in magmatic systems that are located deep below the surface and are thus otherwise inaccessible. Using drones to monitor this, researchers have assumed that the analysis of such volatile emissions could play a central role in improving the prediction of volcanic eruptions.
Measurement drones can overcome these problems and have already been used to measure the chemical characteristics of volcanic gases.
Exact magma locations may improve volcanic eruption forecasts
Additionally, Cornell University researchers have discovered precise, microscopic clues to where magma is stored, which could also offer a method of better assessing the risk of volcanic eruptions.
So far, researchers only know locations of a handful of the 97 eruptions classed as large magnitude on the "Volcano Explosivity Index" over the last 60,000 years, entailing that there could be numerous other dangerous volcanoes around the world over with the potential for extreme destruction – which we don't even know about yet.
An eruption in Tonga in January was the largest ever instrumentally recorded
The Hunga Tonga-Hunga Ha'apai volcano had an eruption in January of 2022, forming an initial wave which was around 90 metres high while releasing more energy than the most powerful nuclear bomb ever detonated.
This same tonga volcano eruption has also been known to cause electric currents in space.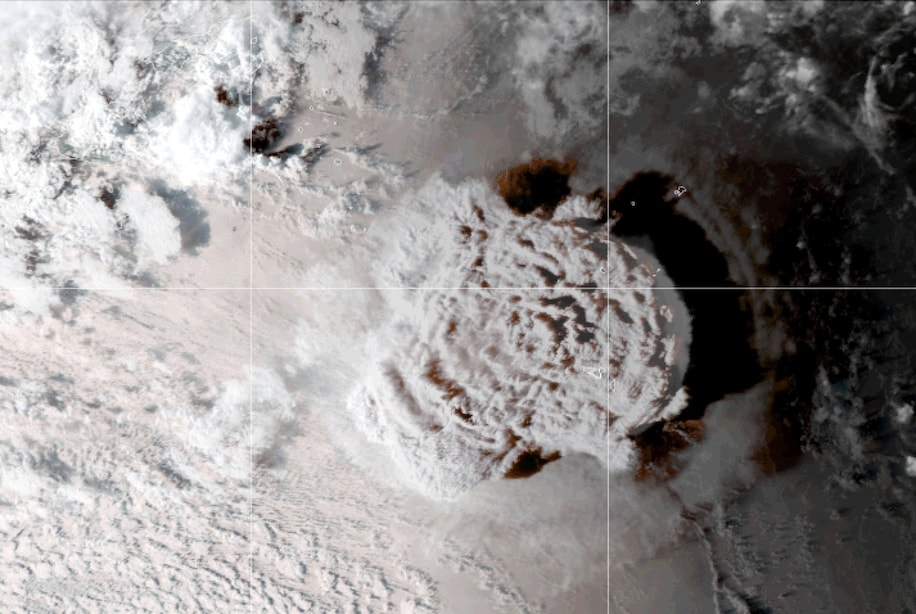 Mani, a lead researcher, said: "The Tonga eruption was the volcanic equivalent of an asteroid just missing the Earth, and needs to be treated as a wake-up call.
"Such gigantic eruptions have caused abrupt climate change and collapse of civilisations in the distant past."
"Such gigantic eruptions have caused abrupt climate change and collapse of civilisations in the distant past"
The researchers argue that if it had gone on longer, released more ash and gas, or occurred in an area full of critical infrastructure – such as the Mediterranean – then global shock waves could have been devastating.
"Hundreds of millions of dollars are pumped into asteroid threats every year, yet there is a severe lack of global financing and coordination for volcano preparedness," Mani said.
"This urgently needs to change. We are completely underestimating the risk to our societies that volcanoes pose."
Monitoring must be improved, as only 27% of eruptions since 1950 have had a seismometer anywhere near them, and only a third of that data again has been fed into the global database for "volcanic unrest."
Editor's Recommended Articles