UNHCR, the UN Refugee Agency details the facilitation of refugees in national systems – with interesting examples from Ethiopia
Ethiopia has a long history of welcoming refugees onto its territory. Today, it provides protection to more than 910,000 refugees and asylum seekers from 24 countries, making it the second largest hosting country in Africa and the sixth hosting country worldwide. (1) Refugees from South Sudan, Eritrea, Yemen and Somalia represent the vast majority of those hosted in the country.
Building on Ethiopia's nine 'Pledges' made at the Leaders' Summit of 2016, (2) Ethiopia is a leader in the implementation of the Comprehensive Refugee Response Framework (CRRF).(3) The Framework is a new blueprint for refugee protection, assistance and solutions, characterised by more robust responsibility-sharing and a broader engagement of actors, together with the greater inclusion of refugees in national systems in the countries that host them.
On the ground, support to deliver basic services to refugees in key sectors, such as education, health, child protection and water and sanitation, are provided by the Ethiopian Government through the Administration for Refugee and Returnee Affairs (ARRA), UNHCR and other UN and NGO partners. (4) Increasingly, through greater engagement with the World Bank, private foundations such as IKEA and other non-traditional humanitarian partners, refugees have begun to participate more in the Ethiopian economy. Key to this are the commitments by the Ethiopian Government to grant refugees the right to work, freedom of movement outside refugee camps and a recently adopted measure to extend individual documentation and registration of vital events such as births, death and marriages.
The value added of the CRRF approach is clear. By facilitating the inclusion of refugees in national systems, the government ensures a more holistic, cost-efficient and coordinated response that can benefit both host and refugee populations. In return, the government receives greater support from development actors such as the World Bank through a favourable financial facility that aims to strengthen the capacity of governments and communities to absorb the effects of largescale movements of refugees. Such an approach is all the more significant given that Ethiopia is the second most populous country in sub-Saharan Africa and has an estimated 30% of the population still living under the poverty line. (5)
Water and sanitation are at the very core of sustainable development in Ethiopia. Over the last three decades, significant investments have been made to improve access to drinking water, especially in rural areas, resulting in over 52 million people being able to access an improved drinking water source as compared to only 6 million in 1990. (6) An estimated 57% of the population now have access to safe drinking water (compared to 14% in 1990) and 28% have access to basic sanitation (up from a 3% baseline in 1990). (7) These investments have effectively improved health outcomes for the population.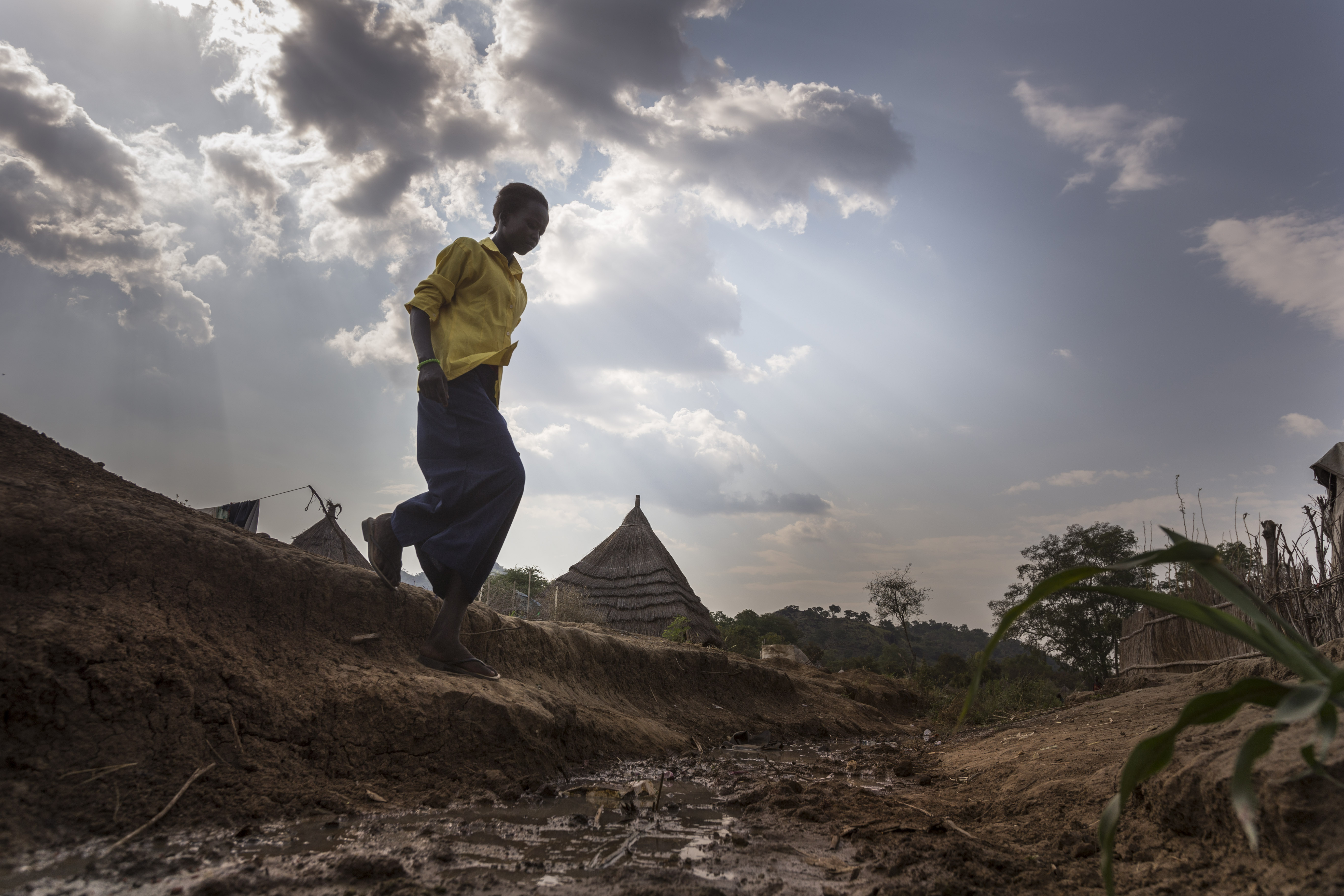 The Ethiopian Government has put in place various policies, strategies, sectoral development plans and institutional arrangements to ensure access to clean water and sanitation. The responsibility for the development and provision of these services is shared among the federal ministries (water, health, education and finance) and their respective regional and local offices.
In most cases, water supply systems in refugee camps are managed by non-governmental organisations or ARRA with financial support from UNHCR, UNICEF and other donors. As refugees were settled in sparsely populated areas without reliable access to water, water systems were established, serving refugees and nearby host communities alike. While the building up of the water systems was needed to address the urgent needs of the refugee and host community, they remain however parallel to the national systems which are operated by partners at high costs.
In the west of Ethiopia, the 2014 influx of South Sudanese refugees were used to pilot a new utility model through the expansion of the water supply scheme for Itang town in the Gambella region. Utilities are part of the Ethiopian governments' ONE WASH strategy and are implemented in towns and cities, they have however not yet been implemented in refugee hosting areas.
An economic analysis showed that the costs of emergency water trucking needed to supply water for the new refugees were equivalent to the capital expenditure required to build the entire water network in the camp and connect it to the existing Itang town system, after which only the running costs and pumping would need to be covered. With the empirical evidence clearly supporting the new vision, UNICEF, the Regional Water Bureau in Gambella, UNHCR and ARRA invested in a system that now spans the newly established refugee camps of Kule, Tierkidi and Nguenyiel, as well as two nearby towns of the hosting community.
The Itang Integrated Water Project is a first in the country to connect refugee camps with local communities under the new utility approach. A board is established to oversee the function of the water utility, comprising of members of the water bureau, ARRA, host community and refugees. When finished, a total of 250,000 people will benefit from the new water system (75% as refugees).
The creation of the water system has effectively reduced the price of water for the host community to an average of 11 Ethiopian Birr (about $0.41) per cubic meter in Itang and Thurfam towns. (8) In the initial phase, UNHCR will cover the water costs for refugees, the overall costs of water provision will be reduced due to economies of scale and the avoidance of parallel systems.
Gradually, as refugees gain the right to work and become more self-reliant through small loans and livelihood opportunities, the utility will start to sell water to refugees as well. To ensure the sustainability of these efforts in the medium-term, refugees will need to be anchored in Ethiopia's development plans and the national budget.
This project has proven to be a strong example of extending services to refugees simultaneously easing the burden on the hosting communities and providing for a win-win situation. This goal, embedded in the CRRF, helps to foster social cohesion between refugees and host communities while ensuring sustainable practices that can be scaled and modelled elsewhere.
References
UNHCR, Global Trends: Forced Displacement in 2016, 2017.
A summary of UN Member States' pledges towards greater refugee protection can be found here (http://www.unhcr.org/58526bb24).
New York Declaration for Refugees and Migrants, Annex I, 19 September 2016, http://www.unhcr.org/57e39d987.
Ethiopia's tiered government system consists of a federal government overseeing regional states, zones, districts (woredas) and 

neighborhoods 

(kebele). At present, Ethiopia is administratively structured into nine geographical regions – Tigray, Afar, Amhara, Oromiya, Somali, Beneshangul-Gumuz, Southern Nations nationalities and Peoples, Gambella and Harari – and two administrative cities, Addis Ababa and Dire Dawa Administration Councils.
World Bank Group, Ethiopia Poverty Assessment 2014, 2015.
UNICEF, Evaluation of the UNICEF Ethiopia Water, Sanitation & Hygiene (WASH) Country Programme Document, January 2012-June 2016.
The Federal Democratic Republic of Ethiopia Ministry of Health, Health Sector Transformation Plan 2015/16-2019/20, October 2015.
For more information, please read the report by Zerihun Associates, entitled "Revised Business Plan and Tariff Setting for Itang Town Water Utility". The plan puts into perspective how the water system can sustainably run, recover costs and operational maintenance without needing external support.
UNHCR, the UN Refugee Agency
Tel: +41 22 739 8111
Twitter: @refugees
Editor's Recommended Articles