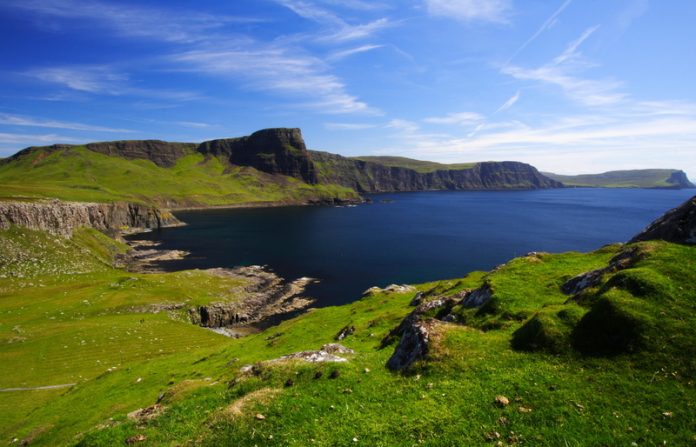 The Scottish Environment Secretary, Roseanna Cunningham MSP, sets out the key aims of Scotland's draft climate change plan for Open Access Government
The publication of our new draft Climate Change Plan represents an opportunity to build on the ambitious approach that has seen Scotland gain recognition in the international community for its work on reducing greenhouse gas emissions.
Seven years ago the Scottish Parliament unanimously passed the most ambitious climate change legislation anywhere in the world, and more recently, by exceeding our 2020 climate change targets and achieving a 42% reduction in emissions six years early, we cemented our reputation as world leaders.
Our draft Climate Change Plan will build on this momentum by setting out how Scotland can reduce emissions by 66% by 2032, using 1990 emission levels as a baseline. The proposals show a new level of ambition in our work to build a prosperous low carbon economy and a fairer, healthier Scotland.
This reduction takes us into truly transformational territory. Wide-ranging changes in transport, buildings, heating, power, and land use will help us meet these targets.
By the 2030s we expect to see dramatic reductions in emissions from buildings – both residential and nondomestic – through energy efficiency measures and the decarbonisation of heat.
We expect to have electricity generation almost entirely decarbonised by 2025, through a mix of energy generation technologies and we will increasingly rely on electricity to heat our homes and power vehicles.
Scottish households should save hundreds of millions of pounds on their fuel bills over the lifetime of the Plan, and thousands of jobs will be supported through the development of energy efficiency, as well as renewable heat services and technologies.
We will do all we can to make our shops, offices, schools and hospitals warmer and easier to heat. If we can reduce energy demand we can help businesses improve their energy productivity and competitiveness, and it will offer savings in the public sector for frontline services.
Reducing emissions and improving air quality
Clearly transport plays a crucial role in tackling climate change. Our draft plan sets out our vision for the transport sector to be significantly decarbonised by 2032, with emissions dropping by a third compared to 2014. We want to see widespread low emission cars and vans, and low emission HGVs commonly found on our roads.
We are committed to freeing Scotland's communities from harmful vehicle emissions and will continue to invest in public transport and active travel, and in low carbon technologies like electric cars and vans, hybrid ferries, green buses and the infrastructure they require.
Next year we will also introduce our first low emission zone and we will evaluate the more extensive use of low emission zones and associated changes to freight logistics and public transport, as it's important that we improve air quality.
An important opportunity for debate
In agriculture, our draft Climate Change Plan sets out our ambition to be among the lowest carbon and most efficient food producers in the world. We will support farmers so they can cut their emissions and costs.
Enhancing our natural carbon sinks is critical.
By 2030 we will have restored 250,000 hectares of degraded peatlands against 1990 levels – an improvement of valuable soils in around 20% of Scotland's land mass. This represents a step change in our ambition and is also fundamental for biodiversity, water quality and our own enjoyment of Scotland's spectacular natural environment. We will also increase our tree planting rates over time up to 15,000 hectares by 2024/25 with a view to having 21% of the Scottish land area in wood cover – an increase of around 3%.
The transition to a low carbon economy offers important opportunities for Scotland – thanks to our highly skilled workforce, the strength of our research institutions and, of course, our natural resources. The Scottish Government's ambitions are clear, but we have now reached a point in our journey where future progress will require the support of individuals, organisations and businesses across the country.
The publication of our draft Climate Change Plan provides an important opportunity for debate about the policies which should be implemented and the proposals which should be considered.
That debate will help ensure the final version of the Climate Change Plan provides us with a blueprint for a fairer, greener, more prosperous nation.
Roseanna Cunningham MSP
Cabinet Secretary for Environment, Climate Change and Land Reform