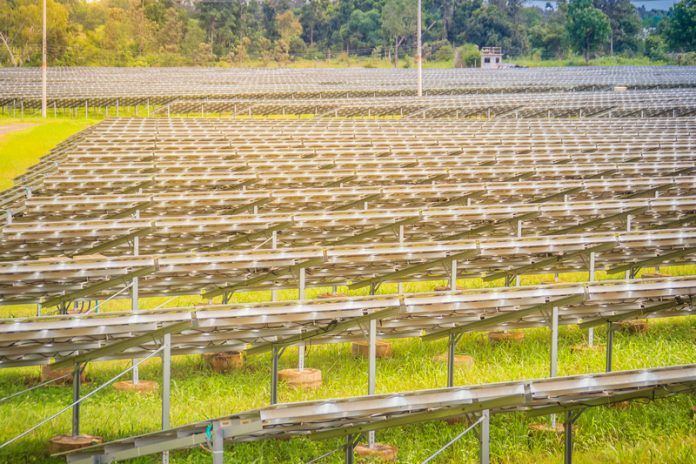 UK solar farm Clayhill is the first built in the country without a government subsidy after solar panel costs have fallen by a third in 7 years
The facility is the first UK solar farm built entirely without government funding and will feature five battery storage units capable of storing 6 megawatts of power to manage the level of power generated.
A problem for solar and wind power is the changeable nature of the natural conditions they rely on, and solving the issue is a big step towards the mainstream use of renewable energy.
The cost of wind power, as well as solar power, has seen a dramatic fall in recent years, making them more viable energy options than ever before.
Optimism towards tackling climate change appears to be on the rise, with recent data showing that the Paris climate agreement goals are still possible.
The government has recently rolled out a Smarter Energy System, aiming to make better use of technology such as energy storage batteries.
New government measures aim to ensure increased investment in green energy, with Theresa May promising that the country will end its reliance on coal by 2025.
Clayhill farm
Ministry for Climate Change and Industry Claire Perry said of the solar farm;
"The cost of solar panels and batteries has fallen dramatically over the past few years, and this first subsidy-free development at Clayhill is a significant moment for clean energy in the UK."
"Solar panels already provide enough electricity to power 2.7 million homes with 99% of that capacity installed since 2010."
Clayhill solar farm, owned by renewables developer Anesco, was developed in 12 weeks and is capable of generating 10 megawatts.
The farm has been hailed as a 'landmark' achievement in the ongoing pursuit of cost-effective renewable energy.
The site's 1,500v inverters are considered a key factor in its success.
The inverters maximise the generation of power and have been utilised in solar farms across Europe.
Last summer has been called the 'greenest' on record, boosting optimism towards the UK being powered by clean energy.
Editor's Recommended Articles