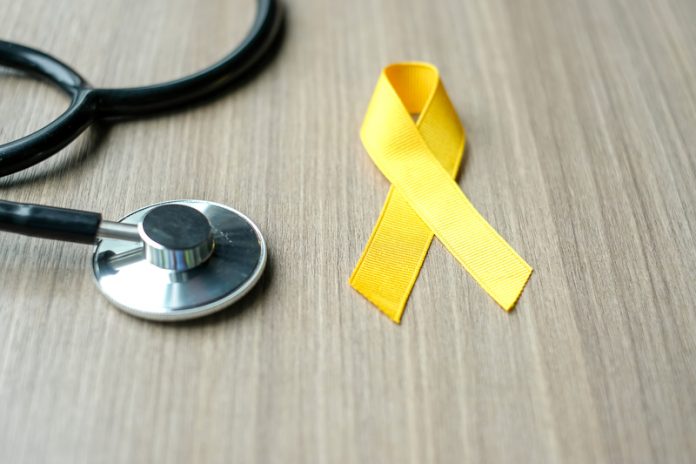 Hollie Chandler, Senior Policy Advisor at Cancer Research UK highlights the work being done to improve treatment for childhood cancers
In the UK around 3,800 children, teenagers and young adults are diagnosed with cancer each year, that's 73 every week. Thanks to new treatments, survival rates are improving. More than 80% of children and young people with cancer now survive for 5 years or more, compared with just 30% in the late 1960s.
Despite these improvements, cancer remains the leading cause of death in children and the most common cause of death by disease in teenagers and young adults. Some types of children's cancer remain very hard to treat. Many patients suffer long-term physical and psychological consequences of their treatment into adulthood.
At Cancer Research UK, we think more needs to be done. Which is why we launched Cancer Research UK Kids & Teens 1, our campaign to raise money for research into cancers affecting children, teens and young adults. Over the next 5-10 years, we aim to double the amount we spend in this area, to accelerate progress finding new cures and kinder treatments. Our ambition is that all young people diagnosed with cancer will survive and go on to live long, fulfilling lives.
Importantly, our commitment is part of a wider UK effort to improve the treatment of childhood cancers. The Cancer Strategy for England 2, published by the Independent Cancer Taskforce last year, made several recommendations to improve the delivery of treatment to children, teens and young adults as well as improving their access to clinical trials. Cancer Research UK is working with NHS England and other organisations to make sure the Taskforce's recommendations are taken forward.
Trials are essential for establishing the best possible treatments for all cancer patients. Children and young people are no exception. By running trials in the UK, patients also get innovative treatments that wouldn't otherwise be available to them. World-class research centres such as Cancer Research UK's Children's Cancer Trials Team at the University of Birmingham coordinate groundbreaking trials across the UK and internationally. This team has had some fantastic successes, including a large international trial that has helped lead to liver cancer death rates in children falling by 26% in the last decade.
For teams like this to operate effectively, they need to be supported by the wider NHS research environment. Government's continued support for NHS research infrastructure is key, which is why we've been really pleased to see plans to improve research and innovation in the NHS as part of its Five Year Forward View 3.
But England is only one part of the puzzle. All cancers occurring in children are rare so recruiting enough patients to a trial can be difficult. For this reason, it is often necessary to run large trials that are run over multiple sites across the UK, or even internationally, in order to reach a larger pool of patients.
Unfortunately, such trials are still taking far too long to set up. Streamlining trial approvals would help get these trials off the ground and deliver the outcomes we need for younger patients sooner.
In the UK, work by the Health Research Authority looks set to make real headway on this and we expect to see much better coordination of trials across Europe when the European Clinical Trials Regulation comes into force. Unfortunately, the timelines for this keep getting pushed back, with the latest estimate suggesting late 2018. The UK Government needs to continue its efforts to support the implementation of this Regulation and ensure there are no further delays.
Creating a supportive environment for research and ensuring trials can be set up in a timely way will attract further investment from industry to conduct trials in the UK. Industry investment in trials for children is limited, although it has increased since the European Paediatric Medicine Regulation was introduced in 2007.
This Regulation requires all companies developing new medicines for adults, to develop a plan for how they would investigate the potential of the same drug in children. In some circumstances, companies aren't required to complete this plan. And although this can be appropriate, there have been instances where exemptions have been granted to medicines that we believe could be used to treat childhood cancers. This Regulation will be reviewed in 2017 and we'll be working to make sure improvements are made so that it can better support the development of new drugs for children.
Outside of trials, population-based data on how younger patients are being treated and their outcomes can be used to increase our understanding of how best to treat their disease. But to do this effectively, we need to improve the collection of high-quality data for research purposes, and we need to ensure that researchers can gain access to these data in a timely way.
Research through clinical trials and using population-based data is essential if we are to develop new cures and kinder treatments for younger cancer patients. Right now, Cancer Research UK is working so that in the future, all young people diagnosed with cancer survive and go on to live long, fulfilling lives.
1 http://www.cancerresearchuk.org/support-us/donate/kids-and-teens
2 http://scienceblog.cancerresearchuk.org/2015/07/19/taskorce-report-achieving-world-class-cancer-outcomes/
3 https://www.england.nhs.uk/wp-content/uploads/2014/10/5yfv-web.pdf
Hollie Chandler
Senior Policy Advisor
Cancer Research UK