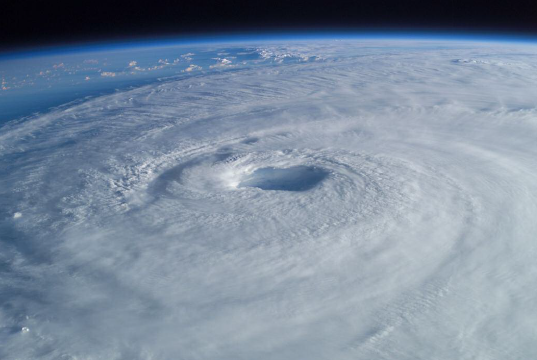 In this special interview, Dr Michael Brennan, Branch Chief at the Hurricane Specialist Unit within the National Hurricane Center (NHC) speaks to us about their work in issuing the best watches, warnings, forecasts and analyses of hazardous tropical weather, including hurricanes
Michael Brennan, PhD, is the Branch Chief of the Hurricane Specialist Unit at the National
Oceanic and Atmospheric Administration's (NOAA's) National Hurricane Center (NHC) in Miami, United States (U.S.). The Hurricane Specialist Unit issues tropical cyclone forecasts and warnings for the Atlantic and Eastern North Pacific hurricane basins. Dr Brennan served as a senior hurricane specialist at NHC from 2008 to 2018, a position where operational
duties include the issuance of the track, intensity and wind radii forecasts and associated watches and warnings for tropical cyclones. Dr Brennan's current research interests include quantifying the impact of supplemental observations on model forecasts of tropical cyclone track and intensity. He also conducts training on a variety of topics related to tropical cyclones as well as forecast uncertainty and messaging. Dr Brennan also serves as a reviewer for several scientific journals and is currently an associate editor for the AMS journal Weather and Forecasting.
In this fascinating interview, he explains to us the work the NHC on the very latest hazardous tropical weather systems, including their science-based environmental
predictions delivered to the U.S. and the global community. He also shares something of their mission to save lives, mitigate property loss and improve economic efficiency by issuing the best watches, warnings, forecasts and analyses of hazardous tropical weather that occur within the North Atlantic and eastern North Pacific basins.
We discover that these areas are monitored constantly for signs of cyclone development and once a tropical cyclone forms, NHC issues an advisory package, which is their standard forecast of the track and intensity of the storm out to five days and the forecast of how big
the storm out is to three days. NHC issues that every six hours, so it is constantly updated with the latest data and model information. Dr Brennan then develops this crucial aspect of NHC's work.
The conversation then moves to explore Dr Brennan's observations on the type of science-based environmental predictions NHC delivers to the U.S. and the global community, a point he keenly explains to us in his own words.
"We start off by forecasting tropical cyclone formation and make probabilistic forecasts four times a day, every six hours and we provide two probabilities. The first is that the system will go and become a tropical cyclone over the next 48 hours and then over the next five days.
"That approach is mainly based on observational data, satellite imagery, what we see in other observations such as ships, weather balloons, radar or aircraft data, for example. Numerical weather prediction model guidance can provide information about whether a
particular system will go on and develop or what the environment looks like in terms of large-scale conditions being favourable for a system to go on and form or not.
"Once we identify a tropical cyclone, the prediction we make of the track and intensity of the storm are heavily dependent on numerical modelling. This modelling has made great scientific advancements during the last 20 to 30 years in terms of forecasting the circulation of the atmosphere and the tropical cyclone track. This is largely due to the progress that has been made with numerical modelling to analyse the current state of the atmosphere through smarter ways of using observations, especially with satellites."
Dr Brennan adds that with all of the interaction between the atmosphere and the ocean, a tropical storm or hurricane will extract heat from the ocean, so there is an interplay here that has to be captured to forecast intensity. In terms of improving intensity forecasts, this is an area where less progress is being made, but during the last decade or so hurricane research has certainly progressed and intensity forecast errors have decreased. This is an important point that Dr Brennan details further to us.
"The Hurricane Forecast Improvement Project (1) follows on from the 2004/05 hurricane season, after which Congress made a major investment in numerical modelling and research to try and improve intensity forecasts. We are seeing progress in this area now, even though we are not where we want to be, but one of the biggest challenges we face here is rapid intensification or weakening where the storm strengthens or weakens.
"For example, in the 2017 season in the Atlantic basin, we had 39 instances of rapid intensification within the first 24 hours of the forecast period, and we were able to successfully forecast six of those 39. 10 years ago, that number of successful forecasts would probably have been zero."
The NHC's mission
In essence, the NHC's mission is to make better forecasts for tropical storms and hurricanes, save lives, mitigate property loss and improve economic efficiency, Dr Brennan is keen to elaborate on these areas. He explains that many populations live in hurricane-prone areas, such as on islands or at coastal location areas and are, therefore, vulnerable to the effects of storm surge, wind and heavy rainfall. He also details NHC's work in outreach on training, in terms of helping communities to be prepared for adverse weather.
"A big part of NHC's job is not just to make forecasts, but to communicate aspects of our work, as well as training the emergency management community to use the information we provide to enable them to make the best decisions they can when it comes to evacuation.
"Another aspect of our work is helping communities to know what their level of risk is when it comes to storm surge, for example, which is the push of water from the ocean by the hurricane winds onto land. It is what drives most evacuation decisions in the U.S. when it comes to a hurricane.
"Our modelling work is helping communities to reassess their risk from a storm surge, so they can develop evacuation zones so they can map out, plan and have evacuation routes and shelters plus determine how much time they need to get people out."
Dr Brennan tells us that warnings are typically issued 36 hours before tropical storm force winds arrive, but for some communities, evacuation decisions are made three or four days in advance of the storm, depending on how many people they have to move, how far they have to go and where they are all going to go.
In closing, Dr Brennan stresses that hurricanes are events which can change communities for generations to come. For example, look at what happened at the Caribbean islands, including Puerto Rico, which were devastated by tropical cyclones in 2017, Dr Brennan outlines. The importance of all inhabitants of areas that can be affected by tropical storms and hurricanes to be prepared is a crucial point, Dr Brennan argues.
"Within this, the human forecaster still has a very significant role in the forecast process, which they do by analysing the storm and its current state and providing that information as input it into numerical models. NHC forecasters try to maintain continuity with our previous forecasts as much as possible so that we provide users with a consistent forecast that evolves over time in a predictable way."
"While the forecast has gotten better, we still have a very large number of people that are vulnerable to tropical storms and hurricanes in the Atlantic Basin, so our mission is to make the best forecast possible. We also need to help people to be as prepared as much as
possible before a storm, to protect them, so they know what their vulnerability and risk are.
"It is important to have a plan in place for what they are going to do when a storm approaches, well in advance. This is important because hurricane apathy sets in quite quickly in areas that have not been affected by hurricanes, but everybody has to be prepared for what could happen every year." 1 www.hfip.org
Dr Michael Brennan
Branch Chief
Hurricane Specialist Unit
US Dept of Commerce
National Oceanic and Atmospheric Administration
National Hurricane Center (NHC)
nhcwebmaster@noaa.gov
https://www.nhc.noaa.gov/
www.twitter.com/NWSNHC
Editor's Recommended Articles