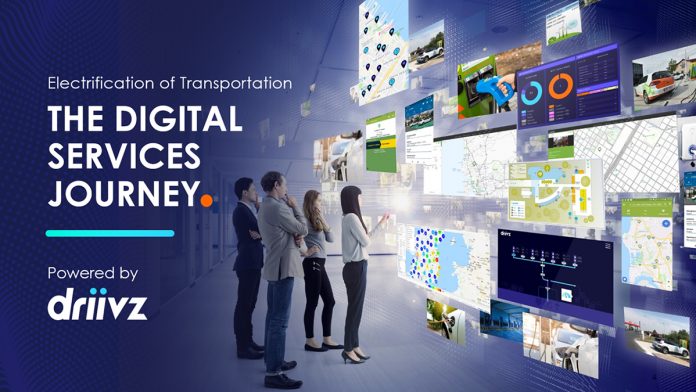 Here, we find out how Driivz delivers an intelligent electric vehicle (EV) charging management solution, optimizing operations, energy management, network monetisation and customer satisfaction
Opportunities in the electric vehicle (EV) market are increasing at exceptional levels. EVs "on the road" will go from 14 million in 2019 to 100 million by 2025,1 and McKinsey projects 42 million chargers by 2030.2
All along the EV value chain, key industry players are finding multiple ways to contribute to ever-increasing EV adoption – and to their company's bottom line, reshaping the ecosystem to better align with customer preferences, charging habits, and financial circumstances.
Driivz is the leading global software supplier to these players – EV operators and service providers – accelerating the electric vehicle industry's dynamic and continuous transformation. Driivz empowers major service providers with a market leading, end-to-end EV charging and smart energy management software platform. We offer a scalable, intelligent, and integrated solution that enables our clients to effectively manage their networks and provide drivers with an exceptional EV charging experience.
Utilities, oil and gas, automakers, e-mobility service providers, EV charging station providers, and charging point operators are emerging as key stakeholders recognising the business potential, adapting their core missions to the e-mobility environment, and investing heavily in the EV market to find solutions that will help them compete in the EV charging ecosystem.
Our white-label solutions allow them to deliver a set of advanced yet easy-to-use solutions to multiple players in the ecosystem such as fleets, hosts, municipalities, commercial and industrial buildings and MDUs.
Focus on the EV business
Driivz's innovative open platform provides a fully integrated single solution that supports customisation and API-based development as it removes the business and technical obstacles encountered when working with proprietary solutions. Driivz' unique approach and API-based solution allow electric vehicle industry players to enjoy innovative, built-in functionality, accelerating time-to-market. Meanwhile, the system's openness allows them to differentiate themselves with custom-tailored features. We deliver on the promise of business flexibility in a world of disruption and change.
The Driivz approach ensures that EV charging operators and E-mobility service providers can sustain outstanding performance with focus on:
Monitoring and control.
Scalability.
Network monetisation.
Energy management optimisation.
Integration and interoperability.
Flexibility and agility.
The company's cloud-based platform spans EV charging operations; energy management; billing management; EV fleet management; and driver self-service tools. The solution can be delivered as individual modules or as a single, unified, open platform that integrates quickly and easily with existing infrastructure.
The Driivz smart energy management solutions enable optimal utilisation of the grid, energy and cost savings, and integration of EV charging with renewables, batteries, and building management systems.
To ensure customers can monetise their networks and gain competitive advantage by offering innovative tariffs and billing plans to their customers, we have developed and deployed an extremely powerful and integrated billing engine that supports multiple business models.
Driivz streamlines and optimises network operations, improves back-end performance, and reduces TCO using self-healing algorithms that address up to 80% of operational problems remotely. Operators can increase customer satisfaction and loyalty with all-encompassing driver self-service tools and analytics-driven insights.
Global e-Mobility providers such as EVgo, Centrica, Gilbarco, ElaadNL, ESB, and CEZ Group are among the industry key players relying on Driivz' technology to maximise the value of their EV charging infrastructure. Driivz' team of EV experts serve customers across 20 countries, managing tens of thousands of EV chargers (100,000s in roaming) in North America, Europe and APAC used by more than 600,000 EV drivers.
Future-proof your EV business
As EVs become a larger part of the transportation ecosystem, we are witnessing a shift towards the standardisation of chargers and the introduction of new industry protocols for interoperability. Now more than ever, it is particularly challenging to keep up with new developments and ensure that technologies comply with the latest standards. In addition, charge point operators and e-mobility service providers are facing challenges expanding internationally, especially in dealing with different regulations, multiple currencies, and integrating roaming capabilities into their networks. With vast experience in the world's largest OCPP and OCPI-based implementations, the solution is certified for OCPP 1.6 and complies with ISO 15118, OCPP 2.0.1, ISO27001 and local regulations (e.g. Eichrecht), supporting more than 130 charger types.
Driivz builds with the future in mind with seeds of long-term growth designed into the underlying architecture. We provide a smart system for all electromobility, enabling key players to seize market opportunities across the entire value chain, while streamlining their businesses, increasing stability, boosting driver satisfaction, and reducing total cost of operations.
With Driivz future-proof modular solution, EV charging operators and service providers can choose what they need now and then "grow as you go," ensuring their EV charging infrastructure can support customers today and tomorrow.
References
1 IEA, Global EV Outlook 2019.
2 McKinsey, Charging ahead: electric vehicle infrastructure demand, 2018.
Please note: This is a commercial profile
Editor's Recommended Articles