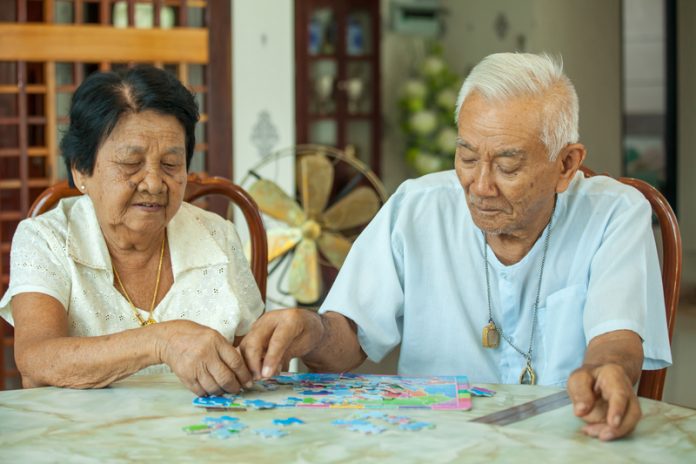 Currently there are 50 million people living with dementia globally, and this figure is expected to grow to 152 million by 2050.1 Dementia friendliness is crucial for people living with dementia to reside safely and joyfully in the community, and everyone in the society plays a role in establishing a dementia friendly community. However, nearly 70% of the general public deem that public awareness and knowledge of dementia is not enough2. In this year's World Alzheimer's Month, Jockey Club Centre for Positive Ageing (JCCPA) launches a series of public education activities, including mobile promotion of our "Jockey Club Caring Communities for Dementia Campaign", promotion collaboration with catering industry, free screening of "The Father" and online sharing sessions, with the aim to raise public awareness on dementia and promote dementia friendliness.
Hong Kong is a densely-populated city, making it difficult to trace people with dementia when they get lost in the community. In "Jockey Club Caring Communities for Dementia Campaign", we developed a tracking device using the blue tooth and the crowd-sourcing machine learning technology to assist caregivers to search the people with dementia when they get lost. In addition, we encourage neighbours and citizens to act as "dementia angels" to share their location data in their mobile phones through our App to help with searching. In order to facilitate the caregivers to get the tracking devices as well as to reach a wider population for promotion of "dementia angels", we and our program partner St. James' Settlement hired promotion vehicles to travel across the city in September for mobile promotion of the campaign.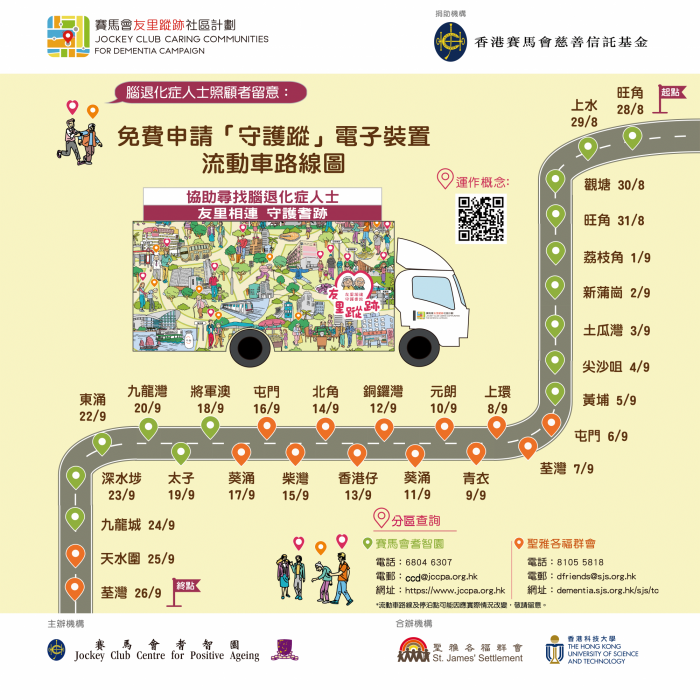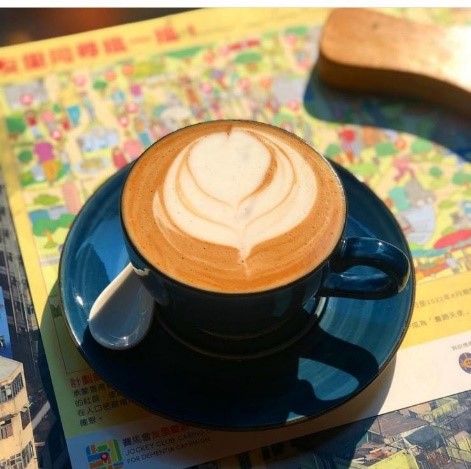 Promotion Collaboration with Catering Industry
We collaborate with various catering service providers to promote our dementia friendliness campaign through tray liners. The customers of the restaurants / fast food chains could understand more about dementia and dementia friendliness through the games we put in the liners.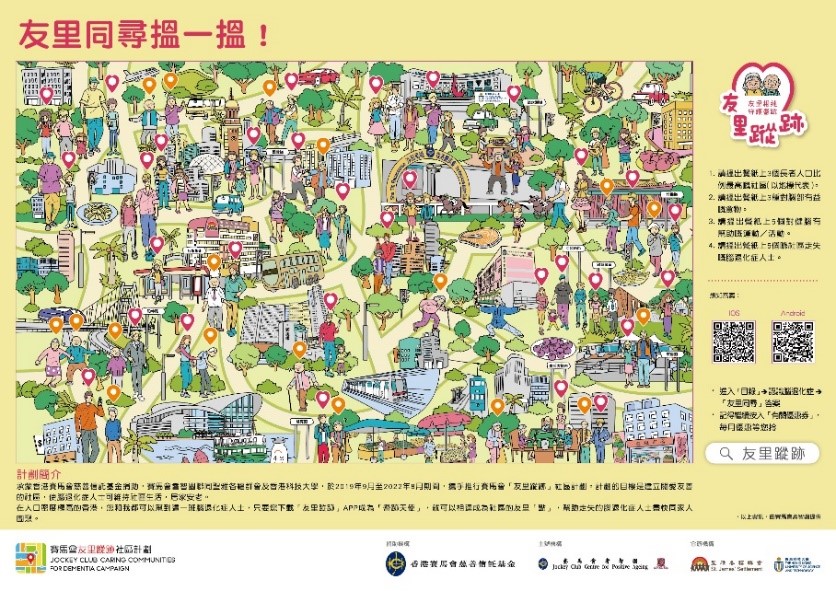 Free Screening of "The Father"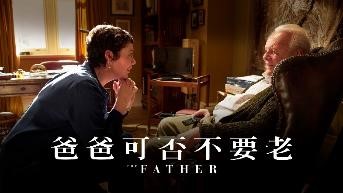 Thanks to the donation from The Hong Kong Jockey Club Charities Trust, we shall deliver 10,000 free screening tickets of the Academy Award®-winning film "The Father" to citizens who download the App and become our "dementia angels". "The Father" is widely acclaimed for its accurate and empathetic depiction of dementia, we hope that the citizens would have a better understanding of dementia, the inner world of people living with dementia, and the needs of their caregivers. Apart from free screening, we shall also arrange two sharing sessions for the general public as well as for the staff providing elderly services to facilitate their learning of dementia and appreciation of the film.
About Jockey Club Centre for Positive Ageing
Jockey Club Centre for Positive Ageing provides dementia services in Hong Kong. It was inaugurated in June 2000 with the donation of The Hong Kong Jockey Club Charities Trust, and is managed by The Chinese University of Hong Kong . It provides quality training to people with dementia to delay the decline in cognitive ability and encourage them to maintain normal social activities. It also helps to relieve stress among family members through supporting services and aids the further development of dementia care through training and research.
Reference
World Health Organization. Dementia. 2020; https://www.who.int/news-room/fact-sheets/detail/dementia.
Alzheimer's Disease International. A Guide to planning a successful World Alzheimer's Month Campaign. 2021.