NRRI Research Team Leaders discuss biomass conversion for high-value products
For millennia, humankind has been finding ways to convert natural resources into products valued by society to grow economies. As society's values and demands change, innovation steps in to create responsible new products and the materials and processes to satisfy them.
Biomass is a globally plentiful and renewable resource when properly managed. In the most basic sense, it is the organic material derived from animals and plants. It includes forest industry residuals, wastewater treatment sludge, agricultural residues, manure, food waste, beetle-killed trees and construction waste. The economy of the future requires means to use biomass resources that are underutilised, going to waste or used inefficiently.
The University of Minnesota's Natural Resources Research Institute (NRRI) is an applied research institute created by the Minnesota Legislature to foster new, responsible uses of natural resources to offer economic opportunity. Today, NRRI is driving research in biomass characterisation and thermochemical processing to convert these resources into energy products, chars, advanced carbon products and chemicals. Additional processing steps can include densification for ease of application or shipment, or gasification to support catalytic production of liquid fuels.
NRRI's thermochemical processing team collaborates with colleagues and stakeholders in materials science, chemical analysis, and business development to guide projects to satisfy end-user markets. NRRI's capability to extend from lab to demonstration scale provides a unique opportunity for clients and stakeholders to de-risk concepts before committing capital investment.
NRRI's Biomass Conversion Lab houses assets for large pilot- and demonstration-scale thermal processing. These include screening, drying and pyrolysis via rotary kiln at temperatures up to 600°C. Post-processing capabilities include blending and densification per product specifications. Detailed research control plans specify test conditions and process variables that are controlled using state-of-the-art instrumentation and automation systems. When those data are combined with pre- and post-run physical and chemical characterisations, mass and energy balances and raw operating data, NRRI clients receive supporting information for making informed business decisions.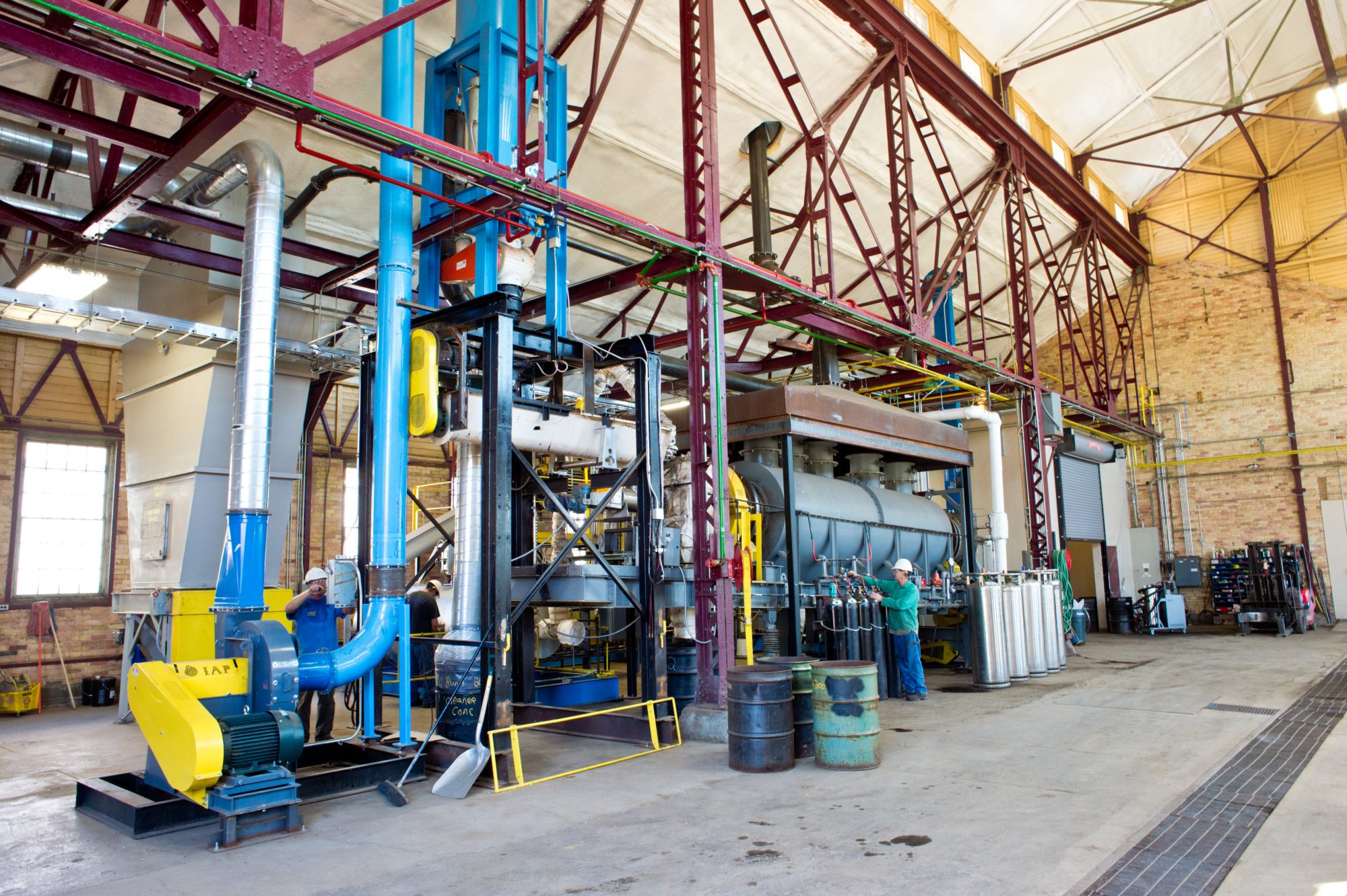 Project Examples
Torrefied biomass as a direct coal replacement. NRRI contributed to a successful national program to test torrefied wood pellets as coal replacement in large-scale electrical generation power plants.
Torrefied biomass as a metallurgical reductant. NRRI successfully piloted 50% replacement of bituminous coal with torrefied biomass as a metallurgical reductant in iron nugget/pig iron production with a 30% increase in productivity.
Agricultural biomass conversion to char products. NRRI is collaborating with a major agricultural company to transform a waste product into a revenue-generating material with associated cost savings.
Woody biomass conversion to biochar for application for forest health. NRRI is collaborating with the regional industry to develop markets for forest residuals and small diameter dead and dying trees by converting them into biochar and developing best practices for its use in forest regeneration.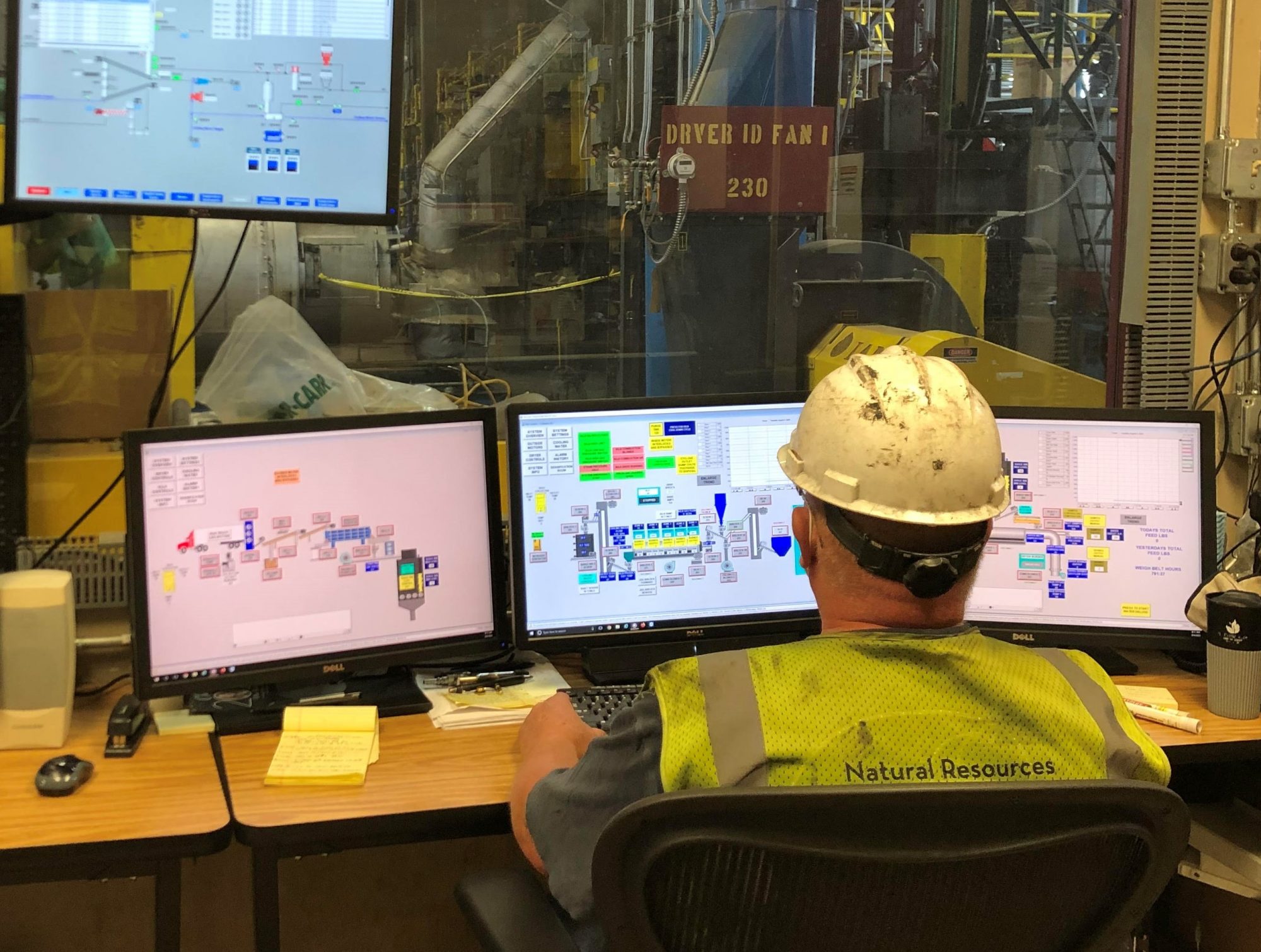 What's Ahead
NRRI continues to build a biomass conversion research program in anticipation of the opportunities offered by next-generation products. This effort consists of four primary focus areas.
First, NRRI is expanding the portfolio of characterised feedstocks beyond wood. With this understanding, biomass conversion strategies can be extended to agricultural byproducts, wastewater treatment residuals and municipal organic waste.
Second, efforts continue to develop thermochemically-processed biomass products such as biochar from diverse woody feedstocks. Additional knowledge about relationships between feedstock and final product structure/function, allow for customised materials for a variety of applications.
Third, NRRI continues to develop and demonstrate a unique organosolv technology to expand the process portfolio. This technology converts woody and agricultural feedstocks into cellulosic ethanol and unique lignin-based materials with applications ranging from metallurgical binders to polymer precursors.
Finally, facilitating anaerobic digestion technology adoption to generate pipeline-grade natural gas is an important opportunity for our region. This is particularly promising for wet biomass feedstocks such as water treatment facility sludges, food waste, and animal waste.
NRRI and collaborators are working to accelerate development and responsible adoption of biomass conversion technologies and products. Delivery of a robust portfolio can be a tool to address global challenges including climate change, clean water and nutrition while still supporting continued innovation and delivery of new economic opportunities.
For more information contact: June Breneman, Manager External Affairs, jbrenema@d.umn.edu.
Please note: This is a commercial profile
Editor's Recommended Articles