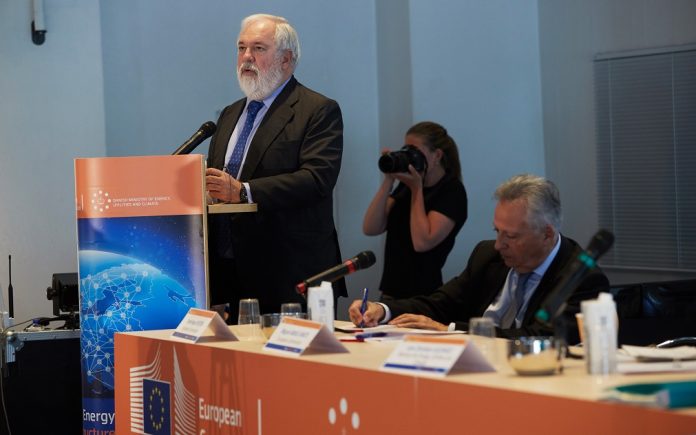 In a speech, Climate Action and Energy Commissioner, Miguel Arias Cañete, highlights the clean energy transition taking place across Europe
Firstly, I would just like to outline the pace of change that we have witnessed as the clean energy transition takes hold; Secondly, I would like to say a few words about the Paris Agreement; and thirdly, I would like to talk about our Commission proposals in the Clean Energy for All Europeans Package – and how things stand at the moment.
In reality, the level of investment and new projects is moving more quickly than the gathering of statistics. The key point is that renewable energy is now cost competitive and frequently becoming more and more cheaper than fossil fuels. With 12,5 GW of gross additional wind capacity installed in 2016[1], wind has now overtaken coal as the second main source of energy in Europe (after gas) and the EU remains the second largest market for wind power (after China).
Figures for 2016 from the renewables agency, IRENA, show that the level of power capacity from renewables continues to increase, with a global increase of 9% last year, relative to 2015. In Europe, the level of growth in 2016 was around 5% and this is in good part because the EU is already doing more than others. Per capita, the EU has installed 4 times more renewable power than the rest of the world (0.8 kW/capita versus 0.2 kW/capita) – and twice as much as China (0.4 kW/capita).
In total, the renewables sector in Europe employs over 1 million people, attracts more investments than many other sectors, and has reduced our fossil fuels imports bill by €16bn since 2005. On top of that, whereas in the past we used to see a clear link between energy consumption and GDP growth – with any rise in GDP only possible with an increase in energy consumption. In recent years we have managed to fully decouple these 2 elements. Whereas GDP grew by some 10% from 2005 to 2015, primary energy consumption decreased by almost 11% in the same period. The signal is clear – cleaner energy and economic growth can go hand in hand. In short, this is not just a transition, we are truly undergoing a clean energy revolution. Our job as policymakers is to see how we can steer and accelerate this process most efficiently by creating the right regulatory and enabling framework.
This brings me nicely on to my second point – the most important global achievement – the ratification of the Paris Agreement. The Paris Agreement was a remarkable, perhaps unique exercise in collective responsibility to slow down global warming to well under 2 degrees; 195 parties working together to establish the most efficient vehicle for fighting climate change. Sealed by the EU ratification of the deal, the moment that this accord came into force was one of the most fulfilling moments of my political career. This is why, I will do whatever it takes to defend and implement it.
Of course, the EU deeply regrets the unilateral decision of President Trump to withdraw the USA from the Paris Agreement. In our response, we have made clear that the 29 articles of this accord are not up for renegotiation. The Agreement is ratified. It is fit for purpose. It is here to stay. I was touched by the stance taken by many cities around the world and the number of greencoloured town halls that were pictured on social media.
Perhaps this is a good chance to acknowledge the role that can be played by cities and local authorities in this contest. A good instrument to make this happen is the Global Covenant of Mayors, which should become fully operational in the course of this year.
Such a single, global coalition of cities is important for a range of reasons, but I will mention only one: cities and regions can inspire each other and learn from each other's best practices. In other words: our cities can team up with cities in other continents to jump over the fossil age.
As European Commissioner responsible also for Climate Action, I will work relentlessly to forge news partnerships around the world, from the world's biggest economies to the most vulnerable developing countries, supporting and helping them to adapt and mitigate climate change, a good example of this renewed partnership is China. But first and foremost – and that brings me on to the third point I would like to cover – we, the EU, are putting in place our own ambitious domestic energy and climate change policies and setting the conditions right to steer the necessary investment in the clean energy transition thanks to the Clean Energy Package.
Clean energy for all
I see the Clean Energy for all Europeans package as the way of cementing the EU's Paris Agreement commitments into our rulebook.
The key here is creating the optimal conditions for energy transition, not only by setting the necessary regulatory framework, but also, by driving the necessary investments – both public and private – to support this transition. This time the commission took a different approach by going beyond regulation, and by developing, at the same time, the enabling instruments and support measures that would be needed to reduce greenhouse gas emissions by at least 40%, to achieve an energy efficiency target of 30% and to reach the level of at least 27% of renewable in our final energy consumption.
I would like to highlight a few elements, starting with Energy Efficiency, the most mature file, at least in Council. I would like to be clear: energy efficiency is not a slogan, it is one of the most cost effective ways to support the transition to a low carbon economy and a key policy to implement the Paris Agreement. Besides, it is also an effective way to create investment opportunities, growth and employment domestically.
According to our estimates, the 30% energy efficiency target will increase Europe's GDP of €70 billion, create about 400,000 new jobs – especially among SMEs – and reduce our gas imports by 12% by 2030.
Moreover, the binding nature of the target will provide additional certainty to the investors. Many industry representatives are fully in line with an ambitious binding target, to have more predictability. After the productive discussions that we had in Malta at the occasion of the informal Energy Council, I am happy to see more and more Member states moving in our direction.
But ambition is not only about the target, it is also about the requirement for Member States to make annual savings of 1.5%, foreseen by article 7. This is a core provision, since through it we achieve about half of all the savings of the directive.
How can we explain to our citizens that undergoing energy transition and combatting climate change is more important than ever, and yet we lower the existing requirements? This makes no sense. Of course, I recognise the need for more flexibility, notably as far as renewables are concerned, but this should not lead to the creation of loopholes in the legislation and should not be at the expenses of the level of ambition.
If that will be the case, I would rather be in favour of giving ourselves more time, to work out a better compromise. Another key point is the need to improve the energy performance of buildings, given that this accounts for 40% of Europe's energy consumption and 36% of CO2 emissions.
Significantly accelerating the rate of building renovation has the potential to help more families move out of energy poverty, and to improve the quality of life for many – as well as stimulating jobs, in particular for local SMEs. In this context, our proposal for pre-cabling and charging points for electric vehicles in new and existing buildings – and the recent mobility package – should help to address one of the key bottlenecks holding back electric vehicle growth in Europe. On this specific issue, I regret that as far as charging points are concerned the council compromise will reduce the level of ambition by more than 95% compared to the Commission original proposal. I look favourably at the work ongoing in the European Parliament and I hope that we will be able to bring back a certain level of ambition here.
Also because by the end of the year we will adopt the post 2020 emission standards for cars and vans and, there, we are considering options to set a dedicated target for zero and/or low emission vehicles. And of course the availability of charging infrastructure is going to be essential for the penetration of these vehicles into the market.
I attach a lot of importance to two main elements: first, preserving the consistency between the different proposals of the Package and second, ensure that the legislation that we will adopt will be enforceable.
This is an edited version of a speech by the Commissioner that can be found here http://europa.eu/rapid/press-release_SPEECH-17-1721_en.htm
Miguel Arias Cañete
Commissioner for Climate Action and Energy
European Commission
www.ec.europa.eu/commission/commissioners/2014-2019/arias-canete_en