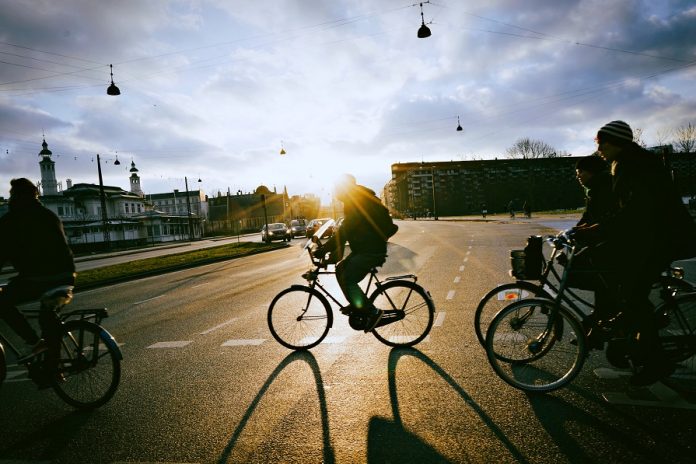 Marco Ciarrocchi, Bike2work Project Manager at the European Cyclists' Federation highlights how cycle-friendly employers can benefit European businesses
Bike2Work is a project aiming to encourage a significant modal shift from motorised commuting to cycling. Bike2Work uses a two-fold approach to target both employees' behaviour through campaigns, and employers to meet the needs of cyclists. Funded by the European Commission in the framework of the Intelligent Energy Europe, the project focused both on implementing bike-to-work schemes in partners' countries and on involving employers to implement bike-friendly measures in the workplaces. After 3 years across all of Europe, half a million commuters selected cycling over any other transport mode to reach their workplace and with over 148 million km cycled – approximately 3620 times the equator – the Bike2Work project contributed, only in 1 year, to save a total of 20,916 tons of CO2 emissions.
The project connects Bike2Work campaigns and employer bicycle-friendliness and achieves a mutual reinforcement of effects. A Bike2Work campaign usually lasts between 4 weeks to 4 months and encourages participants to use the bicycle to get to work. Gamification, competition and rewards are key elements in every successful Bike2Work campaign.
To achieve high visibility and participant' engagement it is important to keep track of basic statistics like the number of participants, kilometres/days cycled, CO2 saved etc., especially online real-time display of statistics encourages competition, boosts motivation (specially by keeping personal track records), as well as helping to identify winners and give away prizes.
Convincing employers to increase their cycle-friendliness was not and is not an easy process. Besides offering consultations on how to become more cycle-friendly, many other tools have been developed and shared with companies, like the 'Guidebook for Bicycle-Friendly Employers', a manual addressed to company coordinators, CSR, environmental and mobility agents that helped SMEs to promote cycling in operation and to build an in-house cycling culture.
Why should companies become cycle-friendly?
Improving the situation for employees that cycle to work will lead to a reduction of illness costs, employees that cycle to work throughout the whole year have one third less sick days than those who travel by car. Furthermore, bicycles require less space and less complex infrastructure: production costs and maintenance for bike storage facilities are far lower for companies than car parking. Studies estimate that up to 7 bikes can be parked on one single car parking space (12 m²). Employees traveling by bike have better accessibility to their company, they have less problems finding a parking space and therefore also tend to arrive at work earlier. Cyclists decompress the entire transport system and thereby reduce costs of traffic jams and delays, a cycle friendly workplace contributes in climate protection, energy and CO2 saving.
In order to give European companies a special incentive to increasingly focus on bicycle friendliness, Bike2Work developed an EU-wide certification framework for bicycle-friendly companies, based on 6 main criteria. Each bicycle-friendly measure would contribute to define the CFE level of a company. A minimum number of measures must be achieved per action field in order for employers to receive the certification.
The Bike2Work project may be over, but due to the popularity of the campaigns, the national Bike2Work campaigns are still growing and convincing people all over Europe to shift to a more sustainable commute.
The campaigns that took place during the Bike2Work project were hugely successful and garnered support from over half a million commuters around Europe. National contexts differ and each campaign had unique characteristics but all of them effective and ambitious. Around 150 million km were cycled in one year only and 20,916 tons of CO2 emissions were saved.
Further info can be found below.
Bike2Work project: www.bike2work-project.eu
CFE Certification Framework: https://cfe-certification.eu
Marco Ciarrocchi
Bike2work Project Manager
European Cyclists' Federation
m.ciarrocchi@ecf.com