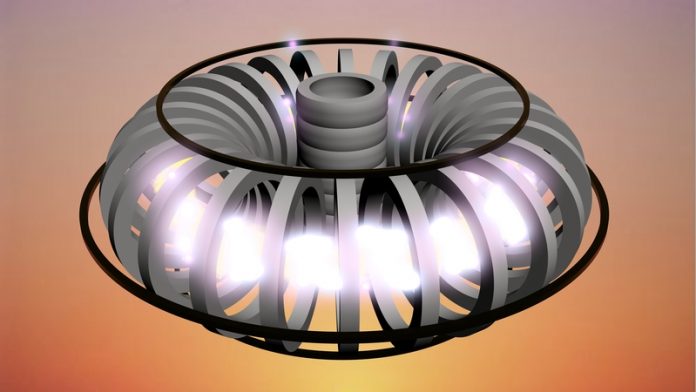 The FinnFusion Consortium focuses on two centres of excellence, fusion power plant analysis and remote handling, explains Dr Tuomas Tala. An essential objective of FinnFusion is the transfer of skills to industry
Fusion energy is a CO2-free nuclear energy source with low environmental impact using ubiquitous fuels. Fusion electricity together with other energy sources could meet predicted energy supply shortages. On the basis of current research, fusion electricity using magnetically confined plasmas could be available in the second half of the century. ITER is the key facility in this strategy and the DEMO design, as well as the research and development (R&D) will benefit largely from the experience gained with ITER construction and operation.
EUROfusion Consortium is an organisation implementing the EURATOM fusion research programme in parallel to ITER construction. Finland joined the EURATOM fusion programme in 1995 when Finland became a member of the EU. Through participation in the European fusion programme the national objective was to develop critical competence networks to major European organisations involved in developing fusion energy. As a small country Finland concentrated its efforts on a small number of focus areas, plasma physics, material science, novel steel structures and remote handling. In 2004 Finland was chosen to host a remote handling laboratory, ITER Diverter Test Platform 2 (DTP2) in Tampere.
FinnFusion Consortium
During Horizon 2020, the FinnFusion Consortium was established in 2014 to replace Association Euratom-Tekes. VTT Technical Research Centre of Finland Ltd is co-ordinator in the FinnFusion Consortium and science/technology universities and private companies are also members in the consortium. FinnFusion Consortium is linked to EUROfusion Consortium via VTT. The roles of funding organisations and other key stakeholders are described in the FinnFusion organigram in Figure 1.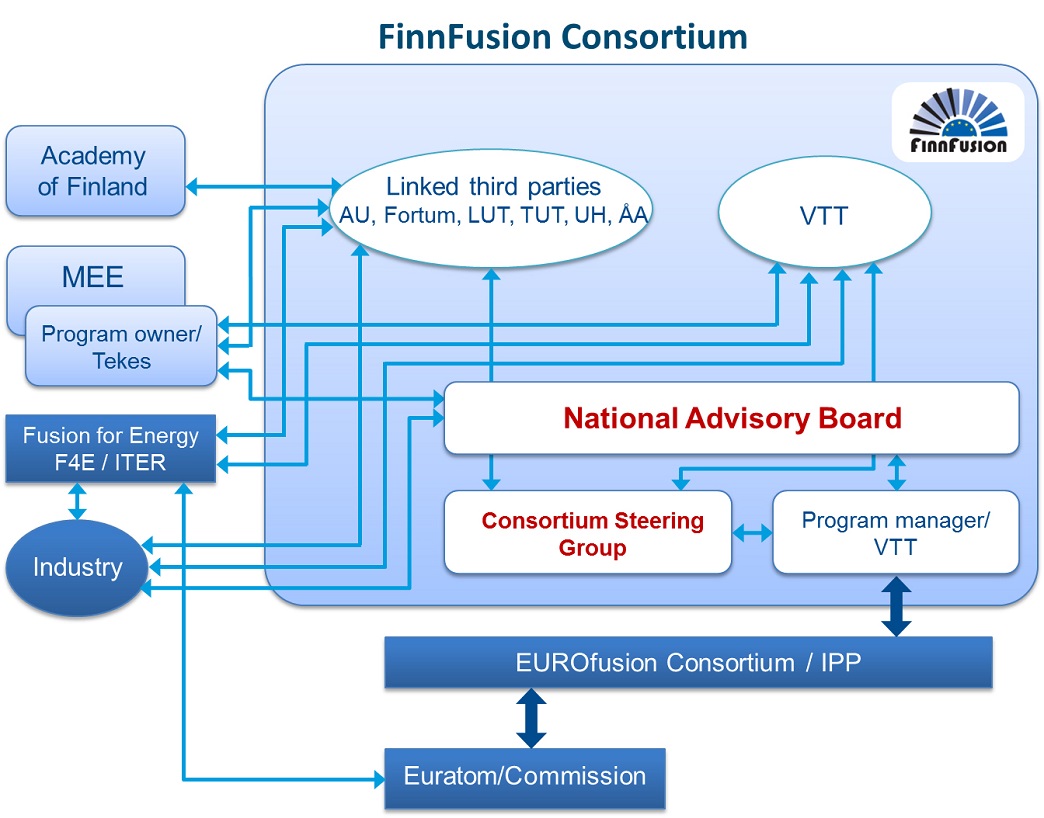 The FinnFusion Consortium focuses on two centres of excellence, fusion power plant analysis and remote handling explains Dr Tuomas Tala. An essential objective of FinnFusion is the transfer of skills to industry. With this position, Finland remains strong in European fusion research and will take advantage of the synergy between fusion and fission expertise and their current separate networks.
The main goal of the Power Plant Analyses and Materials and Remote Handling R&D Centres of Excellence within FinnFusion are the following:
Foster the growth of expertise in fusion plant operation; know-how transfer to Finnish decision makers, industry involving SMEs, research units, universities and the public;
Lead experiments in present fusion research facilities at ITER, JET (UK), ASDEX-U and W7-X (DE), DIII-D (General Atomics, US), C-Mod (MIT, US);
Exploit the synergy between fusion and fission R&D, such as requirements and specifications for the ITER fusion plant simulator, radiation and reactor safety, the design phase of the so-called Early Neutron Source (for neutron resistant material project);
Develop new technologies (e.g. surface processing techniques) and advanced materials (incl. steels) for fusion power plants;
Develop systems engineering and remote handling skills. Systems engineering is a key method for upgrading all kinds of industrial activity.
The main achievements of the Finnish Fusion Programme (presently FinnFusion) in 1995 to 2016 can be summarised as follows:
Starting from scratch in 1995, the R&D program has developed to the level of about 50 ppy/a, with around 150 internationally well-networked fusion experts involved in more than 30 companies and 6 research organisations. This has enabled Finland to win ITER procurements, to learn and upgrade its competences, and to create networks both within industry and research organisations.
After long-term investment in relevant R&D by various FinnFusion activities, Finnish companies and research organisations have gained access to several large international consortia responsible for ITER procurements.
The characteristics and future of FinnFusion
Finland is considered as a well-respected partner in the European fusion programme and therefore has committee members and leaders in many of the key positions.
The peculiar and unique feature in FinnFusion, among the other European fusion research units is the strong involvement of technology and industry in all fusion energy related activities. One example is the Diverter Test Platform 2 laboratory hosted by VTT and located in Tampere. In fact, there is knowledge and expertise on fusion technology in around 30 Finnish companies and FinnFusion is focusing more than half of its fusion research efforts on fusion technology and engineering related topics. In recent years, the fusion and fission research and existing industry around the fission infrastructure have been brought closer to each other and fruitful connections and synergy effects have been established.
The other special feature in FinnFusion is the close collaboration of all participating members, including the research laboratories, funding agencies, authorities and private companies. Therefore, as all bodies involved have a common goal in the organigram presented in Figure 1, the FinnFusion is an organisation functioning in an efficient way.
ITER is a unique, and probably the most challenging scientific and technological project ever accomplished on earth. Participation of FinnFusion in a very large international programme has major scientific, technological and economic benefits. For Finnish industry and the research units, the ITER Project is an effective platform for developing expertise, networking and prestige. The level of new skills, technologies, expertise and networks are immeasurably high – FinnFusion must be proactive in exploiting all the benefits from the project. FinnFusion is well adapted to the ongoing change in the international trend from academic to project-oriented work. Strong connection to nuclear technology in line with the industrialisation of fusion is being established right now.
The future challenge is to further exploit these international networks and expertise to national benefits. In particular, the greatest challenge right now is to find national funding to complement the EU funded projects. FinnFusion is now at an all-time high of its life cycle in terms of the number of research activities, numbers of organisations involved and the magnitude of EU level funding – the future lies in the hands of national funding bodies and authorities on which level the national funding allows FinnFusion to harness the fruits of the hard work in future.
Dr Tuomas Tala
Head of the Fusion Research Unit
VTT Technical Research Centre of Finland Ltd
tuomas.tala@vtt.fi
Please note: this is a commercial profile