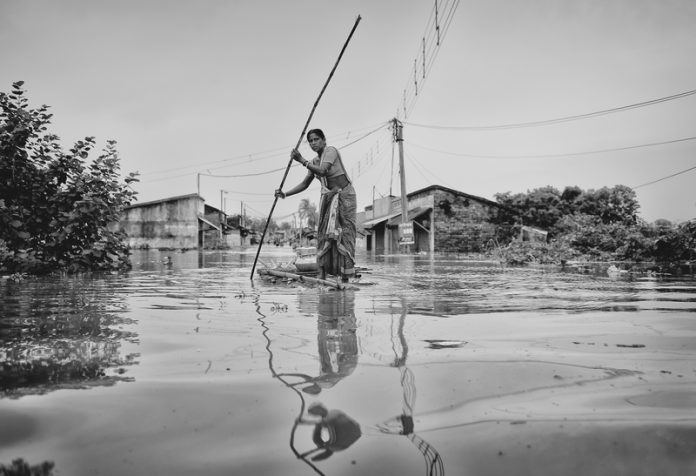 As recovery begins in Houston more than 1,200 people have been killed in floods throughout South Asia bringing the region to a standstill
The International Federation of the Red Cross and Red Crescent Societies (IFRC) estimates that almost 7.5 million people have been affected in the fourth incident of major flooding in South Asia this year.
The Monsoon season has seen some of the heaviest rainfall in years, threatening supplies of food and water and displacing millions from their homes.
More than 1000 temporary shelters have been set up and families have been taking shelter on any available high ground.
The floods have also caused landslides, with entire villages and acres of farmland being swept away in some cases.
Mumbai saw five inches of rain falling in a single day this week, leaving thousands stranded in workplaces and bringing transport to a standstill.
The majority of deaths have occurred in poorer areas, including the slums and shanty towns of Mumbai.
Aid efforts have proved difficult due to the ongoing rainfall.
Workplaces have allowed workers to leave early and companies like Uber have offered free services to help people.
Floods and mudslides recently devastated Sierra Leone, which has faced a similar death toll of nearly 1000.
Climate change
India's Prime Minister Narendra Modi has said that climate change has had a 'big negative impact'.
Trump is facing more criticism for his ongoing denial of climate change in the face of Hurricane Harvey, with some accusing him of treating visits to Houston 'like rallies'.
Many are pointing to disasters like those in Houston, Sierra Leone, and South Asia as definite signs of the effect of man made climate change.
Disaster relief organisations are struggling to cope with the floods in India and across the world. 
Doctors in a hospital in Mumbai have been forced to evacuate patients from certain woods and fear the risk of infection and damage to equipment.
Aid efforts are beginning, but impoverished areas which have suffered the most often take longer to rebuild.