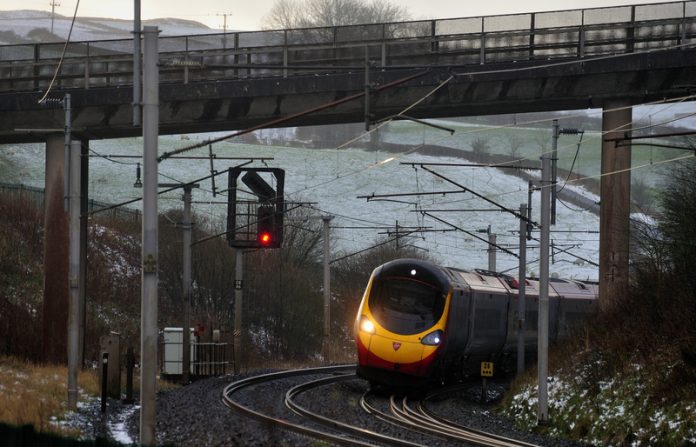 Chancellor Phillip Hammond has announced an extra £300 million in funding for Northern Powerhouse rail projects, hoping to connect the North
In a speech at the Conservative Party Conference in Manchester Hammond announced the funding for Northern Powerhouse rail links, as well as £100 million for roads.
The HS2 high-speed rail project aims to create better rail links between Liverpool and Manchester as well as Sheffield, Leeds, and York.
The project will most likely use trains that run on a combination of diesel and electric power.
At the party conference, which has faced large numbers of anti-austerity protesters, a freeze on student fees was announced alongside an extra £10 billion of funding for help to buy schemes.
Hammond spoke about the North reaching its 'full potential', and went on the defensive for the free market model after Jeremy Corbyn was seen to criticise capitalism.
He also promised that the £100 million funding for roads in the North would reduce traffic and congestion.
High-speed rail
The government hopes that HS2 high-speed project will improve the North's economic centres by allowing for better connections and better access to jobs and businesses.
It is estimated that only 10,000 people in the North can reach four or more of the regions 'economic centres' in under an hour.
According to the Government report, the HS2 project would raise this number to 1.3 million.
Manchester Mayor Andy Burnham has backed extra funding for Northern Transport, accusing the Government of putting the capital first when it comes to funding.
The announcement of extra funding for London transport in August this year was met with fury by Northern leaders, who claimed that the same level of funding for the North would amount to £59 billion.
Now some in the Conservative party fear than ongoing Brexit negotiations will be the main story, ahead of other announcements like this.
The success of the Labour party conference in Brighton has also created problems for the Conservatives, with large numbers of anti-Conservative protesters appearing in stark contrast to Labour's chanting crowds.
Transport is the main focus of the Northern Powerhouse project, but other investments include science and technology funding and a new theatre for Manchester.
Editor's Recommended Articles