The CIPP Rett Centre developed by Professor Santosh and predominantly funded by Reverse Rett is the only national service of its kind that provides holistic care and interventions for emotional, behavioural and autonomic difficulties/disorders in children, young people and adults with Rett Syndrome
The CIPP Rett Centre uses the HealthTrackerTM platform to provide its digital health innovations. Here, we find out more about the CIPP Rett Centre.
CIPP Rett Centre
The Centre for Interventional Paediatric Psychopharmacology (CIPP) Rett Centre was established in 2019 by Professor Santosh at the Maudsley Hospital, London and King's College London. Funded predominantly by parent-based organization Reverse Rett, the CIPP Rett Centre is the world's first centre for personalised medicine in Rett syndrome that focuses on developing digital health strategies to monitor and manage patients whilst conducting translational research using the HealthTrackerTM platform, providing holistic specialist care, and conducting clinical trials. The Centre provides access to clinical trials and prepares for the first gene therapy trial to hopefully start in a few years.
At its core, the CIPP Rett Centre focuses on delivering fully holistic, personalised care for those Rett patients who are deemed clinically the most at risk. These include complex cases, where patients have disorders across multiple systems that require careful holistic management, and where patients' underlying Rett Syndrome causes them not to respond to traditional treatments for their symptoms. This multi-modal aspect of the care pathway allows optimisation of patient-centred care and improvement in clinical outcomes.
Rett Syndrome
Rett Syndrome is a rare debilitating childhood neurodevelopmental disorder that causes multiple life-threatening problems to children across their lifespan. It is a pervasive neurological disorder characterised by compromised brain functions, language and learning disabilities, and developmental delay. It is predominantly found in young females with an incidence of 1:10,000-20,000 live births. No medicine has yet been shown to be effective in improving the core impairments in Rett Syndrome. One of the CIPP Rett Centre's core aims is to identify and develop novel therapeutics and increase the opportunity to advance numerous therapeutics into human clinical trials.
Digital Innovation
By harnessing an innovative web-based digital health approach using the HealthTrackerTM platform, the CIPP Rett Centre is at the forefront of developing clinical interventions using a holistic multi-modal paradigm. It is used for various functions:
The HealthTrackerTM platform helps with screening and triaging the most clinically vulnerable patients to the appropriate specialist sooner.
All patients with Rett Syndrome and their families in the UK can access the HealthTrackerTM platform, to complete questionnaires about symptoms of Rett Syndrome across time. This longitudinal data collected assists early detection of problems, and the group data allows digital innovation.
Patient data is used for translational research to improve clinical care pathways.
The HealthTrackerTM platform has allowed a digital health approach that uses real-time clinical alerts to track patient care and monitor treatment responses.
The platform is also being used to plan and deliver remote decentralised clinical trials, thus allowing easy access to clinical trial participation as part of routine clinical care.
This multi-modal aspect offers a unique perspective into personalised medicine and patient care in RTT and has not been previously achieved.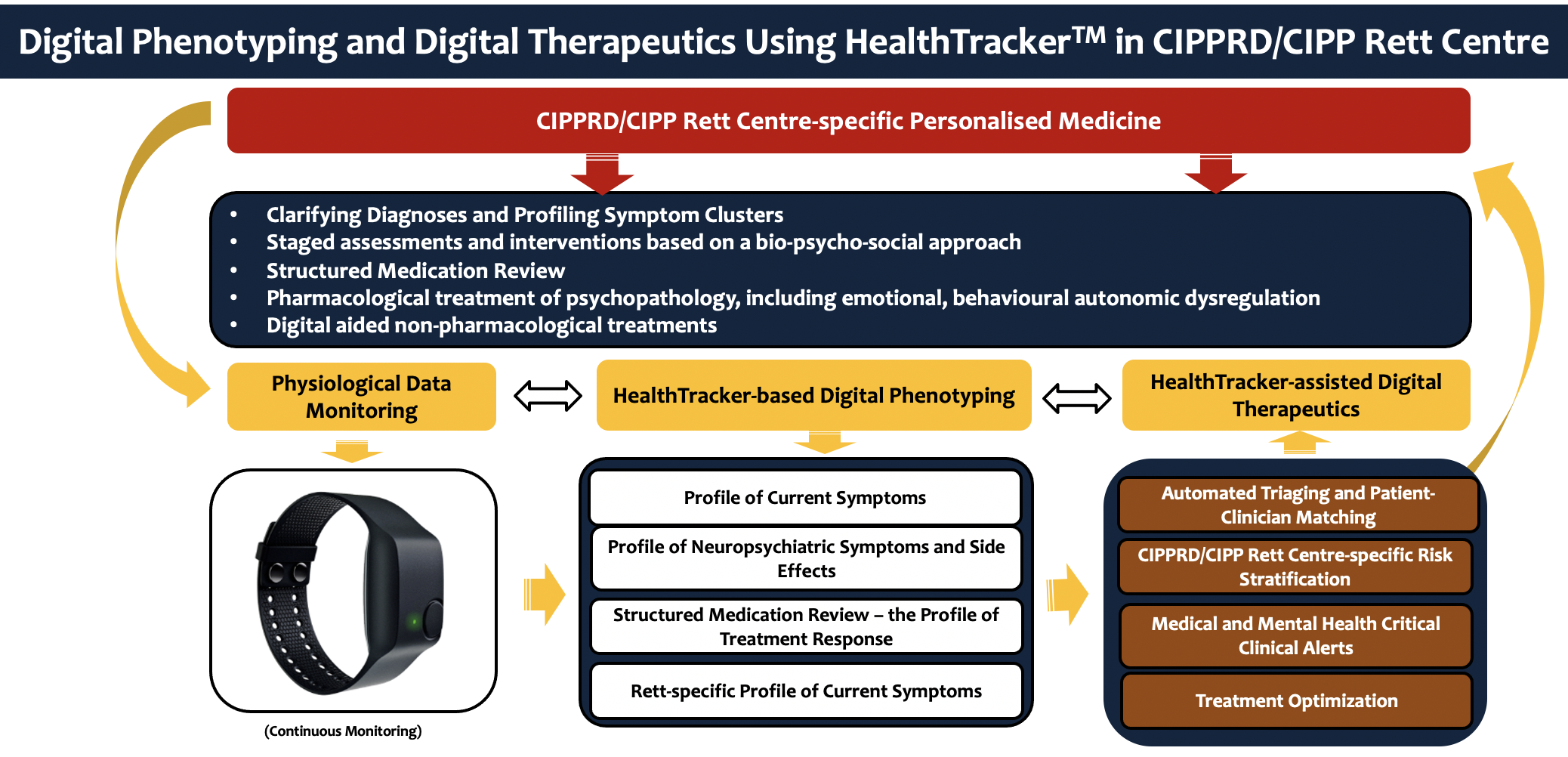 There are a limited number of resources in the UK where Rett Physicians have sufficient expertise and resources to participate in clinical and translational research. The Centre bridges the interface between clinical and academic work, allowing research to be translated quickly into routine clinical practice.
Despite potential treatment strategies emerging from both a clinical and a translational level, in the UK, the current status quo for Rett patients is at a precarious position and is frequently beset by the unsatisfactory provision of care. The digital health approach adopted by the CIPP Rett Centre allows clinically meaningful information to be disseminated quickly to the Rett community.
The team
The CIPP Rett Centre comprises Clinicians and Researchers. Led by Professor Paramala Santosh, the team truly embodies a collaborative team-working environment with a single focus on improving patient care. Many Rett patients have a high risk of early death. Frequently clinicians are reluctant to continue to treat because of the complex physical illness or seriousness of the side-effect of medications. To manage this, the multidisciplinary team at the CIPP Rett Centre allows Clinicians to pivot off Academics to develop care pathways even for the most high-risk patients.
The team consists of Consultant Psychiatrists and Psychologists, Speciality Doctors from a variety of backgrounds, Clinical Psychologists, Computational Analysts and Researchers.
The way forward
There is at present no cure for Rett Syndrome. Although there have been some advances in treatment, there is a considerable gulf between treatment and day-to-day expectations from parents, families and carers.
As we move forward in challenging times, the focus of the CIPP Rett Centre is to be a beacon for care and support for patients with Rett Syndrome everywhere. It is a place for clinical excellence, and by harnessing a translational approach, using the HealthTrackerTM, the Centre posits itself as a place for learning and disseminating new knowledge. The CIPP Rett Centre will continue to make new knowledge available quickly to the Rett community. This optimisation of resources will enable families and clinicians to monitor and improve the quality of care for patients more effectively.
Over the next few years, the CIPP Rett Centre in partnership with HealthTracker Ltd, and South London and Maudsley Hospital NHS Trust, and King's College London will continue to provide effective treatment for individual patients and develop reliable outcome measures and biomarkers for clinical trials. This will contribute to a deeper understanding of Rett Syndrome, provide helpful guidance for families, and help keep people with Rett Syndrome of any age as safe as possible.
Please note: This is a commercial profile
Editor's Recommended Articles