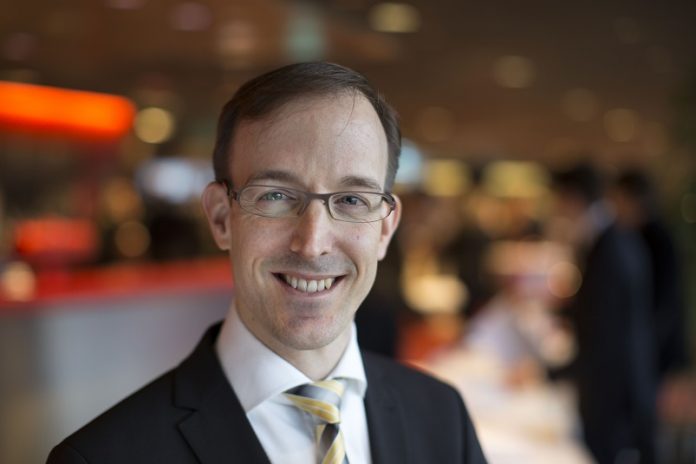 Philipp Langer, head of the EU Framework Programmes section, SERI, highlights Switzerland's participation in Horizon 2020 now it has full association
Up until the end of 2016, Switzerland was only partially associated with Horizon 2020, the European Union's latest framework research programme. National measures were put in place to finance Swiss project participations in areas of Horizon 2020, to which Switzerland was not associated. Since the beginning of 2017 Switzerland has become fully associated with Horizon 2020. Philipp Langer, Head of the EU Framework Programmes section at the State Secretariat for Education, Research and Innovation (SERI), looks back on the period of partial association and explains how things are likely to continue over the coming years.
What is Switzerland's official position regarding Horizon 2020?
Switzerland's official position over the last 3 years has always been the same, namely, the desire for full association to Horizon 2020. There is great satisfaction because this association to all parts of the Horizon 2020 Programme has been in place since 1 January 2017. Researchers from Switzerland can now participate in all sections of the 8th Programme generation (Horizon 2020 and the Euratom Programme), just as they could under FP6 and FP7, between 2004 and 2013. In addition, Switzerland is also able to take part as an observer when it comes to defining the programme's content and strategy.
Did the impediments of the last 3 years cause problems for higher education institutions and researchers in Switzerland?
The possibility of participating in the Horizon 2020 research framework programme is extremely important for Swiss institutions and businesses involved in research and innovation. For one thing, collaborative projects allow Swiss actors to position themselves in international networks at the cutting edge of their scientific field. Moreover, the possibility of applying for individual funding (e.g. ERC grants) allows researchers in Switzerland to measure themselves against the world's greatest talents and is a key argument in drawing the best researchers to Swiss institutions, particularly cantonal universities, federal institutes of technology and universities of applied sciences. Obtaining such a grant brings with it prestigious recognition, which is extremely important in a researcher's career.
Over the last 3 years, Switzerland was only able to participate to a limited extent in Horizon 2020, both in terms of content and duration: researchers in Switzerland were only able to participate in a third of the Horizon 2020 as associated partners, and this was only until the end of 2016. Besides, even this partial association as of September 2014 has only been possible because Switzerland granted citizen from Croatia de facto the same treatment in terms of free movement of persons as other European countries. As of 2017, Switzerland had only 2 options: full participation as an associated country or total exclusion from the Programme. The uncertainty that reigned over the least 3 years regarding Switzerland's partner status within Horizon 2020 diminished our country's appeal. Including Swiss partners in a given project, who were considered a risk for that project, so they were sometimes disregarded by international consortiums. The upshot was a significant drop in Swiss participation, a problematic situation as international connection is a key factor for Switzerland's standing as a scientific location.
What further possibilities are open to Switzerland with full association?
Full association status in Horizon 2020 allows Switzerland to sit as an observer on the programme's various advisory groups at European level and contribute to defining research topics and other strategic aspects. This is important for a number of reasons. On the one hand, calls for the topics of cooperative projects at European level are defined in a more top-down manner than in Switzerland, and that takes place in the advisory groups for each area covered by Horizon 2020 (health, ICT, environment, space, energy, climate, and transport). On the other, the funding available through Horizon 2020 (some €80 billion, over 7 years) is so important that each rule associated with these programmes (for example, the obligation to publish findings in Open Access journals) has a real impact on the way in which research and innovation is conducted throughout Europe.
During the period of partial association between 2014 and 2016, Switzerland was considered a third country for certain programme sections of Horizon 2020. The Federal Government took over the funding of Swiss elements of the projects. What will happen to these projects now that Switzerland is again fully associated?
Projects already underway that have received funding under Horizon 2020 will not be affected by the change in Switzerland's participation status: Their source of funding is assured for the full duration of the project. SERI will continue to fund projects submitted to Brussels by researchers in Switzerland and positively evaluated between 2014 and 2016. This affects around 1,000 projects with a financing volume of around 600 million Swiss francs. The last of these projects are expected to conclude in 2023. Until then, SERI has to maintain the structures set up to implement the transitional measures.
After the uncertainty and stress surrounding Horizon 2020 between 2014 and 2016, can we now expect calmer times ahead?
The period between 2014 and 2016 was fairly work intensive. For all projects where Swiss researchers could still submit projects, but did no longer receive funding by the EU, we had to set up the whole national project funding system within a short space of time, which involved putting in place a new legal basis and creating a new IT database (the former database dated from 1993). The national funding of projects with a normal duration of 4 to 6 years, as opposed to paying a set annual contribution to Brussels, meant we had to make adjustments to the annual payment appropriations involving hundreds of millions of francs. That is still having an impact on the federal budget.
Depending on political developments between the EU and Switzerland, the future should be somewhat more ordered, yet implying double work: In addition to assuring the obligations that come with full association with the managing bodies in Brussels, SERI also has to ensure the continued project-based funding of researchers in Switzerland. Administering the 1,000 or so nationally funded projects will be particularly time consuming between 2018 and 2020, because that is when the detailed project invoices will be due. The Horizon 2020 projects are also more extensive than earlier EU projects. But it was clear from the outset that Switzerland's third country status would require the setting up of the necessary administration.
Philipp Langer
Head EU Framework Programmes
State Secretariat for Education, Research and Innovation (SERI)
philipp.langer@sbfi.admin.ch