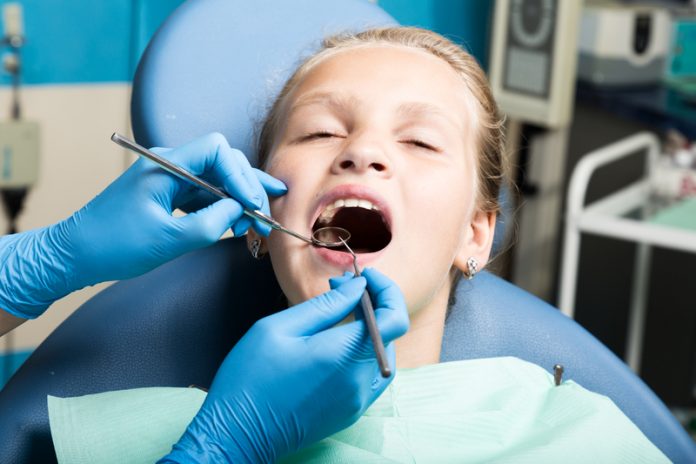 A medical device case study: UCL researchers and dental materials manufacturer collaborate to speed up the development of a new dental filling material for children.
The phase out of mercury in dental fillings to reduce mercury exposure and pollution began in 2018, with the ban of silver coloured amalgam in children under 15. The current filling alternative exists as an invasive process involving drilling and discomfort for children under local anaesthetic, in order to place a non-durable white filling.
With current levels of sugar consumption in the UK, 16% and 23% of 3 and 5 year old children respectively have dental caries (tooth infection) which require fillings. This is even higher in countries where high sugar consumption is combined with poor dental hygiene education and resources, such as Thailand, which sees 75-80%. This, paired with the fear of injections and drilling, means that the challenge of how to fill children's teeth has become increasingly difficult and there is a huge unmet medical need to develop an alternative dental composite.
Professors Anne Young and Paul Ashley, UCL Eastman Dental Institute, are leading a project doing exactly that, and have developed a self-bonding, easy to place composite material that can restore the tooth to its original appearance, shape and function in just 2 minutes.
The usual procedure to place dental composites involves several steps including drilling, acid etching, primer and adhesive placement, addition of the composite in multiple layers followed by curing of each layer with an LED for 20 seconds. However, with this composite, there is no drilling or anaesthetic injections involved as only the soft dentine needs to be removed, and this can be gently scraped away. The composite then provides a protective barrier over the remaining decayed material thus helping the tooth to repair. This has the potential to prevent children from experiencing the discomfort and fear of invasive dental treatments, minimises the use of anaesthetics and provides a quicker, more practical cost-effective treatment for dentists.
With the help of the UCL Translational Research Office, Professors Young and Ashley gained an NIHR i4i Product Development Award* of £969,582, with other UCL staff which funded the development and optimisation of the SMART composite, manufacture and regulatory requirements culminating in the successful completion of a phase 1 safety trial. The first-in-man study included patients aged 6-16, and achieved the positive outcome of SMART composite retention with no adverse effects observed.
Prior to the i4i grant awarded for this project, Anne's relationship with dental material manufacturer Schottlander, meant that they became an industrial partner for this work and took up a license for some of Professor Young's Intellectual Property (IP), allowing them to take the medical device to market once the product is ready.
To quote Dr Brian Schottlander the Managing Director of Schottlander: "This collaboration is a perfect practical example of the philosophy set out in our mission statement of 'Improving dentistry together'. Collaborating with the highly talented and motivated team at UCL Eastman Dental Institute has not only benefited the Institute and ourselves but also, and most importantly, the patients who rely on us for their care."
The UCL Translational Research Office working in partnership with UCLB strongly encourage such collaborations between academia and industry to mobilise around strategic opportunities and provide real benefit for patients. Partnerships like that between Professors Young and Ashley with Schottlander to bring a novel medical device to the clinic, can be facilitated through the UCL Therapeutic Innovation Networks (TINs). These are coordinated expert communities around 6 therapeutic modalities (Biologics, Cell, Gene and Regenerative Medicines, Devices, Diagnostics, Repurposing, Small Molecules) that allow the sharing of expertise and the building of external partnerships.
An example of how mutually beneficial these partnerships are, is demonstrated by the absolute support provided by Schottlander throughout the project which has been fundamental in pushing it along to help bring the revolutionary dental filling material to life. Through Schottlander, UCL Eastman work has been submitted to a notified body to get a CE mark which if successful, will make it easier to pursue further study (Phase 2) and speed up the transition to market so Schottlander can start selling the device.
Professor Young comments on the partnership: "Translation of our work into the clinic would have been impossible without the continuing and extensive support of Brian Schottlander, his regulatory advisors and company. His keen insight into what is needed has enabled a final product that has the potential to revolutionise restoration of children's teeth."
The UCL Translational Research Office (TRO) work on a varied portfolio of projects, of which researchers across any modality often seek industrial collaborations to accelerate translation and to help develop innovative solutions for unmet medical needs.
The UCL TRO welcomes opportunities to explore new corporate research collaborations that align UCL's strengths with your business needs. Please get in touch with the TRO if you have a project which requires academic expertise in order to progress or feel free to join the TINs community.
*Funding acknowledgement and Disclaimer – This project was funded by the National Institute for Health Research (NIHR) Invention for Innovation (i4i) Product Development Award. The views expressed are those of the author(s) and not necessarily those of the NIHR or the Department of Health and Social Care.
References: