Ulla Forsström discusses The NanoTextSurf project, which is creating unique material properties and value-added products using nanotextured surfaces
Under the European Union's Horizon 2020 research and innovation programme, the NanoTextSurf project aims at creating unique material properties and next-generation value-added products by surface treating materials with viscous pastes containing nanocelluloses. VTT Technical Research Centre of Finland Ltd has upgraded its existing open access pilot facilities for applying these special coating layers.
Cellulose nanomaterials
Biodegradable cellulose is the most abundant organic biopolymer on Earth and it is produced from renewable natural resources. Microfibrils forming the fibre cell wall in cellulose fibres can be separated from each other, which forms a viscous gel consisting of individual nanoscale fibrils (Figure 1).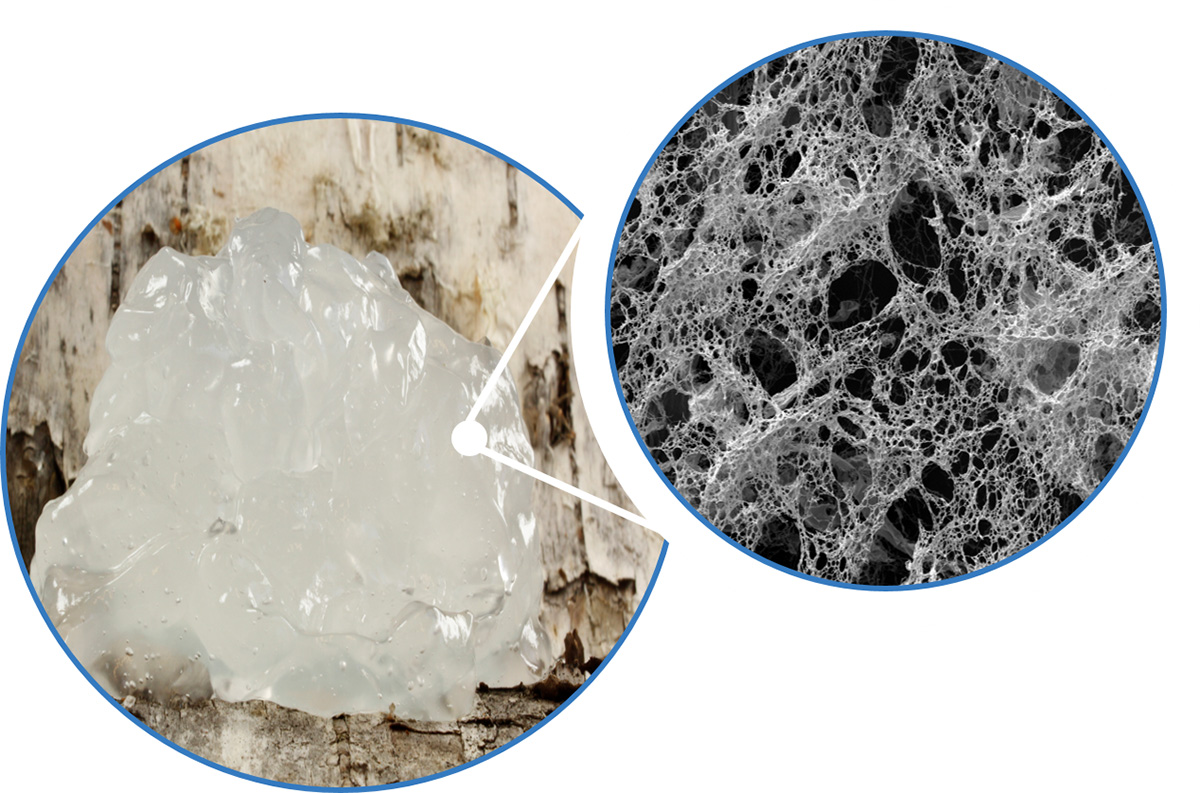 Chemical and enzymatic pre-treatments will ease the separation process, and thus decrease the energy needed to produce nanofibrils or nanocrystals. The width of cellulose nanofibrils is in nanoscale, but the length is several micrometres. Partly chemically separated cellulose nanocrystals are particles that contain only crystalline regions of the cellulose. The widths of these rod-type nanocrystals are in nanoscale, but they are shorter than cellulose nanofibrils. These nanocellulose grades provide numerous surface-tailoring options with their large surface area, mechanical performance, high hygroscopicity, along with nanoporosity and film-forming tendency. In NanoTextSurf, the special characteristics of nanomaterials are used to stabilise pastes for thin coatings or to directly provide special properties like antifouling performance, improved strength or durability in friction and abrasive material applications.
Open access pilot facility for applying nanocellulose coatings
The cellulose nanomaterials are viscous gels; therefore, their application is challenging and requires special coating technologies (Figure 2a and b). Viscous materials can be applied as dispersions with the help of high shear. They can also be applied as foams by using air as the carrier. In most of the coating applications, the applied layer should have good adhesion with the substrate, but remain on the surface.
However, in some applications the coating paste should be better mechanically interlocked with the substrate to achieve a high enough adhesion to the substrate. This can be promoted by using slight pressure, or vacuum-gauge pressure after application. VTT has upgraded its surface treatment pilot facilities based on the targets of the novel applications and challenges seen during the project work. The pilot facility offers possibilities to perform trials at low speed for special applications with small material demands. Longer runs with continuous feeding with special pumps are also possible for scaling-up at high speed for producing enough material for testing end-product performance.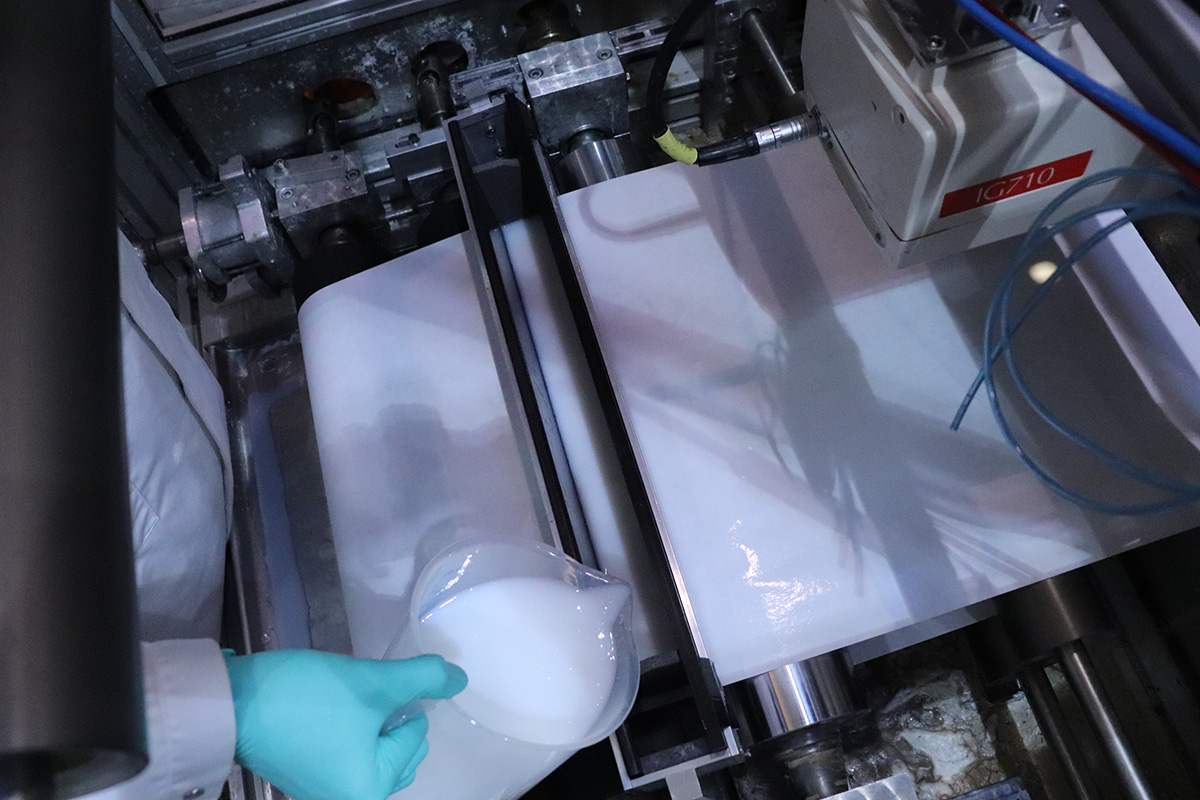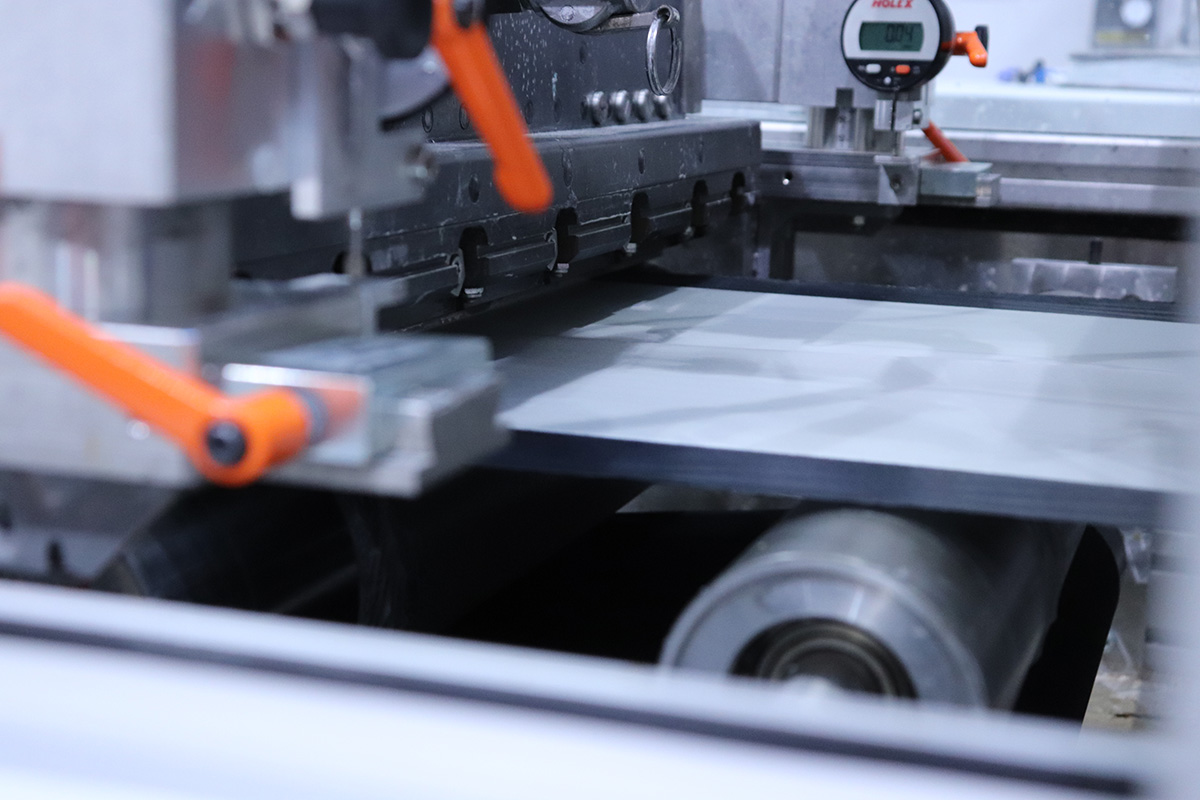 Novel coated products
Novel coated products obtain unique properties with nanocelluloses, such as antifouling, pollutant capturing, improved strength, appropriate friction properties, moderate barrier against adhesive glue or enhanced durability in grinding and polishing. Nanoscale cellulose materials are promising biobased building blocks and active components that can be exploited in various coating applications where the interfacial interactions play a vital role. All special characteristics of the cellulose nanomaterials are highly relevant in many coatings and membrane products. As examples of demonstrations done in NanoTextSurf, a coated abrasive material for a polishing application is shown in Figure 3 and a cross-section image of the thin coating applied on a membrane in Figure 4.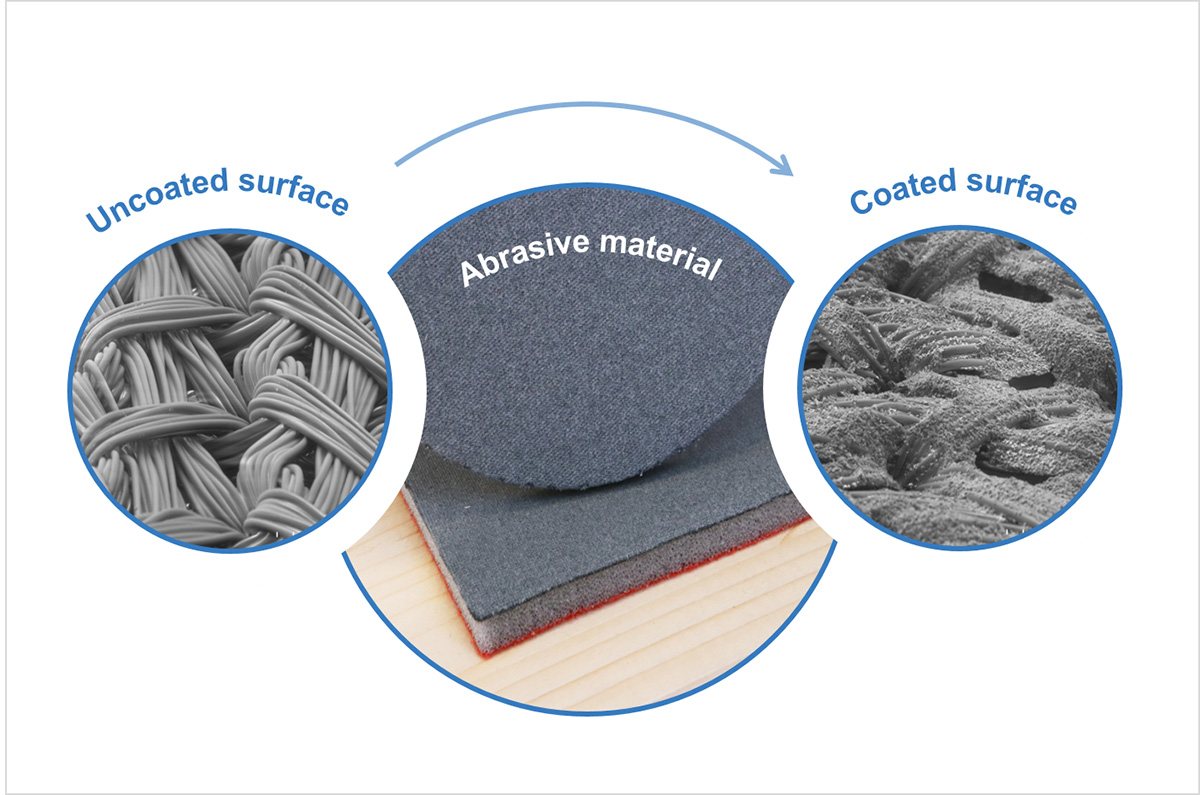 The unique combination of nanocellulose, film processing technology, surface chemistry and the already established pilot-scale production facilities represent the new front of biobased and nanoenhanced materials for packaging, water and liquid purification, textiles and nonwovens and other high-value applications. These novel applications can easily be scaled-up to have the capacity to improve the competitiveness of European industries.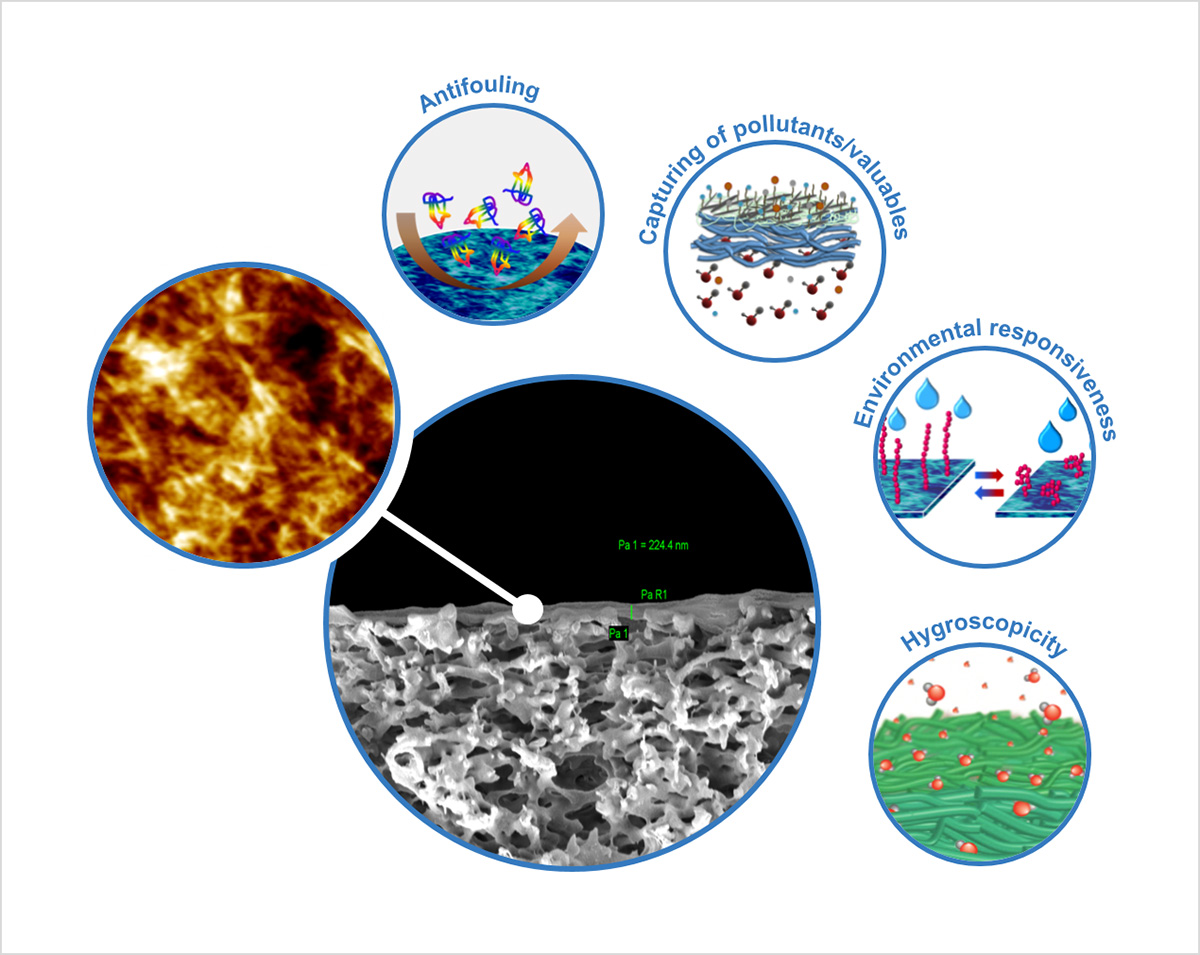 Dr. Ulla Forsström is experienced scientist at VTT Technical Research Centre of Finland Ltd; she is working as Principal Scientist in the Business Area of Biomass processing and products. She has industrial working experience in forest industry companies and Doctor of Science degree in Technology; she graduated 2003 from Technical University of Helsinki. She has coordinated several EU projects related to sustainable and novel biomaterial applications aiming at resource efficient solutions for circular economy. Her current main research interests are in nanocelluloses, surface treatments, and functional products based on biomaterials. VTT has wide competence and extensive infrastructure on lab and pilot scale to support industrial partners to develop and scale-up novel product concepts.
This project has received funding from the European Union's Horizon 2020 research and innovation programme under grant agreement No 760601.
*Please note: This is a commercial profile
Editor's Recommended Articles