SSPC, the Science Foundation Ireland Research Centre for Pharmaceuticals, explains how they are recognised internationally as a hub of process innovation and advanced manufacturing for the pharmaceutical sector
New investment for SSPC, the SFI (Science Foundation Ireland) Research Centre for Pharmaceuticals was announced in early June 2019. Now recognised internationally as a hub of process innovation and advanced manufacturing for the pharmaceutical sector, the new research programme will present itself in five research themes, molecules, materials, medicines, manufacturing and modelling. Led by the University of Limerick and headquartered at the Bernal Institute, the centre will work in partnership with University College Cork, National University of Galway, Trinity College Dublin, Dublin City University, University College Dublin, Waterford IT with new partners Maynooth University and Royal College of Surgeons Ireland.
Minister for Business, Enterprise and Innovation, Heather Humphreys TD and Minister of State for Training, Skills, Innovation, Research and Development, John Halligan TD, announced an investment of €230 million in six SFI Research Centres as part of Project Ireland 2040. SSPC, the SFI Research Centre for Pharmaceuticals, one of those centres, will now move into their third phase of funding from 2019-2025, with much focus on advanced pharmaceutical manufacturing and novel pharmaceutical materials.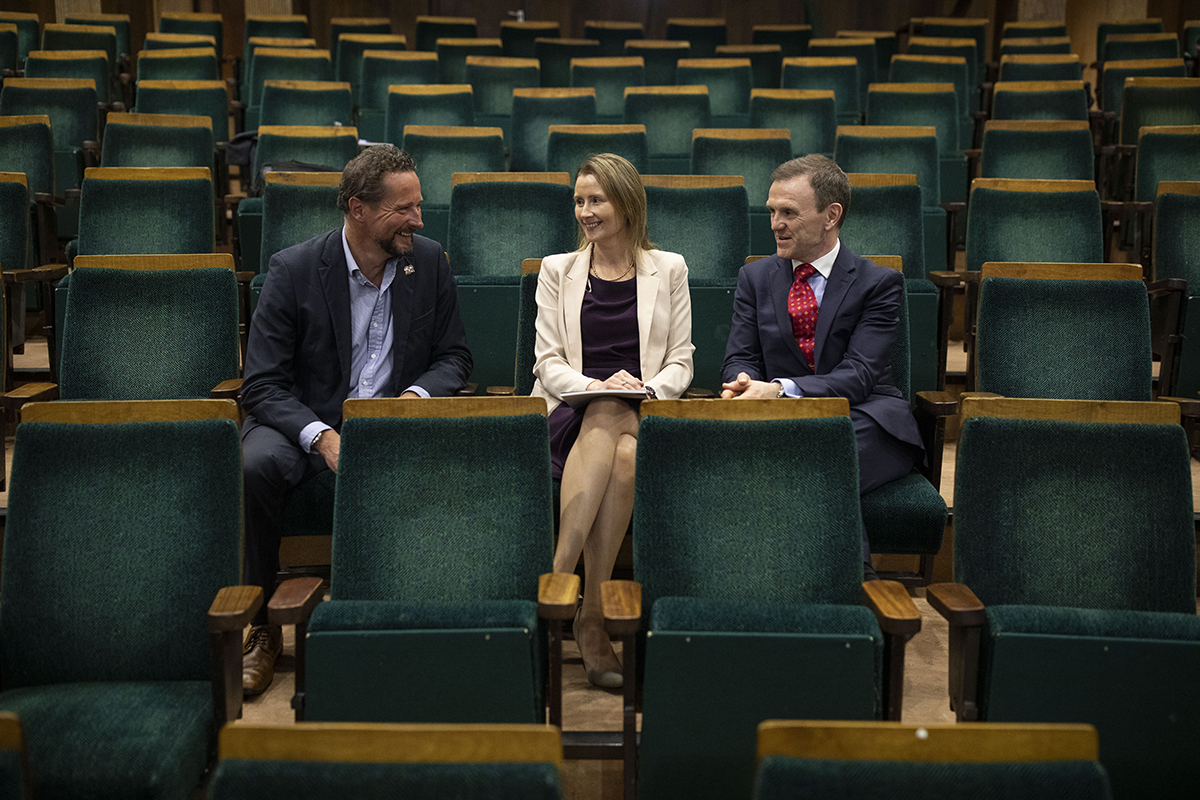 SSPC comprises a critical mass of accomplished researchers and an infrastructure that is second-to-none from a global perspective. SSPC will fund 68 investigators who will collectively support over 100 PhD students and over 80 PDRA years. To mark the new phase of the centre, SSPC presented a two-day showcase called Six Years In The Making: Looking Back & Moving Forward marking SSPC's achievements, with invited guest speaker Fergal Donnelly of the European Commission (pictured), comments from alumni and the experiences of industry members.
SSPC, now recognised internationally as a hub of process innovation and advanced manufacturing for the pharmaceutical sector, has demonstrated capabilities in the design and implementation of flow chemistry, asymmetric synthesis, fundamental and applied aspects of pharmaceutical crystallization, amorphous materials, continuous processing, novel pharmaceutical solid forms and emerging pharmaceutical technologies.
SSPC has a proven record of accomplishment in precompetitive multi-industry partnership projects and single partner projects, working with over 20 industry partners and ensuring the research is critically informed by the needs of the pharma end users. Increasing the centre's reputation globally, SSPC has now published over 400 peer-reviewed high impact publications and industry members.
SSPC has created a consortium of industry and academic partners that has been the most inclusive and collaborative pharmaceutical/academic partnership in the world. The centre exists as a link between scientists and engineers, within academia and industry in Ireland and globally, to address crucial research questions, that face the global pharmaceutical industry. A significant success of the SSPC is its unique collaboration with international academic institutions.
Another key achievement of SSPC to-date is the presence of graduates and trainees in development positions within top pharma companies globally. The increased reputation of Ireland as a location for pharmaceutical research and the creation of a working framework to enable multi-company partnerships in the pharma sector which is unique globally. SSPC produces PhD graduates and post-doctoral researchers with specific disciplinary expertise, coupled with a broad understanding of cognate disciplines across pharmaceutical science and manufacturing. Building on our industry placement programme, the transition rate of SSPC researchers to the industry currently stands at 70% in a global context, the highest of any research centre in Ireland.
What's next?
The new funding phase will employ nine people directly and includes 68 academic investigators across nine partner institutions. The new advanced research programme will extend into the manufacturing and modelling space, adding expertise in advanced screening, predictive modelling and drug hybrid conjugates. The research projects will belong to five research themes (PharM5), molecules, materials, medicines, manufacturing and modelling with leading academic experts:
Molecules I: New methodologies for the asymmetric synthesis of existing APIs and future drug candidates.
Molecules II: Develop molecules and methods for automated and in flow generation of targeted drug hybrids.
Molecules III: Rapid initial toxicity and biological efficacy testing: new chemical entities, combinations and formulations.
Materials: Advance our understanding of SCCMs and MCCMs in order to enable improved orally delivered drug products.
Medicines: Optimise the development, production and use of safe and effective medicines.
Manufacturing: Enabling a disruptive change in the manufacture of drug substances and drug products.
Modelling: New techniques to design and predict behaviour in silico in order to reduce trial-and-error experimentation.
Under the new funding model, SSPC will secure 66% of our funding from other sources, so that only 34% of funding over the next six years will now come from SFI. To achieve this, SSPC will offer an improved membership option for industrial partners, expanded co-funding mechanisms and ambitious target for participation and co-ordination of EU funding schemes. The centre welcomes targeted projects with both members and non-members offering two options, 100% industry funded proprietary projects or co-funded projects.
Fully funded projects provide organisations with the opportunity to initiate strategically important and commercially impactful research projects while retaining all the intellectual property (IP). Co-funded projects offer organisations the opportunity to receive 50% project funding by SSPC. In this case, the IP, which can be licenced, resides with the academic institute. The IP framework in Ireland is reinforced by the European Union (EU) rules and regulations in line with National IP Protocol. IP management is a critical component of the industry engagement model and specialised business incubation facilities are accom­modated on each partner campus.
SSPC is currently recruiting 38 PhD students and 15 post-doctoral researchers, to be in place by October 2019, a further cohort will be recruited early 2020 across Ireland.
Interdependencies and synergies within the broader research programme will form a solid basis for multi-disciplinary targeted research projects with industrial partners. Under the Directorship of Professor Michael Zaworotko and Professor Gavin Walker, SSPC has the capacity to adapt to changes in the sector and further foster innovation and discovery.
www.sspc.ie #wearesspc
Louise O'Neill
Marketing & Communications Manager
SSPC, the SFI Research Centre
for Pharmaceuticals
Tel: +353 61 234 675
Please note: This is a commercial profile
Editor's Recommended Articles