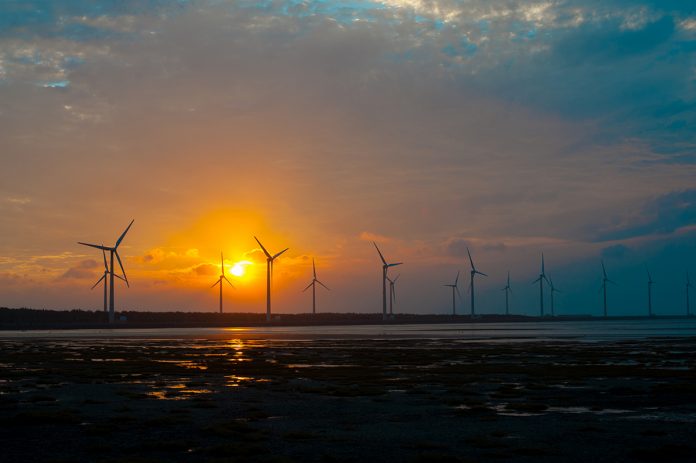 Gwo-shyh Song, Associate Professor at the National Taiwan University and from Global Aqua Survey Ltd, walks us through the future of Taiwan wind farm block development
Wind power and solar power are the most promising forms of renewable energy generation. According to the International Renewable Energy Source Organization report, by 2018 the total capacity of the global onshore wind plant reached 542 GW, but to achieve the target of carbon emission reduction, the total plant capacity needs to reach 5,044 GW by 2050; in other words, the annual growth rate of land-based wind power needs to exceed 7% in the next 30 years. Therefore, today's onshore wind power generation is mainly aimed at increasing the size and power rating of the wind turbine, optimising the design of rotor blades, material innovation and strengthening power and electronic components and other fan optimisation project development.
In addition, with the development of big data and artificial intelligence, the use of intelligent wind turbines is now available to monitor wear and tear by predicting sensing data in wind turbines to reduce the cost of wind turbine failure, and by intelligent auto-regulating of the wind turbine's paddle control and yaw control to improve the energy output of the overall wind turbine.
Land-based wind power transmission restrictions
However, the setting up of onshore wind power also poses many challenges, such as land-based wind power transmission restrictions, which make it difficult to develop onshore wind power in densely populated areas, thereby raising concerns about the advantages of offshore wind power generation without space restrictions.
Taiwan's wind farms are selected separately through demonstration incentives, potential sites and block development. The wind fields that have been selected so far are as follows:
(Phase 1: Demonstration incentives) Total at 238MW
2019 – Formosa I (Wind Farm) 128MW
2020 – Taiwan Power I: 110MW
(Phase 2: Potential sites) Total at 5.5GW
2020 – Formosa 2: 378MW/ Junlin: 360MW
2021 – Liwei: 350MW/ Junlin: 348MW/ Big Chanhua SE 605MW/ Big Chanhua SW: 295MW/ Chanfan: 100MW
2023 – Chanfan: 452MW
2024 – West Island 48MW/ China Steel: 300MW/ Taiwan Power II 300MW/ Hailung II 300MW
2025 – Big Chanhua SW: 337MW/ Big Chanhua NW 583MW/ Hailung II: 232MW/ Hailung III: 512MW
Construction phase
As a result, Taiwan's offshore wind farm development has now entered the construction phase: between 2020 and 2025, the offshore wind farm network will be completed. According to the current developers, the expected capacity of wind turbines by 2025 in Taiwan's waters will be about 662 offshore wind turbines standing at sea. The third phase of future block development from 2026 to 2035, will be characterised by 1GW of development and 10M wind turbines per year and will be most popular in the wind farm position of Floating Offshore Wind Turbine power (FOWT) located in remote seas.
Floating base
The most important technology for floating offshore wind power generation is the design of the floating base, and there are three types of floating base, namely, semi-submersible and barge, deep-water floating spar, and tension leg platform, all of which use buoyancy to achieve static balance at sea. In the past, the deep-water floating spar was most commonly used in floating pedestals, but the development of the semi-submersible floating base is expected to be the market leader by 2022, with a market share of about 62%.
Also, although the tension leg platform currently in the market is low, in comparison with other installations, it has better flexibility and can be installed in shallower or deeper waters. However, its installation is complex and has high mooring installation costs, such that its future will focus on reducing installation costs in the direction of development. Overall, it is expected that the development direction of the floating base will be to install several different types of a turbine on a single base, combining other forms of renewable energy sources like wave power generation and solar power generation.
Turbine capacity
Besides, in recent years, there has been significant progress in the capacity of floating offshore wind power in turbine capacity, turbine hub height, floating set distance and depth, and turbine capacity grew from 0.75MW in 2008 to 2.34MW in 2018, with a growth rate of two. Furthermore, the height of the turbine increased from 33 metres in 2008 to 63 metres in 2018; about double the growth rate. Besides, the average installed depth also increased by 7% to 65m. As for the floating unit from 2008 to 2018, the average distance from the coast has doubled to 11km and is estimated to reach 250m deep and 25km offshore by 2030. The development of large-scale floating wind farms will be the primary goal in the future.
After 2035, the wind turbines in the waters near Taiwan will reach more than 1,000, and then, the 20-year period of operation and maintenance will bring new development opportunities to the industry. After the commercial transfer limit expires, this may also bring in new development opportunities to the industry, that may include the extension or replacement of the unit, to become Taiwan's sustainable development of industrial opportunity.
Reference
Annual Report on "Energy Science and Technology Issues" of the Science and Technology Development Observatory.
Please note: This is a commercial profile
Editor's Recommended Articles