Academic experts Panagiotis Radoglou-Grammatikis, Thomas Lagkas and Panagiotis Sarigiannidis, walk us through the Next Generation IoT Reference Solution, known as The TERMINET Project
The Internet of Things (IoT) incorporates heterogeneous technologies, devices, and platforms that work together towards providing sensing, collecting, acting, processing, managing and analysing data. Within the IoT era, intelligent embedded devices, such as smart sensors, wearable devices, and autonomous vehicles, are connected to each other and they can communicate without human intervention.
1. ΤΕRΜΙΝΕΤ: Motivation and challenges
The emergence of the IoT concept has led to the pervasive interconnection of people, services, and devices. However, new systems in the IoT domain that employ smart solutions having embedded intelligence, connectivity and processing capabilities for edge devices rely on real-time processing at the edge of the IoT network – near the end-user. Currently, traditional cloud computing and IoT solutions are not able to support real-time applications since they are designed to offer non-real-time services, for example, stress detection in IoT smart farming applications, while they are offered at a high cost. The computation remains at the cloud, while heavy analytics, visualisation and user-aware services need long times, they are high-cost and pose privacy issues since personal information is stored and processed in the backbone centralised servers.
However, new generation systems and solutions require low latency and ultra-fast analytics, given that they bring advanced smart technologies and applications with embedded intelli- gence, connectivity and processing capabilities. A new cost-effective approach is needed, where these new IoT systems could be closer to the data source; low latency services and applications are viable, while the data privacy could be increased.
Currently, there are nearly 7 billion connected IoT devices and 3 billion smartphones around the world. Mean- while, it is expected that, by 2022, 50 billion IoT devices will be connected to the Internet. Connecting, configuring, and managing this vast number of heterogeneous IoT devices, gateways, actuators and nodes create a significant challenge. Moreover, deploying IoT in large-scale environments is an arduous task, given the heterogeneity of the 'things', the complexity of the connected devices and the growing demand for data sharing. Connecting, configuring, and managing all these devices in the traditional way, for example, manually, statically and per IoT area, is no longer viable. A new interoperability approach of supporting Next Generation IoT (NG-IoT) applications is needed by alleviating the increased complexity of the enormous number of connected 'things' together.
The deployment of Artificial Intelligence (AI) technologies in the IoT domain is an effective way for implementing intelligent services. Since the birth of AI, Machine Learning (ML)/ Deep Learning (DL) applications have become increasingly mature. However, proactive strategies and mechanisms are required in predicting events to take future actions accordingly. Effective synergies of IoT and AI are needed to create a dynamic environment where organisations can gain high-quality insight into every piece of data from what customers actually seek. Thus, a new approach in integrating AI and IoT ecosystem is needed without posing privacy issues while providing a security by design concept, where multiple IoT ecosystem instances are trained by data coming from all the IoT infrastructure without actual data exchange.
Augmented Reality (AR) and Virtual Reality (VR) emerge as efficient services to enable businesses to visualise critical insights about their operational technologies while fostering new business-oriented IoT use cases. The ability to view both physical and virtual environments is becoming attractive for industries like manufacturing, energy, transportation and healthcare. Further, training applications that use AR/VR capabilities could be incredibly beneficial to industries related to critical infrastructure. Nonetheless, the synergy between AR/VR technologies and IoT is not so mature since the industrial automation and the virtual representation of IoT environments require low latency, flexibility and AI support, especially when the AR/VR components have to be trained to multiple/group training human features. Consequently, a new contextual framework for supporting cutting-edge AR/VR tools is needed to support modern IoT applications while opening new business opportunities.
The virtual view of often high-value equipment or a device is very important when organisations and businesses perform predictive maintenance. In the long run, the virtual representation of the physical device/equipment states could help reduce costs, monitor assets, reduce downtime and create new products and markers. The concept of digital twins, as a virtual representation of an actual asset like a device, node and control unit is heavily dependent on the IoT network infrastructure. Digital twins are data-intensive, while they drive low latency requirements. Current IoT architectures are not able to support the digital twin concept since they suffer from high delays, lack of flexibility, and they are not capable of feeding real-time data to the digital twins.
2. TERMINET Architecture
Based on the previous remarks, the nexT gEneRation sMart INterconnectEd ioT (TERMINET) project funded by the European Union's Horizon 2020 research and innovation programme will provide a novel NG-IoT architecture, taking full advantage of a variety of technologies such as SDN, Multiple-access Edge Computing (MEC), Federated Learning and Digital Twins. In particular, as illustrated in Figure 1, the TERMINET architecture is composed of six layers: (a) Physical Layer, (b) Middleware Layer, (c) Intelligence Layer, (d) Platform Layer and (e) Application Layer.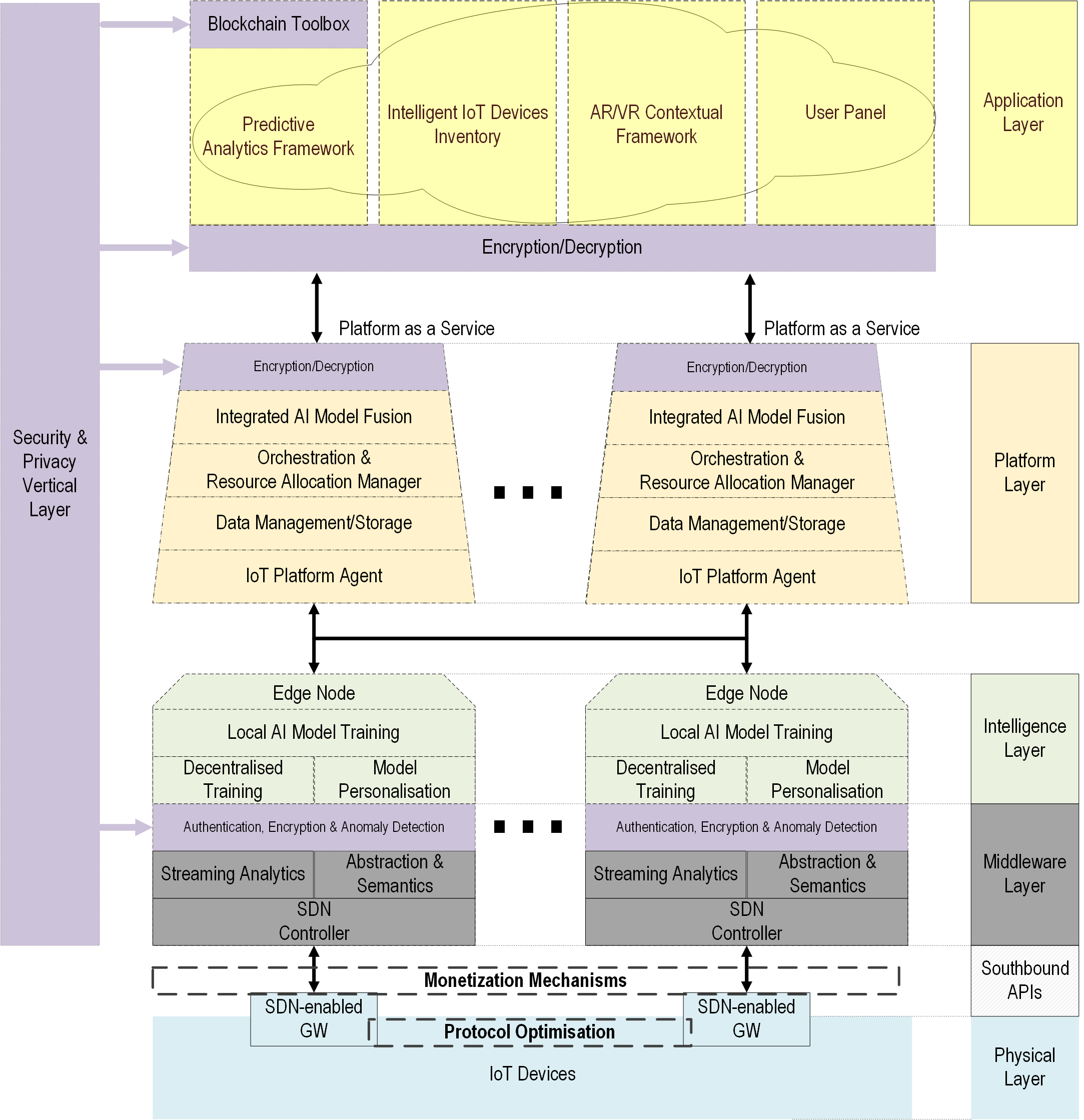 The Physical Layer (PHY-L) includes physical and virtualised IoT devices that are connected to the hardware-based and virtual SDN switches. Next, the Middleware Layer (MID-L) is devoted to the network monitoring and controlling activities managed by the SDN controller. This layer focuses on the southbound interfaces and includes streaming analytics as a pre-processing step before the activities of the Intelligence Layer (INT-L). INT-L is devoted to federated learning activities for a variety of purposes, including smart farming, personalised healthcare and predictive maintenance. Subsequently, the Platform Layer (PLA-L) pays special attention to the orchestration services carried out by the Vertical Application Orchestration (VAO). Finally, the Application Layer refers to cloud computing sources and applications offered either by TERMINET itself or the TERMINET end users.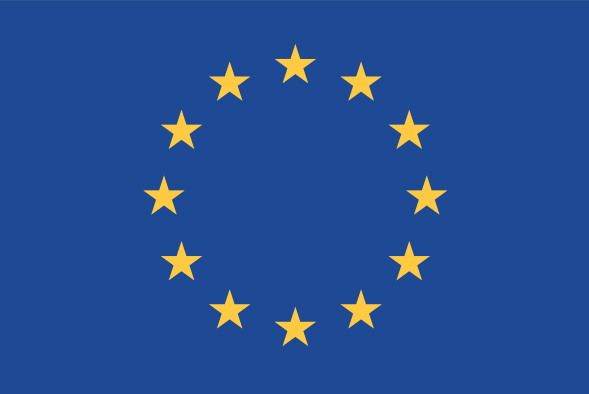 This project has received funding from the European Union's Horizon 2020 research and innovation programme under grant agreement No. 957406.
Please note: This is a commercial profile
© 2019. This work is licensed under CC-BY-NC-ND.
Editor's Recommended Articles