An opportunity to further understand the early universe and the lonely dwarf galaxy has been provided by the near-infrared camera of the James Webb Space Telescope
The new image has shown an array of stars within the lonely dwarf galaxy known as "Wolf-Lundmark – Melotte" (WLM). Three million light-years away and one-tenth the size of the Milky Way, the galaxy has remained largely isolated and bears a similar chemical composition to galaxies in the early universe, say NASA.
How it started ➡️ How it's going

These images demonstrate Webb's remarkable ability to resolve faint stars in nearby dwarf galaxy Wolf-Lundmark-Melotte (WLM). On the right is Webb's brand new image, and on the left is Spitzer's view: https://t.co/ha4Wv7cBJK pic.twitter.com/9V6ppr4hoe

— NASA Webb Telescope (@NASAWebb) November 9, 2022
Commenting on the NASA website, assistant professor in the department of physics and astronomy at Rutgers University in Piscataway, Kristen McQuinn stated that we can "can use [the lonely dwarf galaxy WLM] to study how stars form and evolve in small galaxies like those in the ancient universe."
"It's really a gorgeous image," added McQuinn, who is one of the lead scientists in the Webb Early Release Science program.
On Twitter, NASA's official Webb telescope account declared that, compared with past space observatory images, Webb's NIRCam image "makes the whole place shimmer".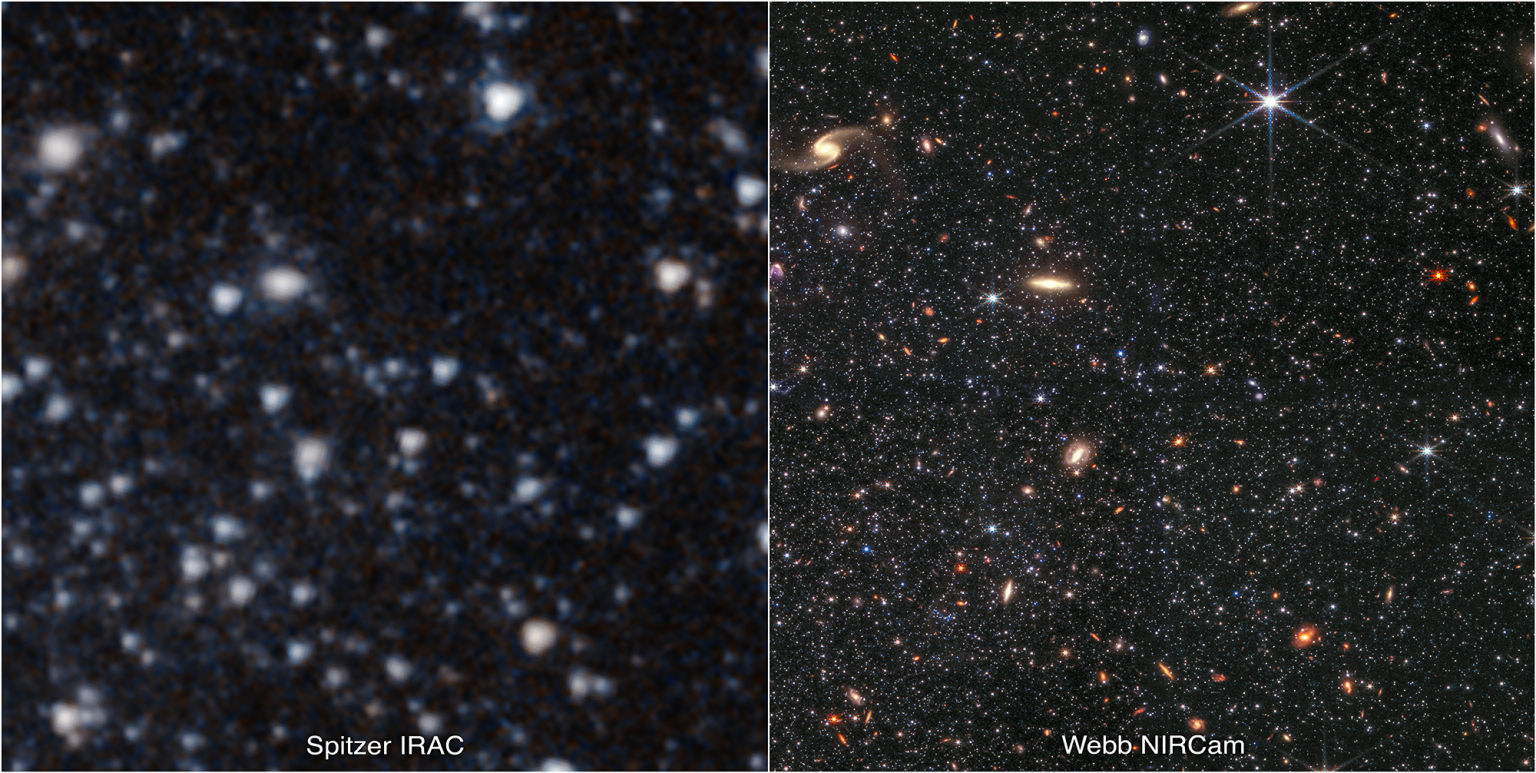 Foreground stars, background galaxies and tidal tails
McQuinn pointed out that "the view is far deeper and better than our eyes could possibly see. Even if you were looking out from a planet in the middle of this galaxy, and even if you could see infrared light, you would need bionic eyes to be able to see what Webb sees".
Some of the stars pictured in this latest Webb image are low-mass stars that were formed in the early universe and are able to survive for billions of years.
McQuinn stated: "We can see a myriad of individual stars of different colours, sizes, temperatures, ages, and stages of evolution; interesting clouds of nebular gas within the galaxy; foreground stars with Webb's diffraction spikes; and background galaxies with neat features like tidal tails."
A tidal tail is a thin "tail" of stars and interstellar gas extending off a galaxy.
What does the future have in store for WLM research?
"The main science focus is to reconstruct the star formation history of this galaxy […] by determining the properties of these low-mass stars (like their ages), we can gain insight into what was happening in the very distant past," she said.
"Now we're looking at the near-infrared light with Webb, and we're using WLM as a sort of standard for comparison (like you would use in a lab) to help us make sure we understand the Webb observations. We want to make sure we're measuring the stars' brightnesses really, really accurately and precisely. We also want to make sure that we understand our stellar evolution models in the near-infrared".
Editor's Recommended Articles