Farrukh Saleem, Head of Sales & Marketing at Winchester MD, explains why the company is ahead of the curve when it comes to today's market for CBD products
Winchester MD's vision is to be the leading CBD company in the UK, supplying an ever-increasing consumer demand through strategic acquisitions and long-term partnerships.
Winchester MD's team has a wealth of experience to drive successful growth built on our core values: Trust, Integrity, Improvement, Community, Honesty and Knowledge.
A broad supply chain was set up with European partners and wholesalers, with a strong distribution partnership in the UK and Europe offering same day or next day delivery.
We have a well-established e-commerce platform with one of the first cannabis approved credit payment gateways offering a good customer purchase experience, with a best practice inventory stock management process that ensures stock rotation to avoid stock-outs, out of dates and minimising both damage and waste.
Winchester MD prides itself on exemplary customer service, providing a first-class experience with technical product knowledge, resolving any complaints with a very fast handling process.
What Winchester MD learnt early on in our journey was that many CBD businesses were in a rush to make products without really paying any attention to the aesthetics, looks and taste of their products. They were focused on quoting large CBD percentages and claim that because their product had CBD, it was justifiable to have a strong bitter taste. We realised from the outset that quality and reliability should be major considerations when selecting products and we set about sampling as many products available on the market as possible and by February 2018, we had selected our initial range of products.
HempElf
HempElf was launched as an online store, operated by Winchester MD Limited (formerly Green Biosciences) and offering 15 products. 12 months later and we have over 100 products for sale in our online store with monthly sales in excess of 2,500 orders and 45,000 online visitors per month (average figure).
We have been voted as the UK's No 1 supplier of quality CBD flowers by two of the industry publications CBDTesters and High&Polite, and have built a customer base of more than 13,700 loyal followers.
Throughout this time, we have remained true to our founding principles of Quality, Reliability and Transparency and our trading name HempElf.com has become synonymous with high-quality products.
While the rapid growth of the CBD based products industry is an enormous opportunity, to fulfil these opportunities, we have invested in our people and facilities:
Digital Marketing team – to create product websites, blogs, social media updates.
SEO Optimisation team – to provide analytics.
In-House Design team – provide quality design for marketing & packaging.
Fulfilment centres in UK, Spain and Poland.
GMP (Goods Manufacturing Practices) certified facility in Poland.
An automated package labelling system to provide faster fulfilment/distribution.
Sales reporting – integrated technology platforms to provide sales reports.
Winchester MD focusses on every stage of the production path – from research, cultivation and extraction to distribution of our CBD products from our farm in Spain.
Winchester MD identified the problems affecting the global health sector by proffering realistic solutions, but we have also identified an opportunity that will build a stronger profile for our organisation.
There are multiple benefits of using CBD products. There's a growing body of studies proving its health benefits and this area of research is being observed with great attention both by experts and the general public. Moreover, it will also improve the health sector, expand the life expectancy rate and contribute to the economy at large. That's one of the main reasons behind its growing popularity.
Winchester MD is launching three unique brands intended to meet the demands of the CBD market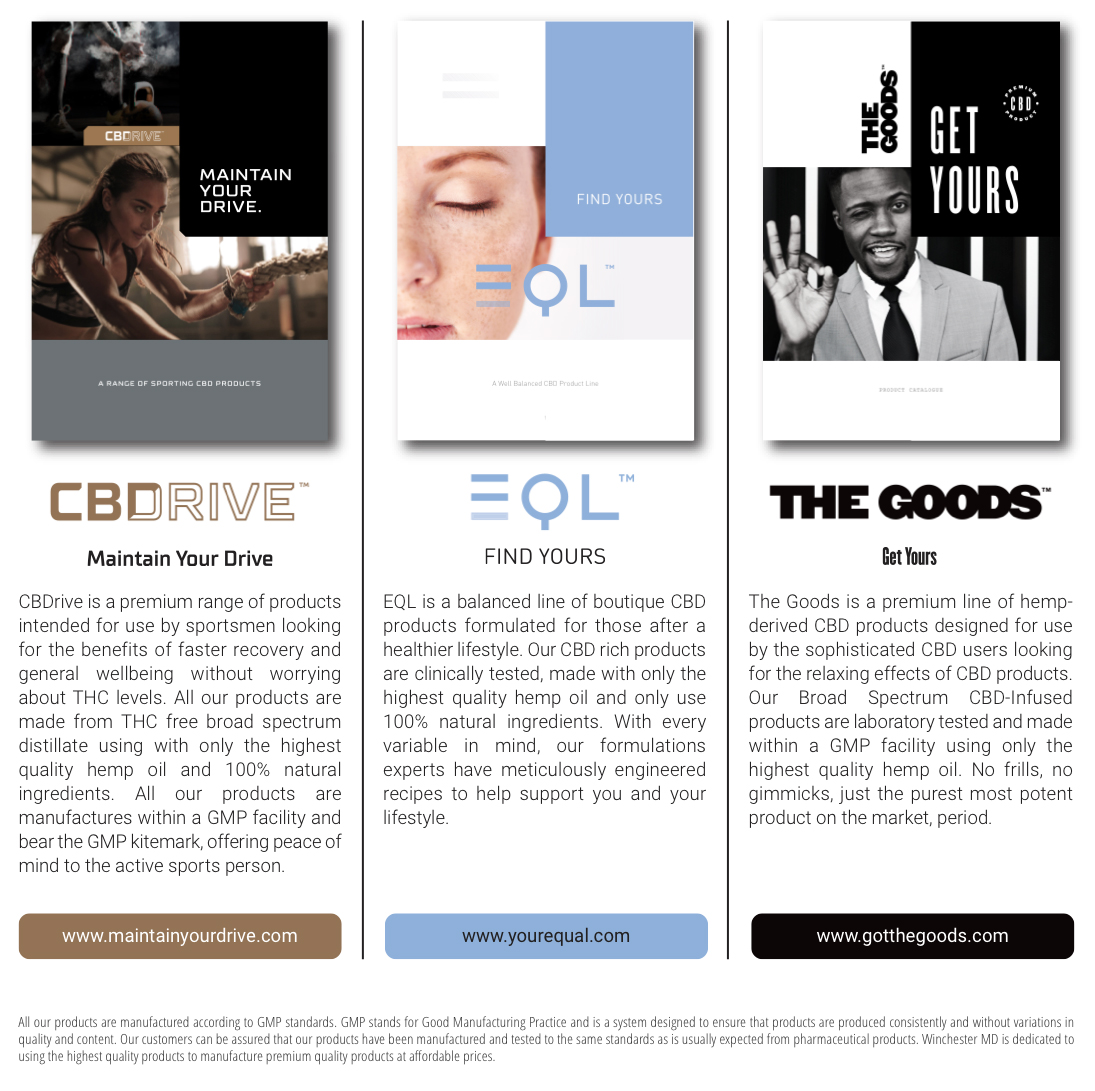 CBDrive is a premium range of products intended for use by sportsmen looking for the benefits of faster recovery and general wellbeing without worrying about THC levels. All our products are made from THC free broad spectrum distillate using with only the highest quality hemp oil and 100% natural ingredients. All our products are manufactures within a GMP facility and bear the GMP kitemark, offering peace of mind to the active sports person.
EQL is a balanced line of boutique CBD products formulated for those after a healthier lifestyle. Our CBD rich products are clinically tested, made with only the highest quality hemp oil and only use 100% natural ingredients. With every variable in mind, our formulations experts have meticulously engineered recipes to help support you and your lifestyle.
The Goods is a premium line of hemp-derived CBD products designed for use by the sophisticated CBD users looking for the relaxing effects of CBD products. Our broad spectrum CBD-Infused products are laboratory tested and made within a GMP facility using only the highest quality hemp oil. No frills, no gimmicks, just the purest most potent product on the market, period.
All our products are manufactured according to GMP standards. GMP stands for Good Manufacturing Practice and is a system designed to ensure that products are produced consistently and without variations in quality and content. Our customers can be assured that our products have been manufactured and tested to the same standards as is usually expected from pharmaceutical products. Winchester MD is dedicated to using the highest quality products to manufacture premium quality products at affordable prices.
Please note: This is a commercial profile
Editor's Recommended Articles