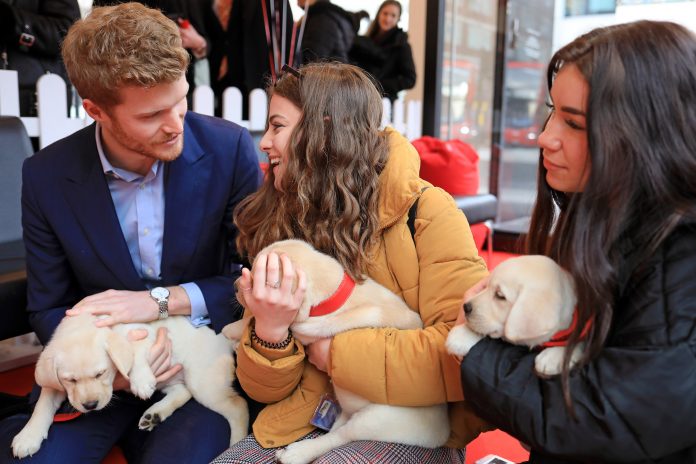 A new study warns that workers do not feel valued or fulfilled in their offices and presents the case for businesses to make their workspaces happier
Heading back into the office after the festive season is a hard pill to swallow for many office workers, leading to a combination of workplace absenteeism, job unhappiness, and reduced productivity. In fact, the lack of worker enthusiasm in January is even estimated to cost the UK economy £93 billion (1) a year. That is why Staples is building the business case for employers to make their workspaces happier.
In its latest research report 'In Pursuit of Office Happiness', Staples has found that happy workspaces help workers feel valued, achieve their goals and work more productively. Key findings show that too many businesses are currently failing to keep their workers happy, and that the physical work environment itself is an important part of promoting workplace happiness:
One-in-five describe their office workspace as 'depressing';
81% say their office space has an impact on their mental health;
68% would feel more valued at work if their organisation invested in their workspaces;
46% believe they'd be happier in another job altogether;
31% are ashamed of their workspace.
Professor Sir Cary Cooper, an expert in workplace happiness and author of Well-being: Productivity and Happiness at Work believes staff well-being is the key component to creating a happy workforce and says: "Work can make you sick – and work can make you happy. Which one happens depends on who you are, what you do, and how you are treated at work. So, an improvement in staff wellbeing can be a catalyst to the development of workspaces that encourage happiness, fulfilment and productivity."
The research also highlights some simple and fun ways for employers to make their workspaces happier. Perks, or happiness triggers, that respondents said they would like to have in their offices include an office dog (27%), healthy snacks (49%) and better stationery (23%). But with a quarter of workers saying that their office is too cramped and a third believing it's too noisy, fat-free yoghurt and a nap may not be enough to improve staff retention.
Jeanette Bresitz, Head of Merchandising, UK, at Staples, comments: "As many psychologists, including Professor Cooper, rightly point out, workplace happiness is about striking a balance between providing employees with the right physical space – such as giving them the tools they need to do their jobs well, and a workspace that promotes mental health – while also providing them with a nurturing culture in which they can grow. With nearly half of UK office workers telling us that they think they'd be happier in another job, we are urging businesses to make changes so staff feel more valued, productive and loyal to their employers. It's important to note that boosting the workspace with free snacks and office puppies isn't the long term answer – achieving office happiness is about more than gimmicks – but our research shows that it's a good place to start."
Further information can about how happiness effects office workers be found at: https://www.staples.co.uk/whenyourspaceworks
About the research
The research comprised of on an online survey of 7,000 office workers, conducted by independent research agency Arlington Research in October 2018. The research sample consisted of a sample of desk-based office workers from ten European countries including: United Kingdom (2,000, with 302 in London), Germany (1,000), France (500), Netherlands (500), Sweden (500), Norway (500), Spain (500), Italy (500), Portugal (500) and Finland (500).
Editor's Recommended Articles