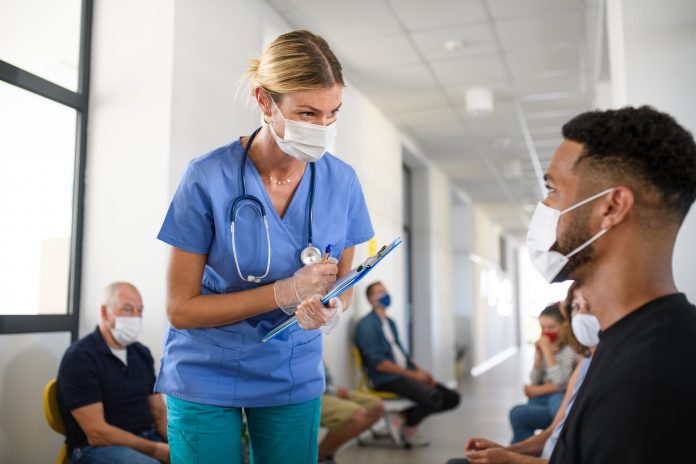 Kevin Timms, Chairman & CEO of eacs, explores how we can give the NHS the tools it needs to thrive and transform patient outcomes
Throughout the ongoing pandemic, we have seen a huge reliance on technology and the key role it has played in helping countries, governments and businesses navigate through a period of great uncertainty. Whether it is contact tracing technology, growing demand for eCommerce channels or the use of algorithms to determine pupils' grades, harnessing the latest technology has been at the core of the fundamental changes we are experiencing.
Healthcare is an area which has seen a significant uptake and needs for new technologies throughout the pandemic, such as the use of video conferencing between GPs and patients and collaboration tools which enable better knowledge transfer on the treatment of those affected. But it is also a sector that has been under the most amount of pressure, with a strain on valuable financial resources being a key concern.
This has opened up a key question: as a sector could we be doing more to help them leverage the latest technologies to support it through the rest of the crisis and secure its future?
On August 12th 2020, the government took a major step in realising this vision. We and 27 other technology providers were selected as a supplier on the NHS SBS (Shared Business Services) Digital Workplace Solutions Framework. With an estimated value of around £500m, the framework has set a platform for revolutionising the way that public bodies, such as NHS trusts, can gain access to the latest innovative technologies, and thereby improving the efficiency and effectiveness of the healthcare being provided for the better.
How does the framework work?
NHS Shared Business Services manages an extensive portfolio of framework agreements, all of which provide public sector organisations with an easy to access and compliant route to the goods and services they need, whilst driving savings and improving efficiency. Its newly launched NHS Digital Workplace Solutions Framework offers consumer-orientated technologies across a complete range of software and IT infrastructure areas from 28 well-established private sector suppliers, all of whom have been carefully vetted to ensure they are able to meet the framework users' needs.
Due to run until August 2022 (with an optional two-year extension through to 2024), the Framework will deliver savings of at least 15% compared with buying directly from a supplier at list price, which could represent at least a £75 million cost-saving to the public sector purse.
Central to the Framework is its ability to enable suppliers of IT solutions and services, which include network connectivity, servers, storage, software and hardware, to connect with the whole of the UK public sector and their associated bodies more efficiently and effectively.
These public sector bodies include over 220 NHS Trusts, over 1,250 hospitals as well as several local authorities, universities, the justice system and others. By gaining access to a pre-approved pool of trusted suppliers, those in the public sector are able to award contracts directly to those selected suppliers, safe in the knowledge that they have been fully vetted and approved, potentially saving them considerable time and expenditure from their already stretched procurement budgets.
Transforming the outcomes of patients
By forming an integral part of the government's NHS Long Term Plan, the Framework is a key pillar of the ongoing move to deliver modernisation of the healthcare sector, as well as improvements in the quality of patient care and health outcomes.
How does it do this? At the very basic level, the Framework enables the NHS and other public bodies to cut through some of the red tape that has previously restricted its access to the newest and most innovative technologies. The simplified process makes it easier for suppliers to provide these services, which in turn gives the public sector organisations far greater choice, value for money and access to previously untapped technologies.
The knock-on effect will mean that it ensures that money that has been targeted for front line services will be able to make a real difference, rather than being used as part of an internal evaluation process. It has been assessed by Shared Business Services that this could save the public purse up to £25,000 per tender.
Continuing the vision of NHSX
Outside of making a difference for those on the frontline, the Framework also lays the foundation for bolstering the continued digital transformation that has started within the healthcare sector right now, having been ushered in by the government's NHSX digital transformation programme.
COVID-19 has changed the relationship that health and social care has with technology forever. There seems to be a change in mindset where people are open to approaching things differently. For example, the large majority of GP practices in England are running video consultations with their patients at a significantly higher frequency than before the COVID outbreak. This is only one instance of a swathe of innovation, which also includes care platforms being set up to support patients physical and mental health and patient portals being created to get results and facilitate home-based testing.
Why is this important? For me, the Digital Workplace Solutions Framework has arrived at the perfect moment and allows the sector to continue to capitalise on this new appetite for collaboration and innovation. In turn, it can help the NHS and other public sector bodies harness technology to meet its most pressing strategic challenges, including transforming patient outcomes and increasing productivity, all while budgets are under scrutiny.
For example, as remote working has become commonplace due to COVID-19, the launch of the Digital Workplace Solutions Framework means frontline public sector organisations can access technologies like VPN remote access and virtual desktops easier than ever. This means that, whether you are an NHS trust trying to connect with patients remotely during the COVID-19 crisis, or a local council wanting to give more flexibility to their workforce, this Framework provides them with the tools to do so.
A better, brighter future is in store
The NHS is under more pressure now than it has ever been. Vital treatments have been put on hold for months and resources continue to be stretched to their limits. However, there is light at the end of the tunnel for both the healthcare sector and the patients they serve with the launch of initiatives, such as the NHS SBS Digital Workplace Solutions Framework.
By giving NHS trusts an efficient and effective way to access the newest and most innovative technologies, this can not only ensure that money is being targeted to front line services and patient outcomes are made the priority, but also bolster the growing innovation currently happening in the sector right now. This can only serve to ensure a brighter and better future of the sector.
Editor's Recommended Articles