Whilst Ireland voted one year ago to repeal abortion, the abortion ban in Northern Ireland remains one of the strictest and most criticised in the modern world: What should happen next?
Amnesty International teamed up with renowned artist Maser to shine iconic image across London, Belfast, Dublin and Glasgow.
'Now For Northern Ireland' projections lit up buildings across London, Belfast, Dublin, and Glasgow last night to shine a spotlight on the injustice of Northern Ireland's strict near-total abortion ban, one year since Ireland' voted to repeal the 8th Amendment (25-26 May).
Northern Ireland abortion ban
A year ago, on 25 May 2018, people in Ireland voted in a referendum on whether repeal the 8th Amendment of the country's constitution and end the country's near-total abortion ban. The result, declared on 26 May, was an overwhelming vote for reform.
Whilst people in Ireland and in most of the UK now have access to free, safe and legal abortion, women in Northern Ireland are still subject to one of the strictest abortion bans in the world – punishable by life in prison. The UK Government has a responsibility to ensure the human rights of all UK citizens – including those in Northern Ireland – are upheld, yet has taken no action to reform Northern Ireland's inhumane abortion law.
There is a huge support for Westminster to reform Northern Ireland's abortion law across UK and Northern Irish political parties, amongst the Northern Irish public and from human rights, medical and legal bodies. UN Committees and UK Supreme Court judges have said that Northern Ireland's abortion law puts the UK in breach of its human rights commitments.
Last month, the Women and Equalities Committee launched the findings from their inquiry into Northern Ireland's abortion law and urged the Government to take urgent action.
The Amnesty International stunt drew attention to the UK Government's inaction on reforming Northern Ireland's abortion law, which remains one of the most restrictive in the world and carries the harshest criminal penalties in Europe.
Today, the Isle of Man's abortion reform is due to come into force, and this weekend marks one year since Ireland voted to end its near-total abortion ban. Meanwhile, Northern Ireland continues to be governed by a strict abortion law, which is more restrictive than most abortion laws currently being proposed and causing outrage across US states.
A giant heart – part of an Amnesty collaboration with Irish artist Maser, who re-worked his 'Repeal the 8th' artwork which became symbolic of the repeal campaign in Ireland to say 'Now for Northern Ireland' – was projected onto the Northern Ireland Office in Westminster, The Mac building in Belfast, the Mary Barbour statue in Glasgow, and the Project Art Centre in Dublin – where the original repeal mural was painted.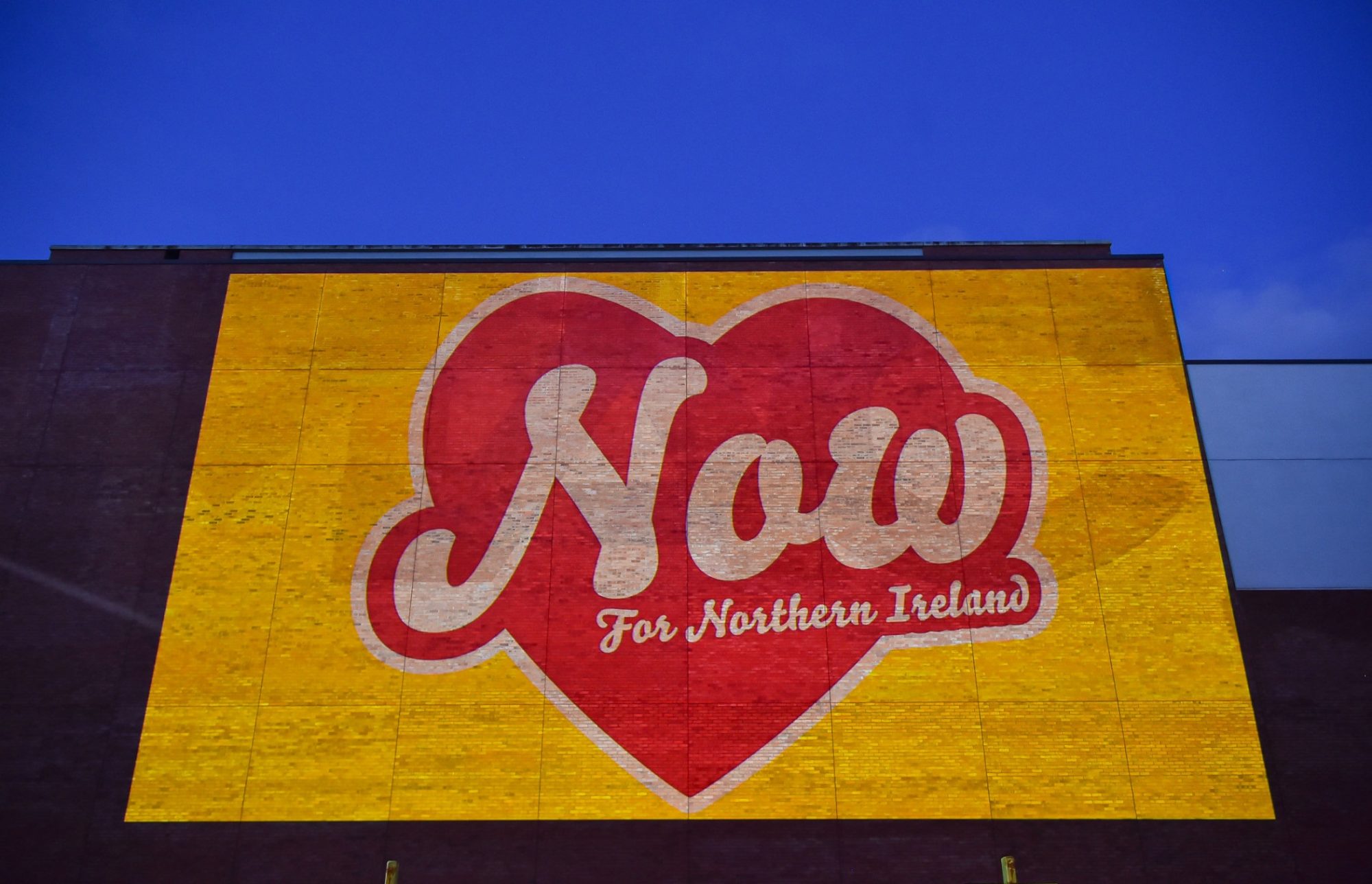 Grainne Teggart, Amnesty International UK's Northern Ireland campaign manager, said:
"It's been a year since the incredible win for reproductive rights in Ireland. One year on, Northern Ireland remains isolated as the only part of the UK and Ireland without access to basic healthcare.
"After Ireland's vote there was so much hope that the UK Government would then act to change things in the North, but a year later we're still waiting.
"These projections shine a spotlight on the unjustifiable neglect of people in Northern Ireland.
"Whilst dangerous roll-backs on reproductive rights are happening across US states, we must remember that our own Government is forcing its own citizens to live with these cruel laws.
"It's time for the Government to end the harm and hurt caused by our inhumane and discriminatory near-total abortion ban."
Artist Maser said:
"By consciously making the Repeal artwork copyright free, the public were empowered to take ownership of it, I was a messenger watching from the sidelines. With the people's fierce collective energy, the artwork built huge momentum and spread across the state.
"Our friends in the north are now on their journey to revoke their outdated abortion laws. I am here to show my alliance, I am your defender."
Repeal the 8th in Ireland
Amnesty is paying to tribute to those that made this happen with the powerful short film, 'Story of Repeal'; a timeline of the Eighth Amendment from 1983 to 2018, featuring leading activists, campaigners, politicians, and women who had bravely spoken out. The story of political and cultural change showcases the struggle for human rights and the fundamental shift seen in Irish society.
Sorcha Tunney, Amnesty International Ireland's It's Time campaign coordinator, said:
"This historic referendum victory was the outcome of decades of campaigning by civil society. Above all, the Yes vote happened because of women refusing to be silent anymore.
"Though the Irish Yes vote was a huge victory, there is still so much more to do here and around the world. Changing the Irish constitution required a referendum but human rights shouldn't come down to a vote.
"Northern Ireland is an example of where a government should take action for women's rights but haven't. We say very clearly today – the North is next."
Editor's Recommended Articles