Research by Paymentsense reveals that ATM's are closing at an alarming rate across Britain, after over 4,735 ATMs vanished between July 2017 and June 2018
Data from Statista shows that across the UK no less than 4,735 ATM's have vanished in the past 12 months, which averages out at 394 cash machines closing every single month.  Paymentsense have created an infographic that visualises the number of cash machines that have been closed over the past year, which can be seen here.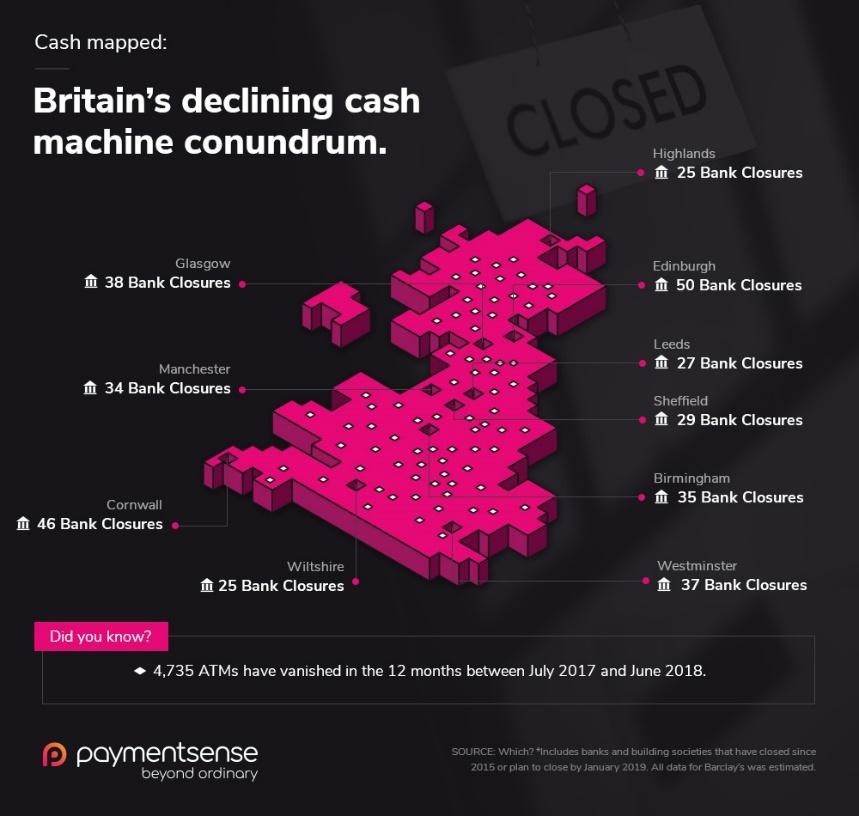 Luke Sam Sowden, a visually impaired lifestyle blogger based in Leeds, has faced a number of challenges recently and said: "My local branch closed down due to a spate of burglaries and being visually impaired, I need a local bank with a physical location instead of just an ATM, like a lot of banks seem to be heading towards nowadays.
"In the end, I had to change banks, which despite being fairly easy to do thanks to the fast-track switch service, still took a lot of messing around as I had to memorise new account information and passwords, many of which hadn't been changed for several years."
Research reveals that many banks around the UK have been closing their local branches over the past two years. Edinburgh and Cornwall have been the most affected with just over 50 closures:

But for the many that have embraced the cashless society and digital revolution, the prospect of more bank and ATM closures simply isn't a concern.
Freelance copywriter Ellen Holcombe said: "I have seen a lot of cash machines and branches of banks close in my area, however, this hasn't really impacted me. Most of the stores and services I use accept cards. I think we're living in a world that's going to be cashless very soon and I'm okay with that".
With demand for cash machines falling and pressure on companies such as Link to keep specific ATMs running, it will be interesting to see how this plays out in the near future. If there's one thing we can be sure of, however, it's that cashless payments are going nowhere fast and will most likely only increase in popularity.
Guy Moreve, Chief Marketing Officer at Paymentsense said: "Our research earlier this year highlighted that as a society, we're now close to becoming cashless with contactless making up over 42% of all transactions. As you can see from our latest study ATM's and bank branches are closing at an alarming rate.
"This in part is affected by the rise in contactless transactions and the need for cash falling. As consumers become more comfortable in using digital forms of payments the need for cash machines is decreasing. There are a lot of businesses who still rely on cash as their main payment method. Therefore in order for them to remain competitive in the market, it's time for them to consider card payments and avoid consumers walking out if there is no ATM in or nearby their premises".
Editor's Recommended Articles