Cervical cancer is a disease affecting thousands of women in the UK with around 3,200 new cases diagnosed every year, can developments in cervical screening and digital cytology help?
There have been notable developments in recent years, with the introduction of the Human Papilloma Virus (HPV) vaccine and the switch to HPV primary screening programmes across England, Scotland and Wales.
While screening plays a key role in ensuring early and accurate diagnosis, we know that more can be done to ensure women take up their invitation. Earlier this year the Government launched a campaign to drive screening attendance as new data showed nearly 1 in 3 do not take up the offer of cervical screening. Of those surveyed, many cited embarrassment or nerves as the reason.2
Raising awareness of the importance of screening and busting myths is important, but we must also ensure the screening process is efficient and accurate to boost women's trust in the system and results.
Introducing digital cytology
Cervical cancer screening is crucial in the fight against the disease and an exciting development in screening technology could hold the key to ensuring less women go on to develop cervical cancer, not just in the UK but around the world.
At Hologic, we invest in developing technologies to improve women's health and we are proud to introduce our digital cytology system,  which harnesses the power of artificial intelligence (AI) and advanced imaging.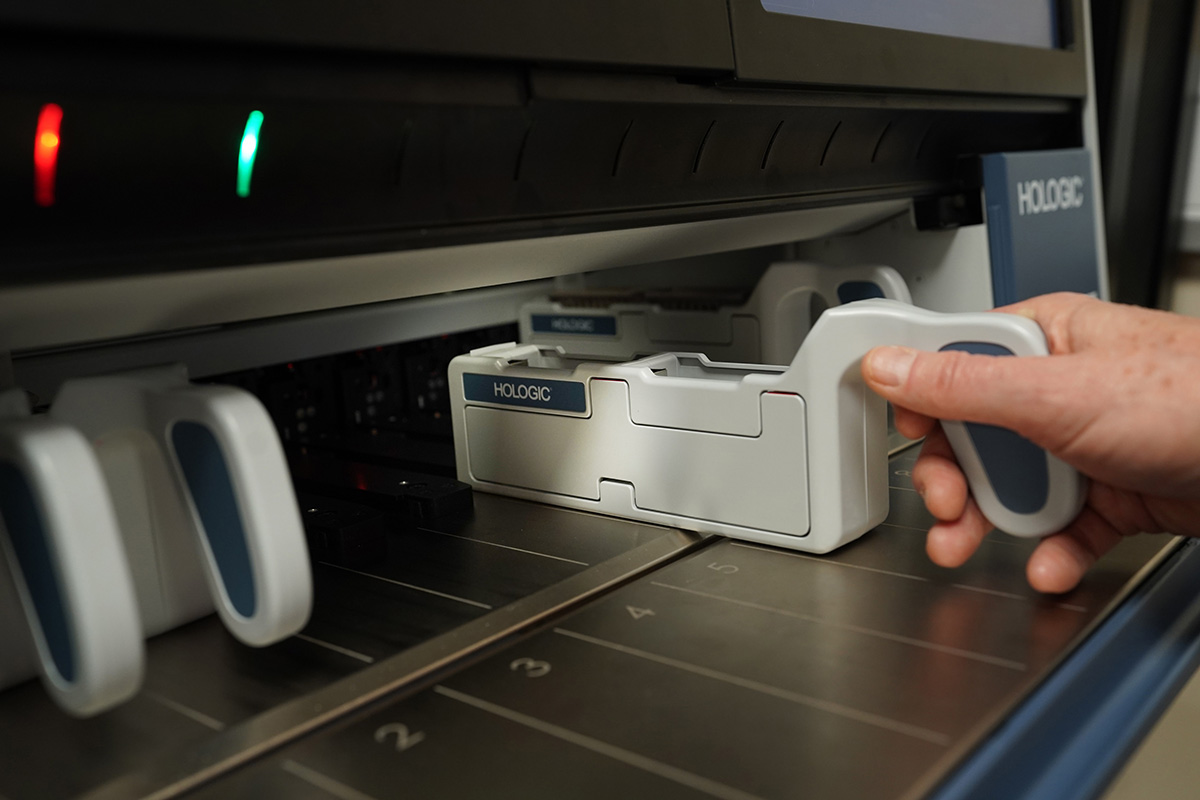 Digital cytology has the ability to ensure earlier detection of pre-cancerous cells, saving people from undergoing life changing treatment and potentially saving lives.
The cutting edge technology creates digital images of cervical smear slides from samples that have tested positive for HPV. These images of test slides can be rapidly reviewed using an advanced algorithm, which assesses the cervical cells in the sample and provides the screener with an image gallery of the most diagnostically relevant cells. This helps medical experts more rapidly identify and accurately diagnose abnormalities as they have fewer cells to analyse.
A cytologist working in cervical cancer screening has to painstakingly search for abnormal cells and then interpret them. In some cases there are only around 50 abnormal cervical cells in a sample that may contain 15,000 normal cells. This takes considerable time and concentration and has the potential for false negatives.
Using digital imaging and AI increases the likelihood of picking up abnormalities that may be missed by human assessment, and while accelerating detection and diagnosis, digital cytology does not compromise on accuracy.
The technology also enables screeners to spend more time diagnosing and less time searching for abnormal cells. Increasing efficiency is a huge benefit as there is a relatively small number of labs left in the UK and limited specialist staff, so it helps those in labs to use scarce resources more effectively.
Promising impact for the UK and around the world
The technology is being piloted in a UK first at University Hospital Monklands with some positive preliminary results. The team has reported increased capacity by around 25% in the slide assessment and improved analysis turnaround times, as well as allowing screeners to dedicate more time to training on the latest technologies and dealing with difficult-to diagnose cases.
The use of digital images is also critical for bringing this technology to women around the world. The 2D images of cells are digitised meaning they can be viewed from multiple and remote locations. This collaboration enables the sharing of resources and expertise to help boost equity of healthcare and ensure all women can access the benefits of digital cytology.
Innovation holds the key to a better future
At Hologic we believe in a future where cervical screening is available to every woman and we can create a world where no woman dies from cervical cancer. Digital cytology is a key part to achieving this and we look forward to bringing the power of AI and advanced imaging to more labs than ever before and ultimately improve health outcomes for women around the world.
References
Cancer Research UK [Internet] Cervical cancer statistics [cited 2022 April 28] Available from: https://www.cancerresearchuk.org/health-professional/cancer-statistics/statistics-by-cancer-type/cervical-cancer#heading-Zero
GOV.UK [Internet] New national cervical screening campaign launches – as nearly 1 in 3 don't take up screening offer [cited 2022 April 28] Available from: https://www.gov.uk/government/news/new-national-cervical-screening-campaign-launches-as-nearly-1-in-3-dont-take-up-screening-offer
Please note: This is a commercial profile
© 2019. This work is licensed under CC-BY-NC-ND.
Editor's Recommended Articles