Martin Roots, Managing Director of Expede Group Limited offers an introduction to developing a strategy for digital transformation in Higher Education
The pace of change in Higher Education in recent years has been considerable and is set to continue for years to come. Student's expectations are also increasing in terms of the student journey, the experience they will have and the outcomes they will achieve, and to meet those expectations, universities are having to 'go digital.'
The age of digital has created new ways for institutions, their partners, staff, and students to form new relationships and for universities to survive they must digitally transform to meet 'customer' needs. (1)
Digital transformation is much broader than just technology, however. Business leaders often agree that digital transformation is a priority, but they might believe that digital is all about technology – in reality, digital involves enabling outcome delivery using technology and data to take one step closer to the organisation's audience.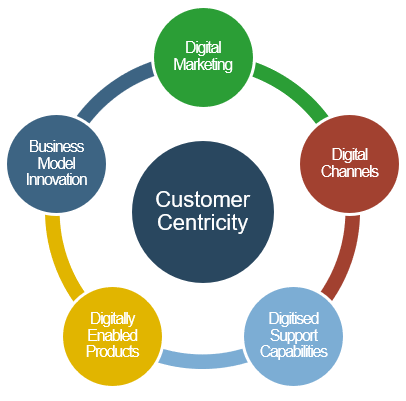 For us, digital strategy has two main goals:
• Customer centricity – Align the institution around empathising with the customer to continually deliver their most desired outcomes and a more consistent, reliable, and informed experience.
• Digital enablement – Through an institutional push for innovation and modernisation, digitally enhance capabilities to gain insight quicker, address customer needs sooner, and invent new ways to create value.
A digital strategy is a plan to make university products and services relevant by using digital technologies to converge the physical and virtual experiences of customers. This is sometimes referred to as moving from a multichannel business model to an omnichannel one.
Digitally enabling the institution allows the customer to have a consistent experience through multiple channels sharing the same information. Doing this, impacts both what the university offers as well as how it operates and engages with its customers.
Once you're digitally enabled, you no longer need a digital strategy since digital has become a part of a university's way of life.
At Expede, we recommend that universities take a customer-centric approach to executing and sustaining a transformation to maximise the value of their digital initiatives. Our approach applies five 'value pools' which capture key functions that coordinate to deliver value in digitally-enabled organisations.
Digital Marketing is used to increase awareness and engage customers through the effective use of digital platforms.
Digital Channels are used to acquire, onboard, and service customers.
Digitised Support Capabilities capture productivity improvements with effective use of digital technologies.
Digital Enabled Products help universities to be more competitive and efficient by being in tune with customer needs and effectively infusing products with digital technologies (e.g., transnational education).
Business Model Innovation shifts the dynamics of demand and supply factors and address unfulfilled needs through effective use of digital technologies (e.g., delivery of life-long learning and micro-credential-based education).
The approach scopes initiatives around the set of digital value pools that universities seek to optimise, and the strategy's success metrics will depend on how the institution chooses to approach digital. The single common metric across all five value pools is customer satisfaction, but a few specific examples are shown in Figure 1.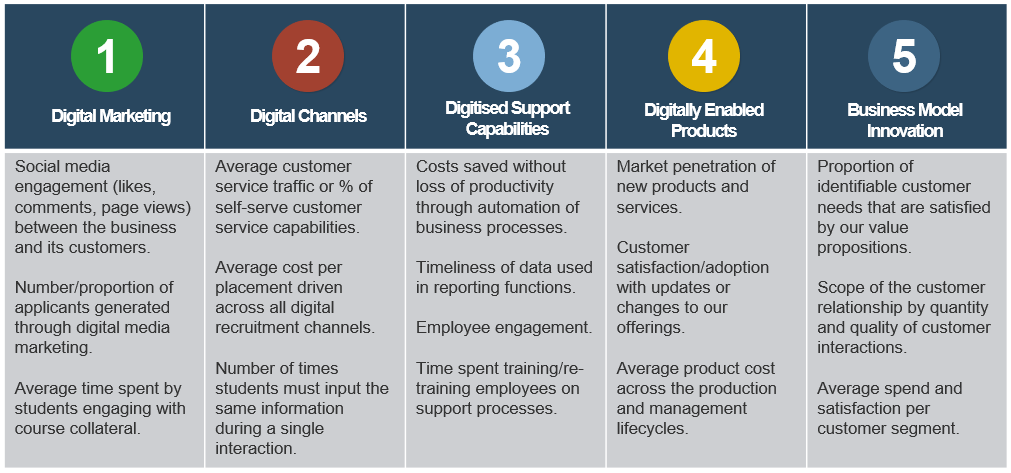 We follow a four-point plan when helping universities evolve, transform and pivot with the ever-changing digital landscape whilst continually providing the most valuable outcomes to their customers.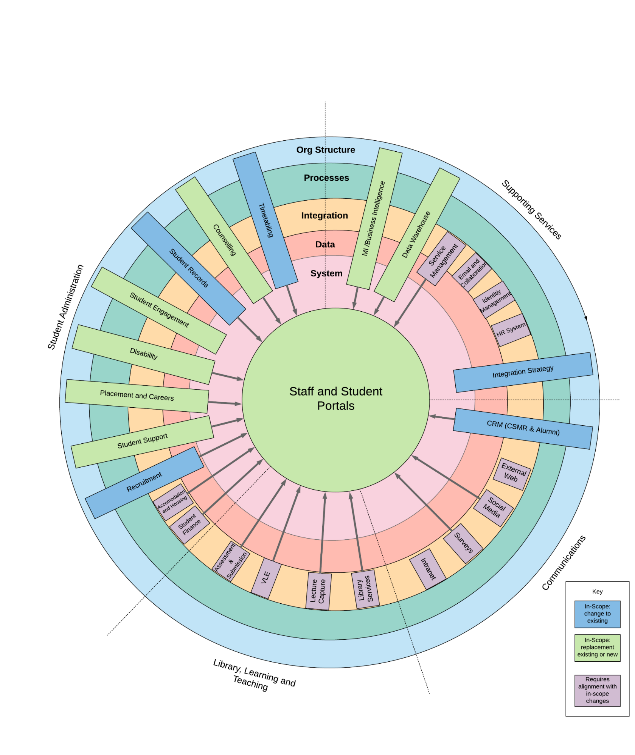 Scope the digital transformation
This involves understanding the business context, mapping investments to digital value pools, and identifying and interviewing key stakeholders.
• Introduction to digital strategy.
• Establish motivation for digital.
• Discuss in-flight digital investments.
• Define the scope of digital.
• Identify stakeholders.
• Perform discovery interviews.
Design the digital future state vision
Define the key digital outcomes your students, administration staff, researchers, and academics want and create a set of guiding principles to deliver on them.
• Identify digital imperatives.
• Define key digital outcomes.
• Create a digital investment thesis.
• Define digital guiding principles.
Define the Digital Roadmap
Identify the initiatives to achieve digital outcomes and create a customer-centric digital strategy and roadmap.
• Identify initiatives to achieve digital outcomes.
• Align in-flight initiatives to digital initiatives.
• Prioritise digital initiatives.
• Document architecturally significant requirements for high-priority initiatives.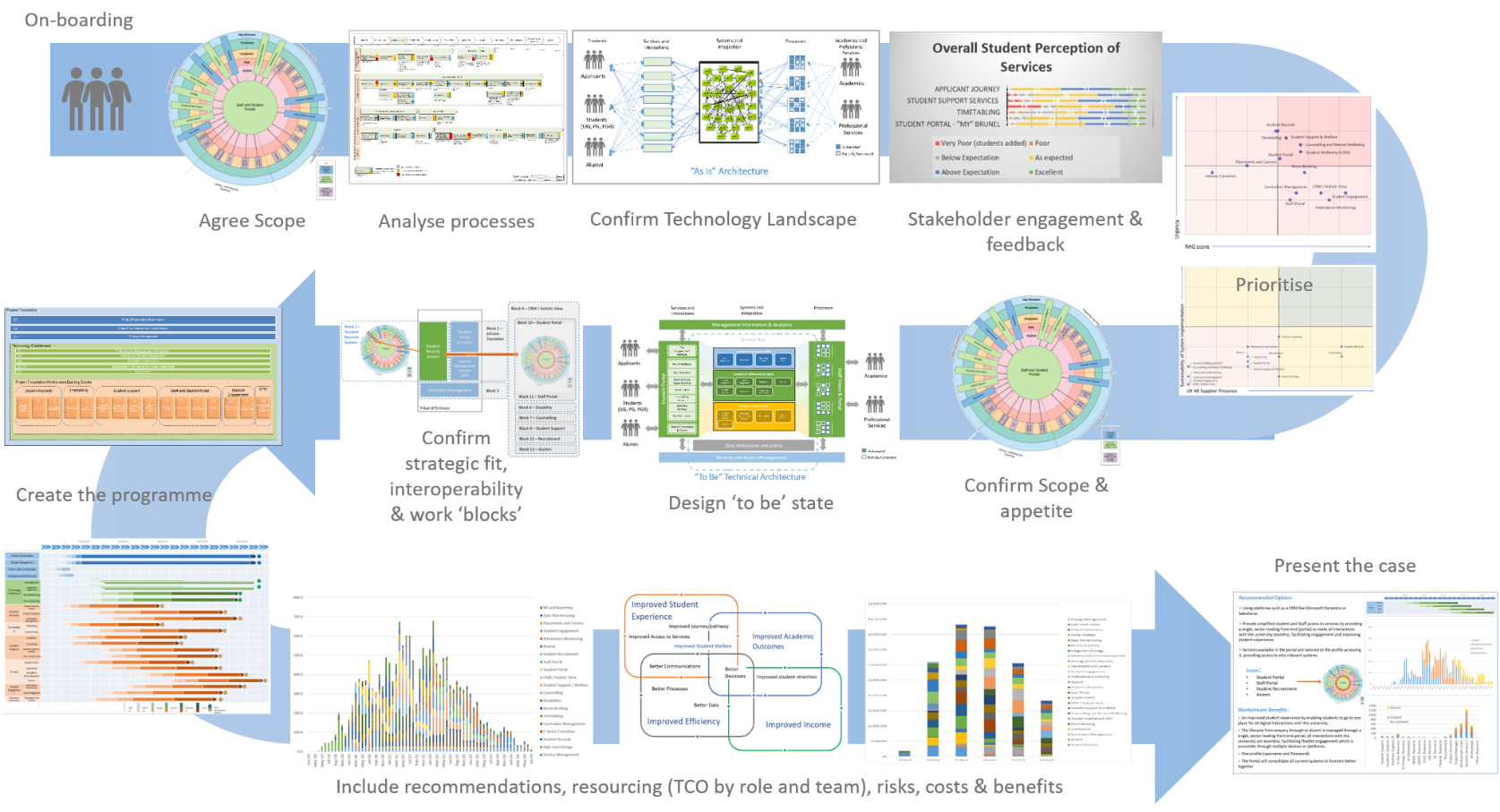 Sustain Digital Transformation
Establish the role of culture in digital transformation and plan the cultural changes needed for success.
• Review and refine the Digital Strategy- on-a-Page.
• Assess company culture.
• Define high-level cultural changes needed for successful transformation.
• Define the role of the digital transformation team.
• Establish digital transformation team membership and desired outcomes.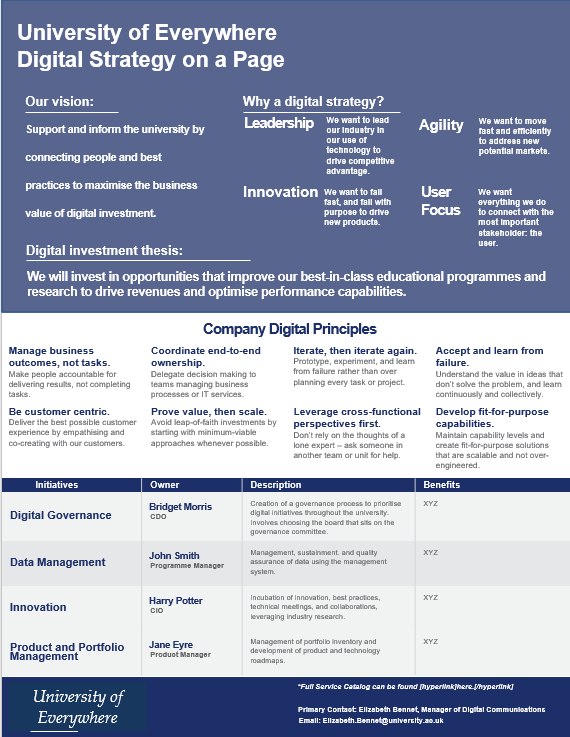 In practice, and depending on the needs and current maturity level of digital capability within a university, these four steps are often broken down further, as depicted in Figure 2.
If you'd like to discuss how Expede can help you with your digital transformation strategy development, why not book a no-obligation appointment with one of our consultants today?
www.expede.consulting
0845 139 1039
71-75 Shelton Street
London WC2H 9JQ
Reference
(1) For customers here we mean students, administration staff, researchers, academics, etc. anyone who is going to use and benefit from the digital transformation outcomes.
Please note: This is a commercial profile
© 2019. This work is licensed under a CC BY 4.0 license.