Here, we learn about innovative software products and services company, VerseOne Group, who offer complete digital transformation solutions
Founded in 2004, VerseOne Group is an innovative software products and services company, providing complete digital transformation solutions that empower businesses to deliver exemplary customer experience through securely and seamlessly unifying their staff and the customers they serve by harnessing the value of their business content.
VerseOne Group supplies Open Standards, a Cloud-based suite of designed for purpose software products and accompanying online specialist services which now serve over 120 organisations in the NHS, Social Housing and the broader Commercial sectors. These business-critical digital solutions support over 380,000 staff serving over 20 million people across the UK.
Founded on the principle of harnessing the power of technology to make a positive impact to the lives of the people who work in their chosen sectors and those who in turn are serviced by those organisations, the Group has organically and successfully grown to become market leader. Their award-winning customer-centric approach delivers value for money using a partnership model to unlock prosperity regardless of sector; this philosophy continues to be the guiding light for the Founder and Executive Chairman, Mr Alan D Neilson and the entire team at VerseOne.
The unique and powerful sector specific business solution development and implementation process has taken many years to perfect, the result of the Group's collaborative approach adopted with its customers and the sectors it operates in. VerseOne has invested over 90-man years developing a powerful and Cloud based – Microsoft Azure – software platform built on industry Open Standards for ease of integration and interoperability. This enables highly tailored solutions to be implemented without any timely and costly 'custom code' modifications, significantly increasing the benefit realisation from their solutions whilst keeping the cost of ownership to a minimum. A best of both worlds by having a tailored solution without the cost and effort needed to maintain a from the ground level up bespoke solution.
VerseOne supports every customer with a Total Engagement Programme (TPE) approach: a 365 wraparound and consultative approach in which it advises, shares knowledge and thus becomes an extension of their customer's organisation. It is a holistic methodology that results in the creation of best-in-class solutions capable of delivering meaningful and rapid solutions resulting in real ROI and significant enhancement in the brand value and overall reputation for their customers. It is no wonder that most of the Group's customers have been with the organisation for over 10 years – a dedicated and committed partner that constantly innovates and evolves its solutions to maximise value and peace of mind.
This is done in a myriad of ways. First, innovation. Blending deep market sector knowledge with the power that new technologies provide, allows the team at VerseOne to create best-in-class digital solutions that address business issues and create differentiators through richer and personalised experiences. Secondly, a constantly maintained focus on delivering a customer-centric approach. Close consultation at all stages of the partnership with customers is essential to deliver effective solutions and ensure the Group continues to extend its knowledge of customers' markets. Finally, it is accessible – creating a level playing field of engagement for everyone, irrespective of their challenges. VerseOne's championing of accessibility ensures each digital solution is equally effective for every service user of their customers.
In every customer solution that VerseOne delivers, there is a constant focus on another of the founding principles of the Group: best blending of products, people expertise and processes to create the optimum solution for addressing the needs of the customer. Always staying aligned with the mission statement of making a difference with great technology, the products are designed to be fully integrated, offering organisations 'future proofed', easy access to mission-critical information across all their digital services and ensuring brand messages are delivered efficiently and consistently.
Moreover, these designed for products are soft-key configurable, empowering customers to tailor solutions themselves without the need for costly and time-consuming custom code. This creates immediate cost efficiencies in development, training and as importantly being able to take advantage of new technologies rapidly and cost effectively. VerseOne ensures that all its products incorporate these new technologies as part of the ongoing Support and Maintenance services.
For offering these powerful and highly customisable solutions they have developed four product suites: -VerseOne CMS, VerseOne BPA, VerseOne Autevo and VerseOne Vocoll. These suites are complemented by a wide range of services that include Implementation services, Branding and visual Identity, Consultancy services, Digital marketing, SEO, UI/UX design just to mention a few.
The VerseOne Product Solution Stack for Digital Transformation and Innovation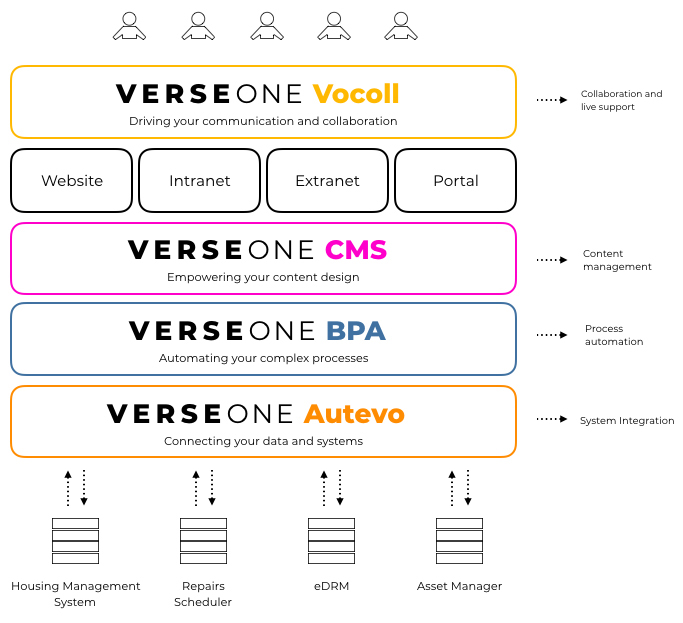 VerseOne CMS
VerseOne CMS has been developed with Open Standards and APIs within its DNA – this secure framework provides all of the content management functionality (including consumption of Autevo data), publishing and display functionality. The VerseOne CMS powers the core of VerseOne's secure, personalised web, intranet, automation and portal applications ensuring the software suite is robust and scalable, giving customers the ability to grow, evolve and adapt their experience as their priorities and strategies change.
VerseOne BPA (Business Process Automator)
VerseOne (BPA) streamlines, automates and powers workflows and brings hyper efficiency and intelligence to any organisation's processes. This means staff can focus on more important and specialist issues whilst letting VerseOne BPA take care of the more repetitive and mundane activities. VerseOne BPA also brings intelligence and personalisation to your customer experience through proactive content delivery.
VerseOne Autevo
VerseOne Autevo acts as an intelligent and customisable glue to unify and harmonise disparate data silos that so often exits within organisations. VerseOne Autevo connects to and parses structured data, from a wide range of sources such as CSV files to third-party APIs. Whether working one-way or bi-directional, Autevo ensures that critical business information is available real-time, securely and seamlessly wherever needed. This improves, security, accuracy and availability of vital data to all that need access to it, significantly improving customer experience and business decision making.
Vocoll smart 'digital assistant' software suite enables people to connect, collaborate and rapidly get things done. This means for example that an organisation's customer support team can better collaborate and deliver greater customer experience through an efficient and multi channelled online engagement. With a customer satisfaction rating of over 95%, VerseOne Vocoll will make your staff, customers, business partners and stakeholders happier, more productive and ultimately your business more successful.
Drawn together, VerseOne Group offers all the facets of effective and best in class digital transformation solutions that provide a one-stop-shop for complete value and ultimate peace of mind.
For more information
Company: VerseOne Group
Website: https://www.verseone.com/
Website: https://www.vocoll.com/
Please note: This is a commercial profile
Editor's Recommended Articles