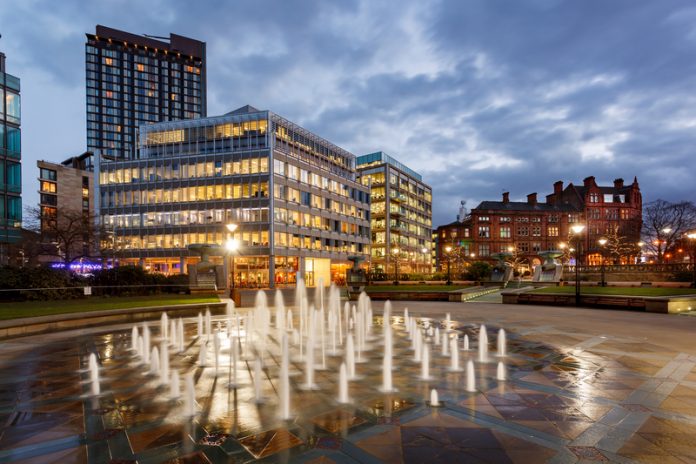 HS2 is set to provide huge opportunities for people and businesses looking to start, grow or relocate to Sheffield according to Edward Highfield, Sheffield City Council's Director of City Growth
Edward's role includes responsibility for economic development, inward investment, regeneration, planning, transport and property. One of the anticipated game changers for Sheffield is HS2 – which will bring huge opportunities to Sheffield and the wider region from the creation of thousands of new homes and jobs and improved connectivity between cities across the North.
To ensure Sheffield can maximise the regeneration and development potential, the Council is working closely with partners across the public, private and academic sectors to integrate their plans with other regions and align the future vision for Sheffield with those of others working in the region – and the HS2 Economic Growth Conference on the 7th November in which they're involved will be a key date in the diary for those within the industry to do just that.
Ahead of the conference we hear from Edward Highfield:
What is the vision for the Sheffield HS2 hub, and how will it transform the city centre?
The vision is for a new commercial district, connecting the station redevelopment to the Heart of the City, up Howard Street, integrating with Sheffield Hallam University's major campus redevelopment plans and Sheffield Digital Campus along the Sheaf Valley. The vision is designed to integrate HS2 with the large development and regeneration schemes happening right now to create a larger and more thriving city centre.
When you spoke at our Sheffield Conference earlier this year you said inward investment conversations are at an all-time high. To what extent is the arrival of HS2 to Sheffield having in those discussions?
Being on the HS2 network is already becoming an essential criteria for location decisions especially within city centre functions such as business, professional and financial services (BPFS) and creative and digital industries. Being on the HS2 network helps a city like Sheffield get onto more shortlists for consideration – and then the quality, talent pool, character and competitiveness of Sheffield itself really comes to the fore. For anyone looking to expand or with a lease break coming up in the next few years, proximity to the HS2 station is now a major consideration.
There's a lot happening in Sheffield at the moment. The Heart of the City project will help transform the city centre, the Advanced Manufacturing Innovation District is thriving with the arrival of the likes of Boeing, Rolls Royce and McLaren Automotive, and the Universities are progressing with numerous schemes in the region to name but a few. Is this being aided by the pending arrival of HS2, or are we set to see similar schemes of similar levels coming to Sheffield in addition to these?
Occupier demand is definitely being stimulated by the arrival of HS2 and this will only increase as we get closer to construction and delivery. The station itself and surrounding masterplan provides opportunities for new regeneration and commercial activity. With office rental levels more competitive than Leeds or Manchester, and considerably cheaper than London, two fantastic universities and the quality of life provided by having a third of the city within the Peak District National Park, HS2 – alongside Northern Powerhouse Rail – provides huge opportunities for people and businesses looking to start, grow and relocate to Sheffield.
Improvement connectivity can have a huge boost on productivity and the economic picture as a whole – is Northern Powerhouse Rail just as important as HS2 to Sheffield and the North of England?
I feel very strongly that HS2 will only deliver the levels of productivity benefits we all hope for if it's delivered in conjunction with Northern Powerhouse Rail. Leeds, Manchester and Sheffield together have about 80% of the population of London but generate just 40% of the economic output. This holds back not only our great Northern cities but UK PLC as a whole. Through fast  (under 30 minute), reliable and regular journey times between these three cities, roughly 35 miles equidistant from each other, we can create a single labour market capable of having real scale and critical mass. Connecting these cities to Birmingham and London is a key part of the picture, but it needs to be accompanied by serious long-term commitment to other infrastructure, including Northern Powerhouse Rail.
HS2 will benefit the wider communities and regions – but with that comes the difficulty of numerous authorities, businesses, landowners and more being involved within the development areas. How is this being approached to ensure there is an alignment to ensure the economic benefits are distributed and spread to wider regions?
Local plans are key. HS2 is not a silver bullet; it's part of a bigger picture. The integration of local and national plans are key to making it a success, for example:
HS2 will connect Sheffield with London and Birmingham and greatly increase capacity and speed
Northern Powerhouse Rail, alongside HS2, then helps create scale and critical mass through enhanced connectivity. It important we ensure NPR conditional outputs aren't watered down.
Local mass transit solutions then come into play to connect to other urban centres and key economic areas – for Sheffield City Region this means Doncaster-Sheffield Airport, Barnsley, Rotherham and Doncaster town centres.
Skills development and sector development will be key too – with the Rail College in Doncaster and the rail engineering and tunnelling research at the University of Sheffield, Sheffield City Region is well placed.
Within any regeneration or development schemes how will you be looking to future-proof Sheffield in terms of digital connectivity, innovative infrastructure etc?
Digital connectivity is essential. We already have the UK's largest free city centre Wi-Fi network and soon 99% of South Yorkshire will have coverage of superfast broadband. It's vital that these standards are maintained and enhanced in any new developments that come forward. As the UK's Outdoor City, we'll be ensuring that there is a real focus on environmental standards in HS2 developments as well as making sure new development are adapting to changes in working habits – including greater emphasis on co-working and meeting spaces.
The development of housing will be vital to ensuring we have enough available homes to match the growing employment opportunities the regeneration will bring. How are constraints and barriers being tackled?
We expect major housing elements to the South of the remodelled Midland station. Working with Homes England and LCR, we're delivering a strong masterplan which will help avoid piecemeal development and tackle constraints that affect viability such as flood and access.
Sheffield has gained an international reputation for steel production. Will the arrival of HS2 enable this industry to thrive again in Sheffield, and is there any other industries or sectors you think will gain a huge boost from being able to compete better nationally and globally?
The steel sector is already thriving; Sheffield produces more steel by value that it ever did – but now it wins on quality and innovation, not just volume and price.
International evidence suggest city centre based sectors – business, professional and financial services (BPFS) and creative and digital industries have the highest propensity to cluster around and benefit from high speed rail. Increasingly mobile talent, millennials for example, don't want to have to go to London to pursue a career; equally people looking to leave London to say start a family is now a major way firms in Sheffield are attracting the talent they need to grow. There is a talent flow into places like Sheffield because of the quality of the opportunities and environment here. Hs2 alongside Northern Powerhouse Rail – will accelerate and enable this further.
To you, what are the three main benefits of a HS2 station being created in Sheffield?
Regeneration opportunities around station, Sheaf Valley and into Heart of the City, attracting new high value firms to Sheffield.
Integration of Northern Powerhouse Rail to create single labour market across the North.
The opportunity to integrate with local mass transit solutions to Doncaster-Sheffield airport and key urban areas to spread benefits across the whole city region.
Why is the HS2 Economic Growth Conference an important date in the diary for those within the industry?
The conference will be essential to bring the public and private sectors together to collaborate and learn from each other – whether it be pitfalls or innovations, it'll all be crucial in ensuring the arrival of HS2 is a success.
It will also demonstrate the commitment and the reality that HS2 is coming to those who may still be sceptical. We need to be HS2 ready as well as maintaining a steady voice on other aligned infrastructure priorities, such as Northern Powerhouse Rail.
The HS2 Economic Growth Conference, supported by HS2 Ltd, will bring together public and private sector leaders to debate and present about the future development plans for each region and ensure alignment across the construction and property industry to maximise growth potential. Tickets can be purchased for the event in Birmingham which takes place on the 7th November 2018 at www.built-environment networking.com/HS2EGC18
Editor's Recommended Articles