Chris Wakefield, Vice President of GOJO Industries-Europe Ltd, explores how businesses can navigate the increase in cleaning products on the market and select products that will best meet their needs
Before the COVID-19 pandemic, hand and surface hygiene was rarely a top concern for anyone outside the cleaning industry, apart from healthcare workers. Fast forward to the present day, and everyone, from the CEO, to facilities managers and individual staff members, considers cleanliness an essential part of day-to-day business operation.
The risks of choosing the wrong cleaning products can be high. Poor user compliance or inadequate efficiency can allow germs to be spread throughout a facility, increasing the risk of a COVID-19 case on the premises.
When weighing up the suitability of the products available, three key factors should be considered.
Antimicrobial efficacy and hygiene
First and foremost, products selected need to be effective. Many people assume that higher concentrations of alcohol result in a more effective sanitiser, but studies show that this is not the case. A minimum effective volume of alcohol is required (generally accepted to be 60%),1 but above this, the way other ingredients interact matters more. Some sanitisers even become less effective with frequent use due to the way these ingredients interact with the skin.2
Contact times can also be a key differentiator. Most people do not spend very long washing or sanitising hands and surfaces, so selecting products that reach their stated efficacy levels quickly is vital. Earlier this year, PURELL® Advanced Hygienic Hand Rub and PURELL Surface Sanitising Spray and Wipes were tested against Coronavirus (surrogate virus BCoV), according to EN 14476 standard and passed with a contact time of just 30 seconds.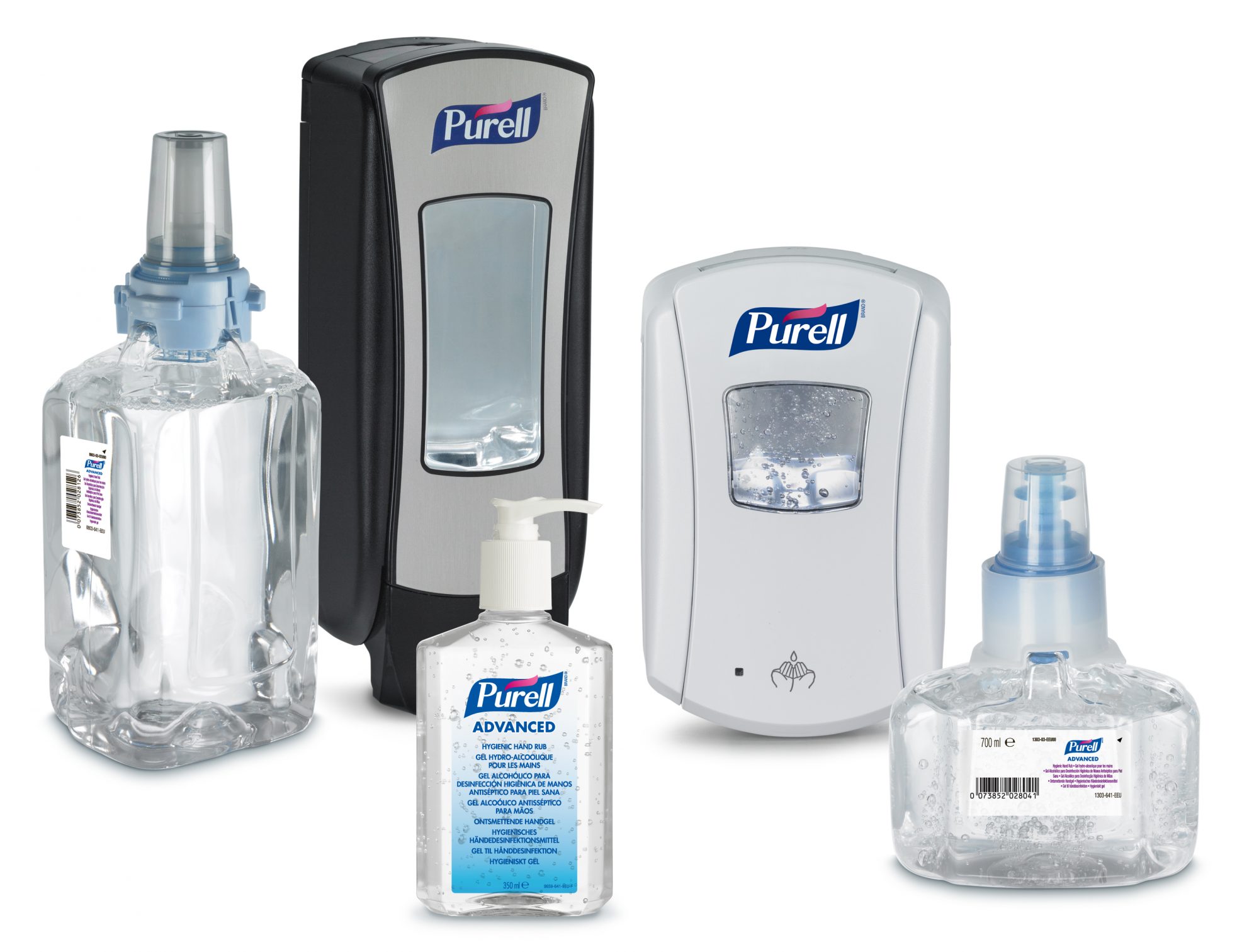 Skin health and compatibility
The second factor to consider is the impact of products on skin health. If the balance of ingredients is not right, skin can quickly become dry or irritated. Up to 18,000 people a year suffer from occupational dermatitis,3 and this number is likely to rise significantly in 2020, due to the increased rate of handwashing across all professions. Recent reports have shown that 59% of healthcare workers seen in occupational skin disease clinics, set up during the COVID-19 pandemic, were found to be affected by irritant contact dermatitis due to an increased use of personal protective equipment (PPE) and frequent hand washing.4
As well as being painful and unsightly for the sufferer, cracked and damaged skin poses a significant infection prevention risk, as it stops acting as an effective barrier to infection. Not only is the suffer more at risk of catching infectious diseases such as COVID-19 or influenza, but they are also more likely to transfer these to surfaces and other people, as it becomes harder to remove germs from all the cracks and flakes in the skin.
What's more, those with cracked, dry skin are much less likely to perform regular hand hygiene, due to a fear of making the problem worse, or pain when doing so, resulting in them spreading germs around a facility at an increased rate. Selecting a hand sanitiser with moisturising properties, such as PURELL Advanced Hygienic Hand Rub, helps protect skin health and increase compliance.
User experience
The last factor to consider is user experience. With the range of hastily conceived sanitisers entering the market this year, users have undoubtedly come across products that are too runny, too sticky, or too smelly etc. Whatever the issue, a less than optimum experience can put users off using the hand sanitisers provided, reducing compliance, and increasing the risk of transmission of COVID-19 within a building.
Many facilities have begun providing sanitising sprays and wipes for general use to maintain a higher level of hygiene during their operating hours. These products must be easy to use and safe for contact with skin, as users will not have had professional training on chemical handling.
In the current climate, infection prevention and maximising staff and visitor safety is of central importance to businesses. The only way to achieve this is to consider the three pillars of product formulation – antimicrobial efficacy, skin health, and user experience – proving, that when it comes to product selection, formulation really does matter.
For more detailed information about PURELL sanitisers, please call +44 (0)1908 588444, email infouk@gojo.com or visit www.gojo.com
References
1 https://www.cdc.gov/handwashing/hand-sanitizer-use.html, accessed 05/11/20
2 Edmonds SL, Macinga DR, Mays-Suko P, Duley C, Rutter J, Jarvis WR, Arbogast JW. Comparative efficacy of commercially available alcohol-based hand rubs and World Health Organization-recommended hand rubs: formulation matters. Am J Infect Control. 2012 Aug;40(6):521-5. doi: 10.1016/j.ajic.2011.08.016. Epub 2012 Jan 20. PMID: 22264743.
3 https://www.hse.gov.uk/statistics/causdis/dermatitis/skin.pdf 
4 "Occupational dermatoses during the COVID-19 pandemic: a multicentre audit in the U.K. and Ireland". I. Narang,1 H. O'Neill,1 D.A. Buckley,2 T.A. Phillips,3 C. Bertram,4 G.A. Johnston,5 D. Thompson,6 T. Bleiker,1 N. Stone,7 J.E. Sansom,8 S. Abdul Ghaffar,9 M.M.U. Chowdhury,10 L. Kiely,11 S.M. Cooper12 and P. Banerjee13.
*Please note: This is a commercial profile
Editor's Recommended Articles